Aphex Twin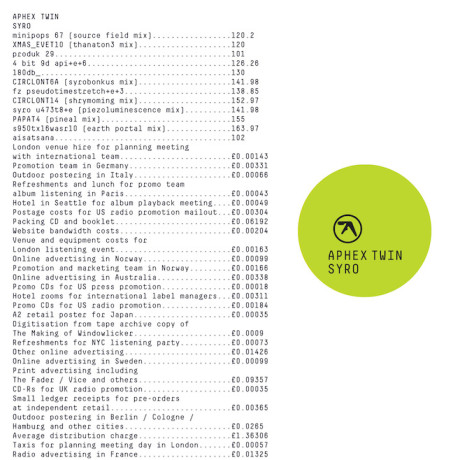 Syro
Format:
Album
Label:
Warp
Release date:
September 22, 2014
By:
Mike Whyte

You probably remember how excited I was when I announced through Release News last month that a strange blimp had been seen over the skies of East London, and the speculation that it could mean the return of the man known under many names, but most importantly as Aphex Twin may be about to release something new…
…so with great anticipation I opened the packaging of "Syro", the latest release from possibly the greatest living electronic musician according to me, and delved into its contents.
Within 15 seconds of playing "minipops 67 (source field mix)", the first track of the album, you know it is Aphex and nobody else. The fluidity of the beeps and bleeps, the everchanging morphing of the tracks could only be him, it is as unique as a fingerprint is to anybody else. There are differences though – the first track is almost song-like, with a fair amount of garbled singing featuring throughout its length, while "produk 29″ has at its core what almost seems like an overheard conversation from a club toilet. "XMAS_EVET10 (thanaton3 mix)" is an epic 10+ minutes in length – probably one of his longest tracks committed to disc.
My highlights are "CIRCLONT6A (syrobonkus mix)" and "CIRCLONT14 (shrymoming mix)", both of which had me dancing along in my chair without really even realising it, and reminded me of really, truly classic Aphex Twin tracks of yesteryear. "s950tx16wasr10 (earth portal mix)" is probably the hardest track here, being a drum'n'bass / acid based affair, but it is still quite ambient in its own way too. The last track "aisatsana", in contrast to the rest of the album, is piano based, with bird tweets for accompaniment. It would have fitted on his last album "DRUQS", and certainly reminds you of how amazing a composer he is.
As always, Aphex dabbles across the genres, though not quite to the extent he famously attempted with the landmark "Come to Daddy" or "Windowlicker". It is still quite a laid-back affair, and very listenable. Is this a sign of Mr D James mellowing by any chance? I don't think so (at least I hope not).
It is very, very hard to be critical of an artist I admire greatly, and to try to do so would be false, but I do feel that this album is more a reminder of who Aphex is and what he can do in order to re-establish his place at the top of the pile, than it is his most cutting edge work. If the rumour mill is to be believed, this may just be the beginning of another period of frantic effort from the Twin, so I will look forward to releases that come later on down the line. Music just got exciting again.