Aphex Twin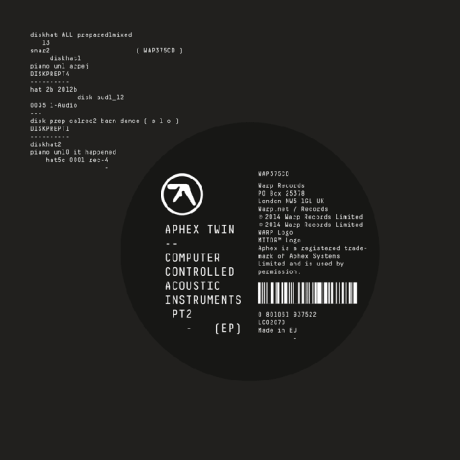 Computer Controlled Acoustic Instruments Pt.2 EP
Format:
EP
Label:
Warp
Release date:
January 23, 2015
By:
Mike Whyte

It seems Aphex Twin releases have become a bit like London buses – you wait ages for one and several come at the same time. So, very unlike normal Aphex Twin releases schedules, and just months after the big release that was "Syro", we have this latest effort – an EP made up of tracks which are all sourced from computer controlled acoustic instruments.
As this is but an EP release, I won't go to the lengths I would normally, simply tell you that this is an interesting mix of full tracks, and snippets of samples of computer controlled instruments. It is great in parts, and very different to the dreamy tracks you heard on the previously released long player.
This is much harder, clankier, and generally much more mechanical. Even so, it is still unmistakably Aphex Twin behind the controls – the layering of sounds and the way the instruments play around each other only seem to be able to come from the man behind the computer keyboard.
I would say this release is a little bit more challenging for the lay-person, though for the purists, more pleasing – thanks to the evolving sound that they were hoping they would have heard on "Syro".
A handful of tracks here are worthy of your full attention – the opener "diskhat ALL prepared1mixed 13″ is amazing, the closer "hat5c 0001 rec-4″ very funky, and "piano un10 it happened" perhaps one of the most beautiful Aphex Twin tracks released to date. For those who had wished for something new from Aphex Twin on "Syro" and felt a little disappointed, this EP is for you.
For those who fell in love with "Syro" this is an interesting, though brief exploration into the many, many other facets of Richard D. James. For me, I'm just glad we're getting spoiled for choice once more.