Air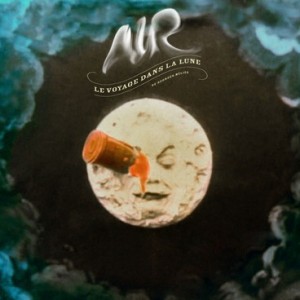 Le Voyage Dans la Lune
Format:
Album
Label:
EMI
Release date:
February 9, 2012
By:
Mike Whyte

It's been a long time coming, but the duo of Nicolas Godin and Jean-Benoit Dunckel have finally decided to head back to the moon for their latest offering. This was of course the scene of their now legendary debut, the rather excellent "Moon Safari". This time, however, is rather different.
This album is actually an extended version of a project they were asked to work on, which so enthused them they practically locked themselves in their studio to complete it – to create a modern soundtrack for the movie "Le Voyage Dans la Lune" (A Trip to the Moon). The legendary 1902 film, only 16 minutes long, was one of the first sci-fi movies – and also one of the first to actually feature special effects.
There are all manner of effects (of the auditory kind) on this album too, though they are more retro in nature, the aim being to sound more handmade and "knocked together", in keeping with the visual style of Melies' film.
The opener "Astronomic Club" is rather tribal in nature, all big gongs and trumpet flares (the rhythm echoed in the rather better "Decollage"). The lead melody slides all across the track, as though drunk – really setting off the unsettling feeling of a journey into space (possibly with a bottle of vodka in hand).
"Moon Fever" is the Air everybody knows and loves; swathes of fuzzy electronics wash over you as a gentle piano rhythm keeps time – an instant of bliss that literally takes you back to the days of "Sexy Boy" (or early Boards of Canada, if you're that way inclined). "Who Am I Now" is similarly lovely, and features the talents of Au Revoir Simone and Victoria Legrand (of Beach House fame) on breathy vocal duties. "Cosmic Trip" is the best of the bunch though, with the sounds of electronic rain tinkling across spacey keys, and disembodied (but warm) voices announcing echoed messages like a retro-futuristic Sat Nav.
"Sonic Armada" is very retro, with piped melodies and retro electronic keyboard sounds on the verge of going out of action – it actually sounds more like an album for a 1970′s children's cartoon at times than for the movie it was designed.
So, a little bit hit-and-miss on occasion, but lovable throughout – an album that works as a collection of tracks, with some inspired moments that roll back the years – perhaps Air's most varied album to date.