Agent Side Grinder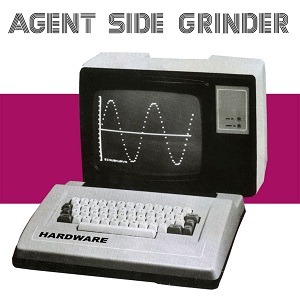 Hardware
Format:
Album
Label:
Klangarkivet
Release date:
February 22, 2012
By:
Peter Marchione

This Stockholm band has created quite a buzz by a slick, retro and semi industrial image and by putting a great effort into touring. Agent Side Grinder formed in 2005 and with a couple of releases behind them, that I've ran across occasionally, my expectations on this album were pretty high.
To me, this album sounds like if an old vinyl and cassette collection of Bauhaus, Joy Division, The Birthday Party and Neon Judgement has been thrown into a concrete mixer (and then packed with a big dose of hype). When listening shallowly it works but when I try to get deeper into their sonic universe, I cannot convince myself that it'd be worthwhile listening to "Hardware" instead of just digging one of the old originals up again.
I try to put my finger on the exact reason for me not enjoying this album as much as I thought I would. I mean: it sure has all the ingredients that should attract both mine and other old farts' taste and I think that it simply comes down to the fact that I feel that the songs aren't strong enough. They all seem to be lacking that final it that makes each tune stand on its own.
The production is correct, harsh and at times wonderfully lo-fi and charming. You can actually feel the analogue circuitry of the old synths and obscure boxes. The craftsmanship is great but the overall impression I get is that the concept is very dated in itself. Like a distant echo of a scene that generally merged into something else about 30 years ago.
The bottom line is that it all comes down to personal taste and I'm totally convinced that this album will be a great success, even though it missed me by a couple of inches.