Underworld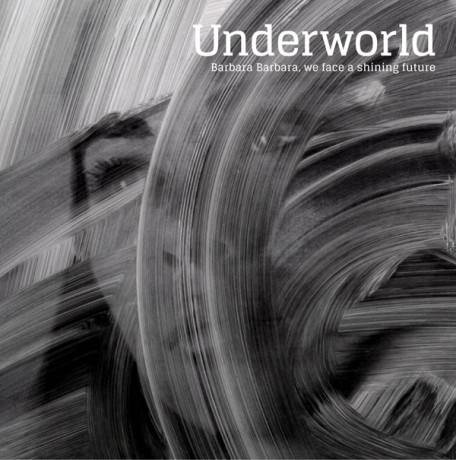 Barbara, Barbara We Face a Shining Future
Format:
Album
Label:
Universal
Release date:
March 16, 2016
By:
Mike Whyte

You all know Underworld, of course you do. So you know that this album is the first studio album together in 6 years (though activity has taken place in between those years, with solo work and reissues with expanded material). This album is set to be supported with a small tour – so how is the world according to Underworld in 2016?
The album opener, "I Exhale", feels different to usual efforts – in fact it almost seems like a rock song – booming bass and repeated guitar licks, with the vocals much more prominent in the mix than typical for this band.
"Low Burn" is classic Underworld, and classic in the sense that it is also a classic – a really nicely built track, a driving rhythm with mournful keys over the top – the spoken lyrics acting as another instrument in the mix. Great stuff.
"Santiago Cuatro" has an exotic feel to it; a picked guitar line playing over a drone bass – creating an atmosphere that made me feel like I was walking through a market in India with headphones on. "Ova Nova" has a really uplifting feel to it – thanks to a combination of the singing of Hyde and backing singers, the single high pitched piano key pressed intermittently and the guitar line holding everything together – it's like letting the sun in through your ears.
The album is only 7 tracks long – but there is amazing variety across them. Of course some of the tracks top 8 minutes (it is Underworld after all), but not a single one feels like it outstays its welcome. There is an all-encompassing feeling of positivity from the music presented here – none more so than on the final track "Nylon Strung" – if this album is about the future, as the title seems to suggest – they do indeed feel that it will be a bright, shiny, warm place. A great album then, I would say – go see them live if you can, as this is the stage their music really comes alive.