Thyx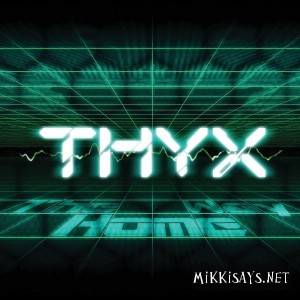 The Way Home
Format:
Album
Label:
Thyx Records
Release date:
May 22, 2012
By:
Johan Carlsson

The mastermind behind Mind.in.a.box (henceforth called MIAB) is at it again, this time as a solo project with origins as early as 15 years ago (and a song by the name "Thyx" was made back then). The project itself was started recently though, about a year ago. The man behind the name, Stefan Poiss, sure knows his way around his keyboards, and with Thyx he takes the classic MIAB sound and turns it into a free and untamed – at the same time more focused – album. If you know your MIAB, I could decsribe it as perhaps close to the first MIAB album in style. If not, the music is best described as atmospheric, melodic, electronic pop with intricate layers and Stefan's characteristic vocals driving the songs forward. In short, Stefan is one of the most interesting musicians working in our space these days.
This more focused direction suits me fine, and I have to say I enjoy this album a lot more than the last MIAB effort, which to me was a bit too self-important and uneventful. Here instead we get that trademark Poiss sound distilled down to work a strong collection of mostly uptempo and fun electronic pop songs, not as a progressive synth album with a complex, continuing storyline. This leads to more variation and more chances taken. Stefan sings a lot more without effects here, and has concocted some very catchy tunes, still rich with the epic feel that he is so good at producing.
As I said, it's very evident that Thyx is made by the same guy who is the mastermind of MIAB, so if you're a fan of them you will definitely like this. Since MIAB started out as (musically at least, Markus Hadwiger wrote the lyrics) a solo project that grew into a full fledged band, I guess it's Stefan's way to experiment without his band members. And he does it very well. I've been spinning this a lot.