Thundercat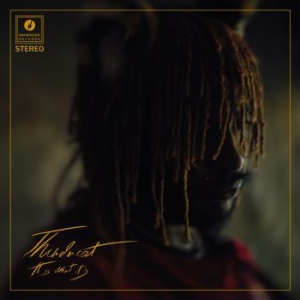 It Is What It Is
Format:
Album
Label:
Brainfeeder
Release date:
April 3, 2020
By:
Mike Whyte

Former member of thrash band Suicidal Tendencies and bass player, singer, keyboardist and drummer Thundercat has returned with his follow up to 2017′s "Drunk". It seems it can be put alongside that album as a comparative piece, though the music seems to stretch out in ever expanding orbits.
"Interstellar Love" and "I Love Louis Cole" merge into each other, and both feature frantic finger picking and super-speed drumming which wake you up after the opener "Lost In Space". "Miguel's Happy Dance" highlights Thundercat aka Stephen Bruner's amazing bass playing skills, with spaced out keys backing up the falsetto vocals. "King of the Hill" accentuates these vocals even more, when half-way through something close to acappella is heard, before that bass finds its way back again…
There are tracks on here which even the likes of Flying Lotus may find a little out-there eg "How Sway". It is another rapid fire track, but harder to define, as it thunders along (no pun intended) at 100 kph in a quasi-jazz funk way. "Funny Thing" is closest to the ethic of 2017′s album – the line "…I'm a little bit drunk and I want to party with you" being a clear indication that the party at Thundercat's house hasn't stopped yet.
"Dragonball Durag" is probably the best example of what he brings to the table – falsetto voice sang lyrics about liking his durag (a head scarf covering), over sublime bass-led funk – you will find it hard to find a track that doesn't encapsulate Thundercat more. Best of the set has to be "Unrequited Love" though, which takes the creativity and applies the falsetto over this luscious slow track that almost breaks your heart as it goes on. The same can nearly be said of  "Fair Chance", which has a glorious instrumental track, a bit let down by the vocals.
As previously, the album rattles along at breakneck speed, with tracks appearing and disappearing almost as quickly as the songs that came out of the era of punk; very few get above three minutes – with two minutes + a bit being more or less the norm, even though "Existential Dread" clocks in at a compact 52 seconds. This, on the plus-side, means you don't have time to get bored, but it also means some tracks here are just getting going when suddenly they are over – which is a bit of a shame. Captivating clips in a lot of cases rather than full length tracks – listen to the last track "It Is What It Is" to show I'm right, and imagine if all his tracks were that length.