Spark!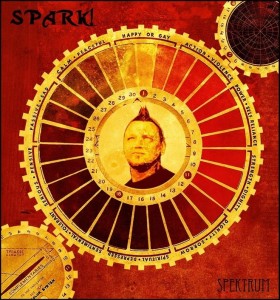 Spektrum
Format:
Album
Label:
Progress Productions
Release date:
February 5, 2015
By:
Johan Carlsson

After lead singer Stefan Brorsson left Spark! for personal reasons in 2013, Mattias Ziessow continued working on new material and then drafted 10 different singers from other bands to take over vocal duties. This could be a risky move, but Mattias manages to keep the Spark! feeling alive, and the different singers bring a lot of variation to the table. There's even a song in Norwegian, confidently sung by Xenturion Prime's Björn Marius Borg. Other languages that appear are German and English, sung by the likes of Patenbrigade Wolff, Spetsnaz, Biomekkanik, Substaat, Dupont and many more. Most of the guest singers do a good job without pushing themselves that far, with Pouppée Fabrikk's Henrik Björkk shouting angrily on the groovy "Unforgiving" being a favourite of mine. "Mittsommernacht" with Blitzmaschine also hits a nice sweet spot of catchy melodies and effective vocals.
In case you haven't heard of Spark! before, the band specializes in old school body music à la older Nitzer Ebb, the above mentioned Spetsnaz et al, with fast octave bass lines and pummeling drums doing their best to wreak havoc on your ears. It's a pretty narrow genre and Spark!'s take on it is to insert a pop sensibility into the proceedings, which works pretty well. On previous material they've shakes things up a bit more, but on "Spektrum" it's basically back to the 80:s and a simpler, more bare sound.
Comparisons can be made to newcomers and label mates Wulfband who in my opinion takes this somewhat tired style and invigorates it with heaps of energy, punkiness and musicality, whereas Spark! seem a bit tired, clean and stuck in the past. It's not particularly fun actually, and it gets stale after a while despite all the guest vocalists.
I have a feeling that a lot of the songs will work wonders on dancefloors and if you're already a fan I think you'll have a great time with "Spektrum". I would have preferred some more grit and musical inventiveness though.