Spark!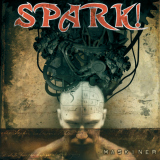 Maskiner
Format:
Album
Label:
Progress Productions
Release date:
May 27, 2016
By:
Johan Carlsson

I bet you know what you're in for when a new Spark! album comes your way. Hi-energy bass driven EBM with finely tuned pop sensibilities and (usually) lyrics in Swedish. This is the first album with new singer and producer Christer Hermodsson (from S.P.O.C.K and Biomekkanik et al) on board. Lacking a singer since Stefan Brorsson left, co-founder Mattias Ziessow drafted a whole bunch of different vocalists on the last album "Spectrum", Christer included, but now order is restored and I have to say Christer's voice fits perfectly. Possibly better than ever actually and overall I feel that the songs on "Maskiner" are stronger than on previous efforts.
There's nothing particularly groundbreaking here, but man, Spark! sure knows how to bring the groove, and coupled with great pop choruses and fuzzy atmospheres this album has been doing the rounds in my headphones all week. Warmly recommended.