Plaid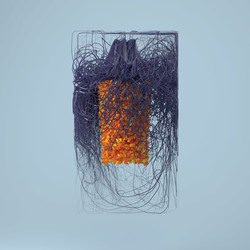 Polymer
Format:
Album
Label:
Warp
Release date:
June 7, 2019
By:
Mike Whyte

Plaid are worthy of all the attention they get. Though I may be controversial if I say they are not as well known as some of their more famous colleagues on the Warp Records roster, they are always innovative, musically interesting, and most importantly have a style all of their own. Don't forget they were also the main part of the early innovators of IDM as Black Dog. This their tenth (!) album is a joyous romp through electronics, based around the theme of plastics, their flexibility and, of course, the natural versus the synthetic.
"Meds Fade" sets off the album in a noisily ambient way, at least until the relatively straightforward drum rhythm pounds in. Interest steps up a gear when the second and third tracks come into view. The former, "Los", is a jittery little track that pulls you in and gets you  moving, while "Maru", the latter, creates a looped textured rhythm with a slightly wonky keys section that pulls everything together into a clever little dance track. In the past, this would have been adequate for the rest of the album, but not anymore. After 30 years, it seems Plaid want to go out clubbing.
So the ante gets upped even higher once you reach the rather splendid "The Pale Moth". The jittering beats reflecting the nature of the insect, but the instrumentation that accompanies is nothing short of delightful. I love jabbing synth sounds, especially coupled with the guitar-sounding lines that move the pace up to the "drop". "Dancers" continues this even more, with a track that sounds like Black Dog as imitated by the Chemical Brothers.
The best track for me is the more industrial "Recall". The loops and abrasive sounds keep my interest, and the track sounds as raw as any Plaid track I have come across.
I wouldn't say that Plaid have stopped being "clever", especially in the sense of the Intelligent Dance Music bracket with which they usually get labelled. Listen to "Crown Shy", and the way that wobbly rhythm kicks in, and you know not many others could do something like that. There is definitely more of a nod towards the dancefloor about this long player though, not the typical, "put it on the stereo and tap along enthusiastically". It's great to see that Plaid firmly refuse to rest on their laurels, and that 30 years down the line, they are still as keen to push the sonic envelope.