Pet Shop Boys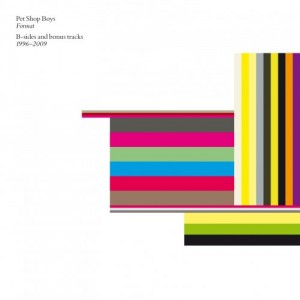 Format
Format:
Compilation
Label:
EMI
Release date:
February 8, 2012
By:
Johan Carlsson

I used to be a reasonably hardcore Pet Shop Boys collector back in the days. I still have the whole lot, a bunch of weird Japanese 3" CD singles, promo 12", CD singles and albums etc, although my interest has waned throughout the years. These days I'm not really keeping up with all the singles and B-sides, which is why this eminent collection of – you guessed it – B-sides comes in handy.
"Format" is a follow-up to "Alternative", the previous B-sides collection covering their humble beginnings up to "Very" in 1994. This new collection just continues on from there, up to their latest singles.
Neil and Chris have always produced some of their most interesting material as B-sides, because that's where you can let go and experiment a little as it doesn't have to go on the charts or fit on an album. "Format" splendidly showcases this, and sporting a somewhat crazy 38 tracks it's a hell of a lot for your hard earned money. If you have so far only bought their albums, this is basically three albums worth of music for the price of one. And there are some stonkingly good tracks here too!
Just to mention a few standouts or interesting tracks, "Betrayed" is an excellent chilled tune with breakbeats that's been a favourite of mine for a long time. "Confidential" is a song that they wrote for Tina Turner, but here we can hear their own demo. "Sexy Northener" is a sort of dark housey little thing and would work well on most dancefloors. Their song for Dusty Springfield – "In Private" – is featured here, as a duet with Elton John. Not very interesting musically – the original Dusty version is much better, but for novelty value it's pretty awesome.
As stated above, you get tremendous value with this collection, and even though I rate "Alternative" higher, you really can't do wrong here even if you only have a passing interest in the band.