Page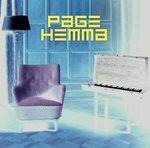 Hemma
Format:
Album
Label:
Wonderland Records
Release date:
August 29, 2013
By:
Johan Carlsson

After disbanding in 2000, Page returned after a long hiatus in 2010, with the album "Nu", where Eddie Bengtsson had reunited with founding member Marina Schiptjenko. The warm, analogue synthpop sound that Eddie has perfected was still intact, and it still is on "Hemma", the new album that continues the reunited band.
I've always been partial to Eddie's space excursions with his other project Sista Mannen På Jorden (Last Man on Earth), where he takes a more introspective and perhaps not as poppy approach to the songs, even though the basic sound is the same. Under this moniker he has released some of the best synthpop the world has ever seen. This preference is still in effect after "Hemma", which unfortunately doesn't reach the same dizzy heights.
Page has employed Håkan Hultberg to produce the album, but fret not, it is pretty much instantly recognizable as a Page album. It's filled to the brim with lots of fuzzy analogue synthesizers, energetic drum machines, Eddie's sort of naivistic Swedish vocals and Marina's backup singing. It's business as usual, and it's hard to pinpoint what my problem is with the album. Is it that the synth riffs doesn't sparkle as much as usual? Of course there are some good tracks on here – there usually is; songs such as "Som ett skal" and "'Lyssnade på min radio" and some more, but there are also some middle of the road compositions. "Hemma" comes to a fitting end with "Kommer när du kallar", a song that brings some 70:s glam into the proceedings. It ends an album that won't set the world on fire, but it doesn't need to. I'll always be happy as long as Eddie keeps making quality synthpop.