My Love Kills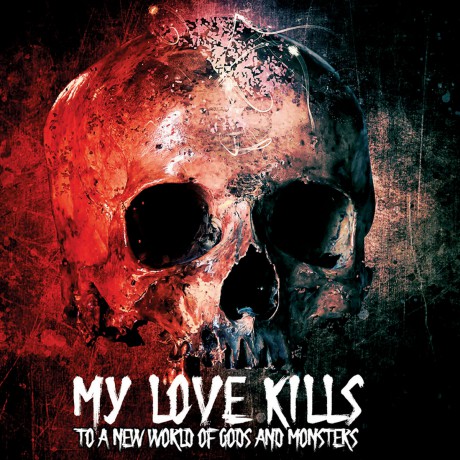 To a New World of Gods and Monsters
Format:
Album
Label:
Progress Productions
Release date:
April 29, 2022
By:
Johan Carlsson

My Love Kills have gone from strength to strength, with each album showing clear development and progression. This is their third full length, and it's a full on banger. Fredrik Sigeback (Erotic Elk) from Sweden and French vocalist Vicomte Arkames (Ad Inferna) have created 10 – the perfect album length by the way – exceptional dark industrial tracks, straddling the line between Skinny Puppy, Front Line Assembly and Dead When I Found Her, with hints of In Strict Confidence and The Fair Sex thrown in there too for good measure.
"To a New World of Gods and Monsters" paints a very dark picture of our future – at least that's my interpretation, and all songs are absolutely drenched in atmosphere, with small details, samples, sounds and lots of ambience. It's also one of the best produced albums I've heard in a long time! Every sequence, every smattering of synths, every beat, every movie sample is in its right place in the mix. This album also welcomes guitars into the sound, adding even more flavour. I must also mention the French lyrics, not present in every song, but fits the music like a glove.
"Back to Life" opens the album, setting the scene from the start. It doesn't take long for the fast bass line to get going, and before you know it a hard hitting chorus basically forces you to dance. End track "The Dark Throne" is equally great, with its fast beat and undulating synth bleeps and a decidedly FLA-like chorus. In between we have a whole bunch of great tracks, but I'd like to single out the slower "Lettre pour tes Funerailles" with its brilliant, powerful vocoder-laden chorus.  Sublime. Basically all the stuff you want.
This is a superb album, and will certainly show up on a lot of "best of" lists towards the end of the year.