Mind.in.a.box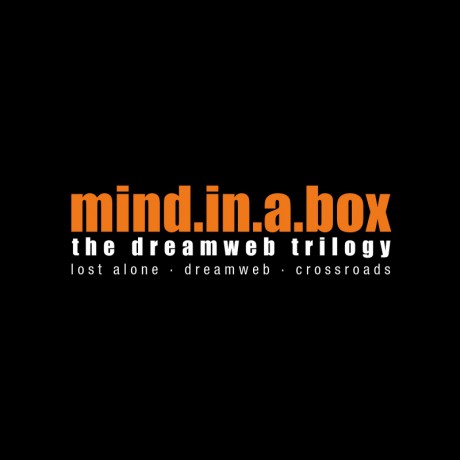 The Dreamweb Trilogy
Format:
Box
Label:
Dependent
Release date:
February 14, 2020
By:
Niklas Forsberg

It is all still very clear in my mind. The moment when "Change" ended. The first piece I ever heard from the minds of gentlemen Poiss and Hadwiger. A cinematic and eerily futuristic electronic sound with a feel never heard before. Even today, some sixteen years later, I get chills just thinking about it. The palpable darkness and sadness wrapped in a clever dance track.
Mind.in.a.box was always essentially about emotion – highs and lows – in an electro surrounding working wonders on dancefloors almost by accident. Robotic vocoders combined with the complexities of human struggle is a texture that might seem contradictory, but it the greatest strength of this dynamic duo. They won my dark heart back then and continue to enthrall and enlighten. This is a closer look into the first three albums by Mind.in.a.box, the so called "Dreamweb Trilogy", recently released on vinyl for the very first time.
"Lost Alone" (2004) began a journey that would reveal the musical genius of Stefan Poiss and the intriguing lyricism from the pen of Markus Hadwiger. It also introduces the cyber-esque tale of Mr. Black which runs all through these albums. Events in this story are directly linked to the songs and builds an impressive arc. It's not necessary to fully engulf oneself in these futuristic plots to enjoy the albums, but it gives a hypnotising edge.
Mind.in.a.box came along on the back of a futurepop trend and muscially they use some of those elements, yet it feels light years away from their peers. Music more for contemplation than dancefloor, still maintaining a direct appeal. Unique to say the least. "Lost Alone", as a debut album, is quite an achievement. Poiss and Hadwiger had all the pieces prepared and unleashed the full package on an unsuspecting electro community. Highlight tracks include the mentioned "Change", the hesitant, contemplative "Questions" and "Take My Soul", where the otherworldy vocals are toned down for a more human approach.
By some fans considered their weakest moment, "Dreamweb" (2005), came next and while it continued the approach established on "Lost Alone", there are some notable differences. There is an ambiguity about many of the tracks, as if they want distance themselves from the first album, yet it's still very much Mind.in.a.box. At the same time, this is one the core strenghts of the band, being able to concoct intricate, dreamy Easter eggs as well as futurepop laden dance bombs. Paired with the detailed sense of production and sounds, I can't think of any other band more perfect for headphones.
"Dreamweb" might lack in instant appeal, but I feel it has its place in their discography. The scratched surface of single "Certainty" hints at a harder sound while more thought provoking pieces reminiscent of their beginnings, like "Lament for Lost Dreams" retains their emotional side. What sounds like electric guitars and bursts of metal are introduced in "Machine Run" and works surprisingly well. It seems whatever the duo tries their hand at, they come out on top. Mr. Black however, seems lost and unsure of his mission.
"Crossroads" (2007) sees a more dense and focused Mind.in.a.box, seemlingly full of confidence and aching to let us hear it. Mr. Black finds himself in trouble orchestrated by the ominous White, who tries to erase his memory. "Amnesia", an absolute scorcher and one of their best tracks ever, deals with this struggle and the feeling of disorientation. The chorus is as melodic as it is lyrically painful. "Identity" emphasises a more progressive side, always present but accentuated here. Stefan's unprocessed vocals and more organic feel overall make this an interesting experiment. It stands in stark contrast to "Fear", where the angst feels way too close to be comfortable. As if created purely by machines to frighten humans. A fantastic track. "Crossroads", in many ways, speaks for itself. It takes the essentials of image, content and edge and creates the perfect record. Together with "Lost Alone" and "Dreamweb" it completes the most intriguing electronic music trilogy in the new millenium.
The new vinyl editions of these modern electro milestones are impeccable. Artwork, sound and quality. Brilliant work by Dependent Records. There is also a collectable box with exclusive blue colour vinyls and large format art prints limited to 300 units. They also come separately in classic black vinyl. If, for some unimaginable reason, you don't know the band, it's time to immerse yourself in their darkness.