Kid Kasio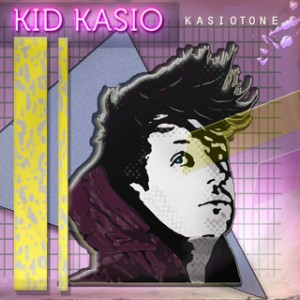 Kasiotone
Format:
Album
Label:
Kid Kasio
Release date:
January 30, 2012
By:
Johan Carlsson

Wow, I discovered this album by chance while browsing Spotify the other day, and seeing as I seem to have a soul mate in Kid Kasio I just had to write about it. In fact, we seem to have almost exactly the same musical influences from when we were young, as evidenced by Kasio's sampling of both Break Machine and Howard Jones – two artists I listened to like mad in my pre-teens. Throw in some italo disco, Thompson Twins and Nik Kershaw and the picture is complete.
Kid Kasio is really Nathan Cooper (brother of British actor Dominic Cooper of "Mamma Mia" and "Captain America" fame, among others) from south east London. He used to be in a band called The Modern that released an album and a single produced by Stephen Hague. When that band fell apart, Nathan decided to go solo and thus Kid Kasio was born.
Kasio Kid makes fun music, filled with samples and often downright stolen melodies from the eighties. "If it fits it fits" seems to be the motto of the day, with no regard to if it's "proper" or not. And usually it works! The level of catchiness and bounciness of some of the songs is crazy, with a headbobbing factor high above average. Mr Kasio also successfully marries the sound of yesteryear with 2012, making it sound current, albeit with a tad overuse of autotune.
It's hard to pick a favourite, but "Small Talk" is probably it. It sports a funky bass line, samples from "Like to Get to Know You Well" by Howard Jones as well as a stolen melody from "Look Mama" in the break, and a chorus that drills into your brain and never lets go. Several other tracks could be singles, and I believe "Kasiotone" is going to be on my list of albums of the year.