Front Line Assembly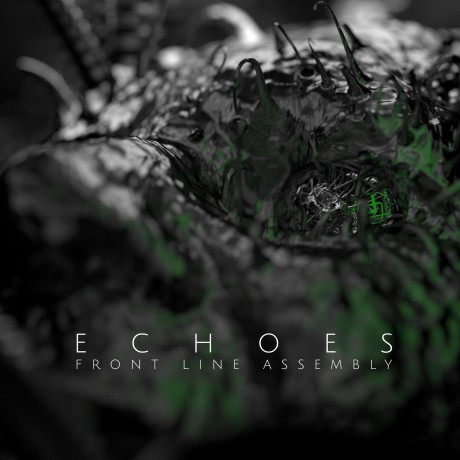 Echoes
Format:
Album
Label:
Metropolis
Release date:
May 13, 2014
By:
Johan Carlsson

Do you remember "Re Wind"? Out in 1998, it contained remixes and reworked versions of songs from Front Line Assembly's "Flavour Of the Weak", and brought new life to them via some really interesting incarnations of songs like "Comatose", "Colombian Necktie" and "Predator". "Echoes" is the same idea applied to last year's Front Line Assembly album "Echogenetic", and thus features remixes of tracks solely from that release.
It's a great idea too, because "Echogenetic" saw the band move further into modern dance floor styles, and the songs lend themselves well for remixes. Furthermore, the line up of remixers is pretty stellar. How about Sonic Mayhem, Comaduster, Youth Code, Liebknecht (new project from Daniel Myer), Henrik Bäckström (from Necro Facility), HECQ and Haujobb? Also included are remixes by ex-FLA member Rhys Fulber and the side project called Hijacker run by current FLA sonic architect Jeremy Inkel (which makes me very eager to hear their own material). And to top it all off, there are 2 new tracks, co-written with Ian Pickering from British trip-hop / electronic band Sneaker Pimps. But we'll get to that.
It seems like all remixers have brought their A-game to "Echoes", and all bring a fresh, interesting perspective to each song. The styles vary from lush, glitchy, dubsteppy soundscapes by Comaduster to downright evil sounding retro industrial by Youth Code – and a lot of styles in between. The latter remix brings back memories from both "Gashed Senses and Crossfire" and "Caustic Grip" with its menacing onslaught of noise and harsh treatments to Bill Leeb's voice. Great stuff. Another favourite is Rhys Fulber's beat monster, a remix of the already dancey "Killing Grounds" which now gets pimped out with a seriously fat bass and a relentless groove. In short, most remixes are downright great, and clearly worthy of inclusion even though I won't mention them all here.
"Contagion" and "Next War" are the 2 new compositions to appear on "Echoes" and continues the modern, upbeat, electronic style found on "Echogenetic". It seems like Ian Pickering's involvement has pushed the vocals and lyrics a bit, and especially "Next War" is pretty poppy actually, while not forgetting the Front Line Assembly origin. Musically it's still very much in the FLA tradition.
So, is "Echoes" a worthy followup to "Re Wind"? I'd like to think so. The cheer breadth of remixers makes for a very diverse album, and while you can't say the new versions are better than originals, they're different and awesome. Now give me a remix album spanning their entire catalogue, please.