Erasure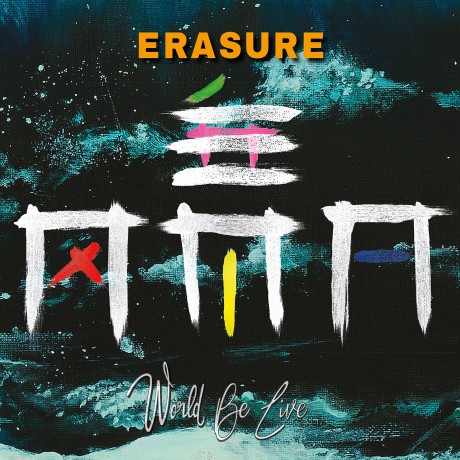 World Be Live
Format:
Live album
Label:
Mute Records
Release date:
July 13, 2018
By:
Fredrik Schlatta Wik

Following the success of the tour for the "World Be Gone" album, Erasure has released a live album entitled "World Be Live". The album was recorded at the two sold-out concerts in London in late February 2018. The European leg of the tour ended in Copenhagen on March 9th with the only concert that didn't sell out. They had to postpone a couple of gigs due to ill health and there was an evacuation of the concert hall due to the fire alarm going off at one point, but it must be said that this tour was and is one of the most successful in many, many years. When I'm writing this, Erasure are on their US leg of the tour after finishing the South American and Mexican part.
The album consists of 24 tracks spanning their entire career. The sound and production are excellent, a bit bass heavy to my liking though. Also, the hi-hats feel a bit outside the mix in some parts. I think Andy's voice is better than on the studio records, as usual. There are just some of the falsetto parts that aren't 100 percent, but for me that is a minor complaint. Backing vocals are provided by sisters Emma Whittle and Valerie Chalmers as they have been for almost 30 years now. I really couldn't imagine an Erasure gig without them on stage. Joining Erasure on guitar on "Just a Little Love" is Vince Clarke's nephew Josh.
Most of the songs, even the newer ones, have gone through a facelift and optimization for live performance. I especially like the reworking of "Oh L'Amour", "Sacred", "I Love Saturday", "Drama!" and of course "Phantom Bride". The latter being the best and perhaps most surprising track of the lot, and Emma's glittering backing vocals are fantastic here. There is also a cover of Blondie's "Atomic" were the audience joins in. Andy is a huge Blondie fan.
The album comes in various formats. The EIS (Erasure Information Service) release comes in coloured 3LP and a 2CD versions, with special metallic covers, and was released one month before the official Mute release. The standard Mute release includes a 3LP and 2CD and various downloads.
Being a dad with small kids, I had to pass on this Erasure tour and had to enjoy the live performances from various online streams and fan videos, until this official release that is. I really liked this tour setlist, stage setup and look forward to attending next tour, front row of course.