Boards of Canada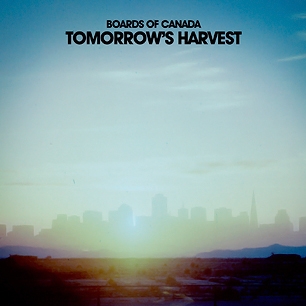 Tomorrow's Harvest
Format:
Album
Label:
Warp
Release date:
June 5, 2013
By:
Mike Whyte

A new album from Boards of Canada is less a release, and more of an event. Take the build up to the release…
A cryptic single accredited to, and later confirmed by Boards of Canada alluded to a secret code, which was built up in various media from its inception on Record Store Day. The codes, when put together, became a password to enter a website, which had a cryptic video on it. Towards the end of that video was information about a new album from BoC… You can see why people get excited by their releases.
So, with the album now available, was all the hype worth it?
It's a slow and paranoid beginning. "Gemini" not being one of the most comfortable tracks to start off with – but this was obviously the intention, a little like sucking on a lemon in order to clear the palette before a meal. "Reach for the Dead" is more classic BoC fare: dreamy, wistful, yet enticing – strings overplaying choppy piano, and then the beats kick in – oh it's all so familiar again…
For purists, the electronica is present and correct, as is the glitchiness, but there are also newer elements which hint to more interesting futures. "Telepath" is very 80:s sci-fi like, and the vocals are quite chilling – it could have come from an off-cut of the Blade Runner soundtrack, such is its retro lushness. "Split Infinities" is an unusual beast too, it is almost a drone track, with layers of luscious keys keeping it the right side of likeable. "Come to Dust" is another track which teases and entices its way like a musical maggot into your brain, and once there settles in for the duration.
17 tracks is a full body of work, and the completeness is the most enjoyable aspect – it is not markedly different from previous efforts, but as with them, it is eminently listenable, there are no "bad" tracks as such, and through this is so worthy of attention. There is a similarity in structure to many of the tracks, but this doesn't detract from their beauty – in fact these two Scots are one of the few artists who seemingly can get away with keeping their work to one theme, without the need for veering across to the what is now and trendy.
Listen, cherish – the most vital recording artists on Warp Records at this present time have done it again. It sounds like the future as seen through the lens of an old film camera, and the soundtrack to a forgotten 80:s sci-fi film all at the same time – this album for me was like bumping into a person in the street, and finding out you went to school with them. Familiar yet not, with plenty of tales to tell across it's 60-minute-plus length, its another triumph in an already impressive body of work, from artists who seemingly can do no wrong.