Björk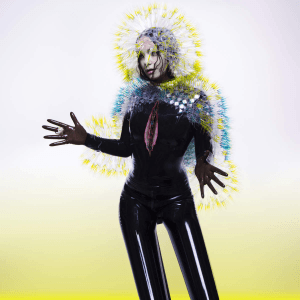 Vulnicura
Format:
Album
Label:
One Little Indian
Release date:
January 20, 2015
By:
Mike Whyte

What do you possibly need to know about the enigma that is Björk that you don't know already? Well, one thing at least: she is back with her 9th studio album – the name: "Vulnicura".
Made after the breakup of her relationship with the artist Matthew Barney, these tracks represent the very personal feelings of a musician dealing with loss and grief. Thankfully, being that it is Björk at the controls, the results sound like an audio diary of the inner monologue of Björk's brain, rather than an emotional wallowing in self pity.
This isn't to say that the album doesn't have emotional depth – it is in fact a very deep and raw, but bleeding hearts normally associated with wailing across acoustic guitars are replaced with gloomy electronic soundscapes courtesy of The Haxan Cloak, producer wonderkind.
The opener, "Stonemilker", sets the tone for the early section of the album, it has on-point vocals and a strings and affected beats combo, creating a beautifully heartbreaking lament. "History of Touches" takes the despair further. Listen to the lyrics and you will get a real lump in your throat, as it feels Björk is singing her soul into your ear, while a hazy, fragmented soundscape tries its best to lift the crushed singer from the floor.
It is an album of high emotion, and one that at times felt quite uncomfortable to listen to. If I'm honest – it almost sounded confessional, leaving you to feel deflated for the singer and her heart pouring out of the speakers. The production and singing are tight, and resolutely experimental, which makes it a great technical album to listen to. "Black Lake's" pool table ball rhythms being a satisfying highlight in that respect. "Family", on the other hand, seems to take a tumble through classical jazz, with violins noodling around the haunting backdrop. The tracks are really long too, with many between the 8 to 10 minute mark – we are no longer in the world of "Violently Happy" here. Probably my favourite would be "Quicksand", which has jittery drum'n'bass elements which shouldn't really fit together, but somehow do.
In reality, what you are listening to is the soundtrack to a modern day legend's very public separation, so although you may tell yourself you like the songs, and generally they are good, it still all feels a little unsettlingly voyeuristic.