Biomekkanik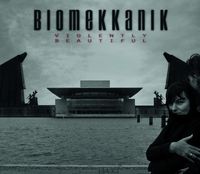 Violently Beautiful
Format:
Album
Label:
Danse Macabre
Release date:
January 16, 2015
By:
Johan Carlsson

Christer Hermodsson is certainly talented, which he has splendidly shown us during his years in S.P.O.C.K (as Crull-E) and Sista Mannen På Jorden, as a producer (And One, Cat Rapes Dog) and on his first solo album "State of Perfection" under his Biomekkanik moniker. That album arrived in 2009, but now he's back with Biomekkanik, together with Andreas Ingefjord and Mattias Johansson, and it seems like he's spent the time honing his skills.
Biomekkanik performs live quite often these days and now employs guitars quite vigorously, although the sound is mostly based in synthpop, albeit a darker variant. Sort of a cross between synthpop and rock actually, as evidenced in great splendor on the title track "Violently Beautiful" which is quite riffy indeed, and also a highlight on the album. Christian's strong, clear voice is also leagues above most other singers in "our" genre, and doesn't fall into the operatic typical "synthpop voice" trap that so many do. Refreshing.
Overall the album is a bit uneven, but in my opinion it's miles better than his debut, and there are some real ear bugs that'll keep you humming, and tracks like "Monumental Me" sounds like it could set a lot of dance floors on fire. Check it out.