Assemblage 23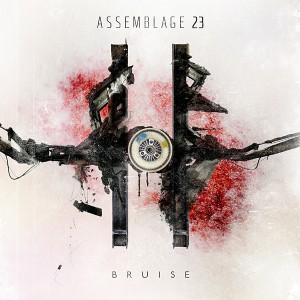 Bruise
Format:
Album
Label:
Accession, Metropolis
Release date:
June 12, 2012
By:
Fredrik Schlatta Wik

It has been 3 years since American Tom Shear, Assemblage 23, gave us "Compass." and many with me have been awaiting the new album. For me the most eager question on my mind has been; what direction will he take? The answer is presented on "Bruise", an album featuring 10 new tracks and if I were to choose one single word to describe the album, it would be evolved synthpop (OK 2 words then!). The second, oh third, word would be intelligent.
The first track, "Crosstalk", sets the tone for the whole album straight away, with brilliant arpeggios and falling chorus, pumping basslines and some weird muted intro samples. It is obvious that Tom has improved his vocals, especially the layering of vocal melodies, and the programming and production sounds immaculate to me. The second song "The Last Mistake" continues down the same path; melodic arpeggios, looming pads and strings on top of a dance beat with well-written lyrics, but oh why the cymbal crashes – superfluous. The lyrics on "Bruise" deals with life and relationships and what could have been, at least for me. It is very thoughtful observations of the world and quite personal at times.
Next up is the track "Over & out", which features an almost rock-like drum sound and melodic structure reminding me of pure pop artists like Pet Shop Boys and Moby even. The fourth track is "The Noise Inside My Head" which is the first track to really blast out the obvious heritage of earlier pioneering futurepop, with a fantastic hook and chorus melody. The layered vocals are beautiful; it is probably my favourite track on the album, today at least.
"Outsider" starts with a weird the Cure-ish bass/guitar sound with sad New Order-ish melodies on top and develops into a slower history of not being seen. Next track is "Darkflow", if one were to continue describing songs by other band references; this would be the Nitzer Ebb track, at least for the bass and for the verse it is more Front 242 while the chorus contains remnants of Covenant. In "Automation" the vocals are automated and digitized, no vocoder I think, again it reminds me of Covenant. OK, enough with references to other bands.
Track 8, "The Other Side of the Wall", and track 9 "Talk Me Down" confuses me in a way. To me they are very similar, to the point that lyrics aside, they could be the same song, one being a remix. It is even more peculiar that they are not separated on the album. OK, they are not the same tempo and probably not the same key, but the melody and way Tom sings are very similar. Not that we haven't heard this type of verse melody before, but hey if it works… This is probably my only concern with the album.
The chorus and break of "Talk to Me" is brilliant however, if it doesn't make you want to get up and dance you are either deaf or dead. The slower "Otherness" is the last track on the album; it is about the frailty of being human and not being perfect. It is a beautiful ending to a great album; I really like the way Assemblage 23 has evolved. "Bruise" is an album where, melodies, layered vocals, and basslines are allowed to take up more space than on previous albums, all wrapped up in intricate production. I wish Tom would teach others how to mix an album, also kudos to the mastering engineer for not compressing the shit out of the album; it still has nice dynamics despite being very danceable. There you go, it can be done. The futurepop elements are still there constantly lurking in the background and sometimes surfacing of course. But merged with improved vocals and intelligently designed melodies, interesting sound landscapes and hooks it is quite an enjoyable journey through the entire album.