Arca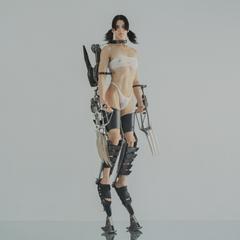 KiCk i
Format:
Album
Label:
XL Recordings
Release date:
June 26, 2020
By:
Mike Whyte

Arca – heard the name? Probably best known as the collaborator of Björk on her recent albums "Vulnicura" and "Utopia", Arca is an acclaimed multi-disciplined electronic artist in her own right – djing in Barcelona as well as performing, singing and writing amongst her many talents.
This is actually Arca's 4th album release, and probably the most poppy of her career, or should I say the most accessibly experimental… It opens with a statement of intent in "Nonbinary". "I do what I wanna do when I wanna do it" – how's that for a first line? The spoken / rapped statement glides over a succession of percussive hits which evolve into a plucked string IDM-style stew. This ante is upped on "Watch", were Shygirl spits all over a an experimental hip hop-techno hybrid beat.
"Time" follows and is very, very different. It is lush, the singing angelic and uplifting (though listen to the last track "No Queda Nada" for some really angelic singing). A moderate pumping beat keeps the track jiggling. Rightly chosen as a single.
The Björk-fronted track "Afterwards" could have come from one of her own albums, at least until Arca takes over vocal duties. Björk's unmistakable voice is ably supported by crashing beats and skittering high notes, that almost seem to live and breathe around her – a stunning collaboration.
"KLK" featuring Rosalia is possibly one of the most straightforward tracks of the set. The beats are straight 4/4 yet the production is playful to the extreme. It is also the most interesting and danceable track here. Repeat button for this one.
The tracks are all very different, and seem to alternate between dreamy and beat-fuelled, which is something I admire. The production is sublime, with sounds light and heavy breathing within the same space, atmospherics flashing around like fire flies.
The last collaboration of the album, with SOPHIE, is a real meeting of minds. Two very talented experimental pop producers making a track which has the DNA of hardcore techno running through it as it jitters and pounds through your ears.
With such a host of talent performing on this album, it really can do no wrong. This is the sound of pop music from the 2060:s – interesting, varied and sonically satisfying. This is aural sushi of the finest order – bite after bite of different experimental flavours – not long enough to overstay their welcome, and varied enough to not get boring. This Venezualan has hit experimental gold.