And One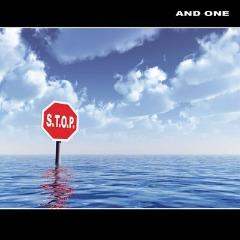 S.T.O.P
Format:
Album
Label:
Synthetic Symphony
Release date:
May 25, 2012
By:
Johan Carlsson

I had stopped caring. When "Tanzomat" came out, I hardly bothered with it after the first listen. Steve Naghavi had stopped caring too it seemed, and only rehashed old ideas. Plus, I was convinced that he only owned one synthesizer.
Moving forward in time, we have a new record by And One. And why should I care? This record has a tumultuous history, where Gio van Oli and founder Chris Ruiz left the band and started PAKT instead. To fill out the ranks Steve brought in his old band members Joke Jay and Rick Schah who jumped ship a couple of years ago, as well as recruited a new keyboard player Nico Wieditz. Apparently to good effect, because the end result is better than I expected!
Now Steve's studio has been upgraded to at least two synthesizers, but rest assured – this can't be mistaken for anything else than a And One album. The songs are however more thought-through and has that Naghavi epic-ness to them. Some, at least. In an interesting turn of events though, one fabulous track called "The End of Your Life" has Douglas McCarthy from Nitzer Ebb on vocals, which brings a welcome face lift to the trademark And One sound.
As usual, we get some dance floor EBM stompers mixed with the slower or poppier tracks, but the EBM side has slowly diminished over the years. The album even includes a neat little ambient song, the fittingly titled album closer "No Words".
If you're lucky enough to get hold of the deluxe edition, you'll get a bonus disc called "Treibwerk E.P." with even more new songs. Another interesting guest is featured here in the form of Eskil Simonsson from Covenant taking on vocal duties for "Low". The EP is where you mainly get your EBM fix and your fat bass lines, exemplified with Douglas taking the stage again on the groovy "Get It". Expect to dance your socks off to this one on the harder dance floors out there.The EP also ends with a beautiful ambient piece. It's definitely worth getting the deluxe edition.