Aesthetic Perfection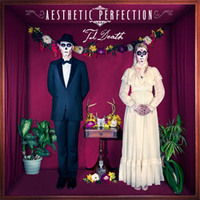 Til Death
Format:
Album
Label:
Metropolis
Release date:
February 11, 2014
By:
Johan Carlsson

If I had a band, I would probably strive for sonic perfection rather than aesthetic perfection, but that's beside the point I guess. The latest album from US band Aesthetic Perfection – whose interpretation of the acronym EBM is Emo Body Music – goes further into electropop territory, whereas their earlier output edged more towards harder and aggressive material.
They've got talent, no doubt about it. Daniel Graves has a great voice when he's not growling (my least favourite part of the album), and the songs are pretty catchy. The thing is that they're pretty cliche and employs a lot of extremely overused sounds, which drags the score down for me. I would like to see them explore a larger palette.
Some tracks such as "The Dark Half" are a bit reminiscent of Combichrist, while other songs are softer to the touch, so there's a lot of variation on "Til Death". I'm sure some of the tracks will do nicely on a club dance floor, but it just sounds a bit outdated and lifeless.