A-Ha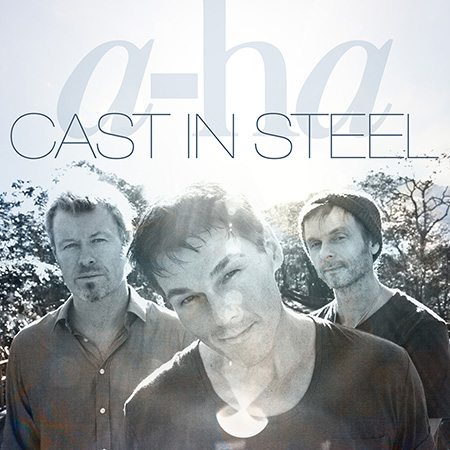 Cast in Steel
Format:
Album
Label:
Universal
Release date:
September 4, 2015
By:
Fredrik Schlatta Wik

The list of retired artists coming back grows longer and longer. But when A-Ha announced this new album and a world tour, I was genuinely surprised. Having been to the then penultimate live performance in Oslo back in 2010 I thought that that really was the end of A-Ha as a band.
My initial cynical thought was that some Brazilian investors had brought the large wallet and convinced the Norwegian trio, Morten Harket, Paul Waaktaar-Savoy and Magne Furuholmen, that those private Caribbean small islands really were worth it. And then they decided to make some live performances to cash in. Then at some point someone mentioned that they had a few tracks that really wasn't solo material but rather felt like unused A-Ha songs and the others said the same thing, hence a new album was already written. But then I read that Paul and Morten had worked on a few A-Ha tracks for quite some time, so my cynical side gave up and transformed into carefully optimistic eagerness.
The new album, A-Ha's tenth studio album, is called "Cast in Steel" and consists of 12 tracks, plus loads of bonus material, limited editions, fan boxes and so on, as usual. The bonus material is well worth exploring, with a few new versions, demos, and a couple of really nice remixes from the "Foot of the Mountain" album era.
Speaking of demos, A-Ha has also released their 30th anniversary edition of the synthpop classic "Hunting High and Low" including some very early demo versions. But those would have been better left in the bottom drawer in the archives. It is interesting to see how far from those demos the final versions are, but to be honest, painful to listen to.
The album "Cast in Steel" starts off with the title track – a mellow symphonic bombastic tune about promises and remembrance. In my head, the comeback is about unfinished dealings. The first line of second song "Under the Makeup", goes "This is how it ends, each on our own…" and it cements that thought for me. A-Ha wasn't finished and the members have spent the last five years or so wondering how to proceed.
The writing credits of the album are interesting – it is pretty much just one member of A-Ha credited for each song, with external contributors. The exception is the fourth track, the brilliant "Forest Fire", co-written by Morten and Magne. For me this is the best A-Ha track of the lot. A nice synth riff, a strong chorus and Morten's voice, still annoyingly crisp blending perfectly with the music. But my point is that it feels like that the collection of tracks stems from the individuals rather than the group. That said, it is difficult for me to pick out the composer for each of the track blindfolded.
So what does it sound like? It is a quite complex affair, the overall tempo seems slow but the album is probably faster than the A-Ha average. If I was to say one word it would be "safe"… and "beautiful", OK two words then. It is not inventive or about pushing any borders, but the album is a well-written and well-produced. It is sort of a continuation of "Foot of the Mountain". To me, the album is too beautiful to be boring and the string arrangements are intricate and complement the more traditional A-Ha pop soundscape brilliantly. It feels dynamic and not overly processed. My favourite tracks are the aforementioned "Forest Fire" as well as "The Wake", "Cast in Steel" and "Giving up the Ghost", but there is not a single really bad song on the album. I have listened to it more than 20 times and never skipped a song, which is good sign.
And yes, I am going to Oslo to see them live again in April, for the second and last time? Kempegrejt!