Various Artists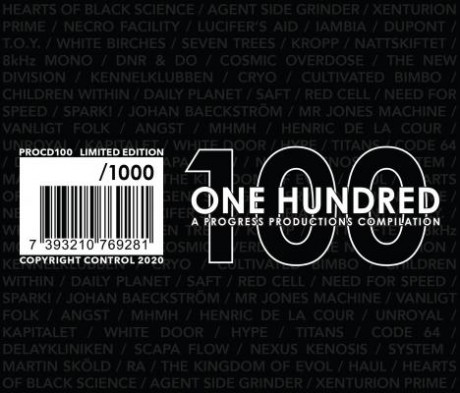 PROCD100 - A Progress Productions Compilation
Format:
Box
Label:
Progress Productions
Release date:
August 21, 2020
By:
Johan Carlsson

Progress Productions was founded by Torny Gottberg in 2004, and was later joined by Krister Hessling. Throughout the years, the label has grown into a behemoth of the synth / electronic / alternative genres and to celebrate making it to 100 releases, they put together a massive box set.
And massive is truly the word for it. 45 tracks, from almost every band that has ever released something on Progress Productions. And almost all of it is previously unreleased, remixed, or remade! In fact, it's so big that it's hard to take it all in, so I've been listening to different pieces of it for a while now to get a grip of it.
As there are so many bands on it, it will of course vary wildly stylistically from song to song, and you're bound to have favourites and some… not so favourite? I can't list all my favourites, and they will surely differ from listener to listener, but you're bound to find lots to love. The sheer quality of it is wildly impressive. Take the new track "Darktide" by Xenturion Prime for example, a great dance track with a killer chorus. Or "Dr Penetration (Decorated 2020)" by Cultivated Bimbo where you'd have to be dead to sit still. Or perhaps the sweet Coldplay cover "Fix You" by Johan Baeckström where he transforms it into a synthetic ballad.
Progress Productions is making a statement with this box set. It cements the label's position as one of the biggest in our genre, and we can but hope they make at least 100 more releases.