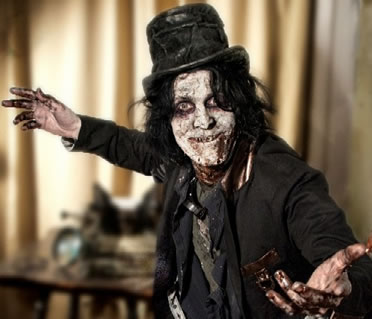 Welcome to the OHGR show
By: Alex Veronac
Spotlight published: Sep 14, 2011

Release's Alex Veronac speaks to Ohgr and Skinny Puppy frontman Nivek Ogre about the latest Ohgr album "Undeveloped", self manufactured samples, Mark Walk, the earliest Ohgr recordings and Skinny Puppy. 2011 marks the releases of both Ohgr's "Undeveloped" (May 10) and Skinny Puppy's "HanDover" (October 28). An Ohgr "Developed" album and European club tour might also be in the pipeline, we learn.
Three decades has past since "Remission"
Almost 30 years ago, I bought a vinyl 12" of a great sound I heard over the radio. The EP was "Remission" and the song "Smothered Hope". As I followed the progression of Skinny Puppy as a fan until their inevitable crash, I was able to analyse their live return from Doomsday festival in 2000 until modern day as journalist. Since then I've interviewed Nivek Ogre and Cevin Key a number of times.
From the 1995 era solo Ogre timeline, studio savvy producer and musician Mark Walk entered to become the second half of a musical side project now described as Ohgr. Mark Walk has left all promo for the band to Ogre. Ogre allowed us a phone call during one of the press days organized by the label SPV/Synthetic Symphony. By coincidence, we started the call with Mr. Walk on the other phone line but were not privy to that conversation.
To set the scene, the last time we spoke with Ogre was at Tempe, Arizona, in December 2009 during a Skinny Puppy tour. As I write this, "Undeveloped" had topped the Top 10 Electronic Albums on iTunes Store Charts (USA). Prior to this interview, the label had just given us had a small press release and streamed audio tracks to work with.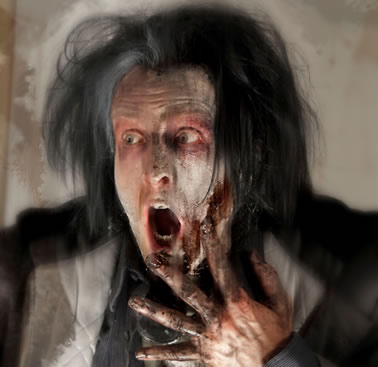 "That scream is me"
The new Ohgr album "Undeveloped" builds its own samples, where the last album "Devil in My Details" used borrowed samples. On the song "Crash", it sounds like you recorded your own sound environment and not sampled - moving from the period of sampling from movies, TV or radio... creating your own post horror movie sample experience.
- Yes we were trying to do a narrative behind it all. Not the way we used to do; obviously the way we use sounds now we can self manufacture the moods for things. Like bring in Bill Moseley and throw that into the mix to bring it to a new level. It's all together into a new lexicon.
It seems like you're not using any contributions from the outside world…
- We're trying not to, because it's too expensive. If Skinny Puppy were to start today, we wouldn't continue to be a band after this long due to the cost of legal sampling.
As for the contributors, Ken "Hiwatt" Marshall has mixed "Undeveloped".
- We've had a long associated relationship over time, and Ken is a great mixer. We had the luxury of having him in the studio. "Undeveloped" is a series of songs that are basically put together. But there's a reverse engineered "Developed" release and we're in the stages of putting that together.
And the female voices we hear?
- On "101", it's my girlfriend Ashley in the chant "who do I have to f*ck with". And on "Hollow", the refrain is done by Ken Marshall's wife.
The track at the end of "101", I almost heard a self-sample of "Stairs and Flowers"?
- That scream is me, modern day.
"Tragek" was an earlier digital release prior to "Undeveloped". Will it become a single?
- I'm not sure if we're doing singles. In fact, we weren't even going to include it on the album. Ken Marshall stood up and insisted that "Tragek" should be added to CD. Ken went out of his way to do a remix to get it added. He's removed some of the wailing and bantering. By not having "Tragek" on now, I believe it would be like leaving "Hand Shake" off of "Last Rights".
On the topic of your voice, you once worked with a vocal coach.
- Yes, that was David Peter Kyle in Seattle back in 1995. Mark pressured me to do it. He gave me exercises such that I would not lose my voice. It didn't make me a better singer necessarily, but it did help my voice as I was losing it. It helped me control the lower part of the vocal chords.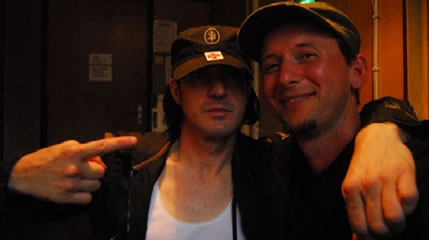 Release's Alex Veronac interviewing Ogre (to the left) in Utrecht, August 2007.
Ohgr - the duo
Let's get off the topic of you for the moment. Let's talk about your musical partner, Mark Walk. Have you contributed to the anonymity of Mark Walk? It almost seems he was last seen in public during a Pigface tour... Will he ever come out of the studio and tour with the band Ohgr - or Skinny Puppy?
- Hm…, well. As far as Mark's involvement, coming out of the studio, he's always welcome to join, I have definitely put forth…, he might actually show, you never know. There's a possible (live) LA show and you never know…
Back to your earlier recordings with Mark, after you decided to quit Skinny Puppy. Have the legal restrictions for the original 1995 WELT recordings been lifted over time? Have those recordings become songs today?
- No, they've sat on a hard drive ever since. They may have been re-arranged into something else. It's in storage and has to be dug into sometime. Much of that was done on analogue synths so we kind of had to lose that aspect to any re-record.
So you're not even confident enough to quote a song title that might have morphed from those 1995 sessions?
- You know I have a shit memory and at that time, I couldn't say... I have a bit of a boggy memory. I was out someplace and someone played back an outtake from "The Process" and I didn't even recall doing the vocal.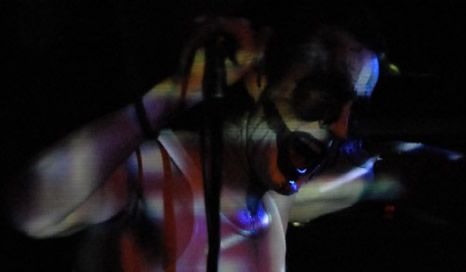 Ohgr live Boston, December 2008.
Photo by: Alex Veronac
Club tour in Europe?
On the topic of touring, Ohgr has only played live in USA and Canada, everyone wants to know: will you perform in Europe?
- I definitely want to go to Europe. Things are shaping up. Probably club dates; if we do come to Europe after the US, it will be a club tour thing.
With the full support of SPV, or your own private funding?
- SPV has been quiet so far, but Metropolis has offered tour support - funds. We haven't had that talk with SPV.
Have you had time to think about the live stage show presentation yet?
- I have a real defining concept already. I spoke with Tim Hill, to follow the theme of "Devil in My Details", taking it to a new place. Add a lot of visual uniqueness, there is a stage show. It's an economy of means.
Anything to say about the Skinny Puppy record that's in the can? Was it delivered to the label before the Skinny Puppy "In Solvent See" and 2010 European tours?
- It was never delivered, it was a concept that went nowhere. We turned it over a few weeks ago…
Read more
"Undeveloped" Release review
Release interview with Ogre from 1998