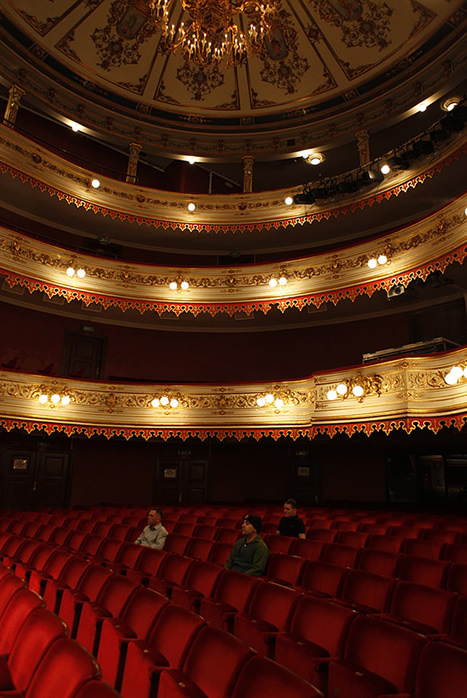 Waiting for the Nitzer Ebb concert. From left to right Jason Payne, Bon Harris, Douglas McCarthy.
Photo by: Fredrik "Schlatta" Svensson (Release)
NITZER EBB
– Control, they're here!
Text and interview by: Peter Marchione
Photos by: Fredrik "Schlatta" Svensson. All photos are previously unpublished and from Storan in Gothenburg, January 27, 2010.
Spotlight published: May 6, 2010

After an eleven year break, the lads from Chelmsford returned to the stage in 2006 for a number of reunion shows. As time went on and more and more gigs were booked, Nitzer Ebb also started to write new tracks. Work progressed and the initial idea of releasing an EP (that Nitzer Ebb told us about in 2006) changed into a full-length release that finally saw the light of day a couple of months ago; the album "Industrial Complex". Release had a little chat with Bon Harris - about the new Nitzer Ebb, about influences, about the DVD, about the Depeche Mode connection... and about the differences between Europeans and Americans.

The next level
So, you're back from a European tour now. Does it feel good to be back in Los Angeles?
– It feels really good coming back to LA. The temperature is around 20 degrees - a bit different from the weather in the UK this time of year. I actually stayed three weeks in England after the tour to be with family and take care of some business.
As we all know, Nitzer Ebb had a a little break. What are the biggest differences between the "new" and "old" Nitzer Ebb?
– The biggest difference is that the members now are much more experienced as individuals as we all have been doing lots of things not connected to the band for such a long time. This gave us time to reflect and now we are much more in control.
When you started doing the reunion shows in 2006, were you already then into the idea of recording new stuff?
– No, we weren't, but more and more bookings came in and the response was so great. This certainly inspired us to start writing again.
The new album carries traces from all the different areas of Nitzer Ebb, one can hear influences from all the earlier albums within it. Was this intentional?
– It was not intentional from the beginning. We started recording with the philosophy to go back to basics, to the purest form of Nitzer Ebb. As the sessions went on we began incorporating other classical Ebb ideas as well. Songs like "I Am Undone" and "Going Away" were written quite late in the project.
Speaking of the track "I Am Undone". Alan Wilder was hired to do a remix of this song and Douglas McCarthy has also appeared on stage with him during some of the Recoil shows this spring. Are there any further collaborations with him planned?
– Not at the moment, at least that I'm aware of. The reason behind that Alan was asked to remix a track of ours is that we have worked with him before and you'll always get good results from him. This idea was behind all the choices regarding remixers for this album - to let people that you are confident with remix the tracks. The Alan Wilder remix was also a kind of exchange deal; Alan did a remix for us and we did a Nitzer Ebb remix for Recoil. Elements of this remix is actually being used in the current Recoil show.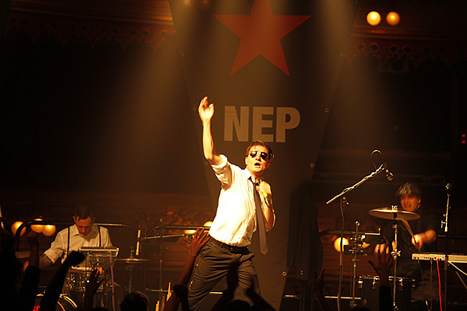 Positive response
So, how do you feel that the new album "Industrial Complex" has been received, by the fans and by the critics?
– The response has been very positive! I've actually heard or read very few complaints at all. People may dislike some little detail or one or two tracks on the album but everyone seems to think that they got what they hoped for. The audience has also responded well. The new tracks all work very well among the classic Nitzer tunes in the live show.
Lots of electronic bands, in various sub-genres, refer to you as a major force behind getting themselves to start playing in the first place. How do you feel about this and do you feel that you, in return, have gained inspiration back from those offsprings?
– We certainly feel proud and we also identify with them. I mean, we also gained inspiration from other bands when we started and this is the way it works. Also, knowing that people have followed you gives you the courage to carry on.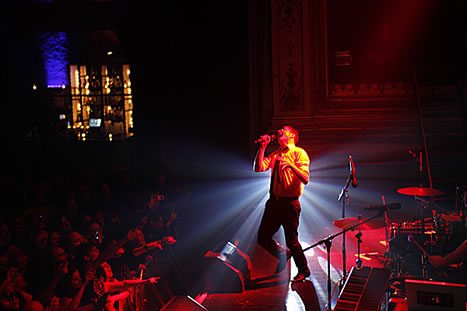 Looking back, you have never been afraid of experimenting and pushing the boundaries for your music. Is there any album that you are particularly satisfied with? "Big Hit" is often seen as a failure by critics and some fans. I personally think it is a great album. What do you think?
– We are very proud of "Big Hit" and there are some really great songs there. In hindsight I think this album was too different too fast for our fans and also caught between two areas. We also had too many ideas that we wanted to squeeze into one album. The best thing to do would probably have been to record solo albums at the time.
Today electronic music is technically much easier to create. When you started in the eighties with analog synths and sequencers there were much more work getting it all in sync and so on. How do you keep yourself from falling into the trap of adding more and more stuff to the mix, now that it has become much easier?
– It is important to keep an overview of what is actually important for the project. With the old equipment you had to work a bit harder and this is sometimes inspiring in itself. Booting up a computer isn't necessarily the most creative thing in the world. Some basic piece of equipment may inspire you more, like e.g. a monophonic synth through a distortion box. And not being able to save the setting also give some inspiration. At the same time, software gives you full control and total recall and has made recording lots easier.
So you use both software and hardware these days?
– That's correct.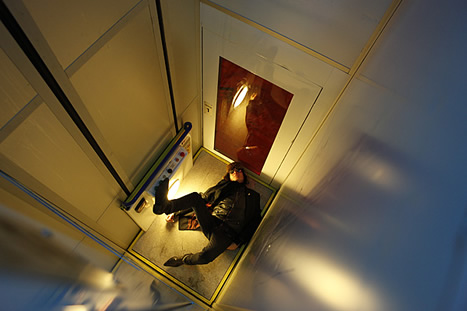 Douglas McCarthy testing the elevator at Storan in Gothenburg.

Solid friendship with Depeche Mode
Touring with Depeche Mode again must bring back some nostalgia. Are you good friends with them and do some hanging around or is everybody hurrying back to their hotel rooms after the concerts?
– We do hang around to a certain degree but there's not too much heavy partying these days as both Depeche and Nitzer Ebb have a lot of work to do while on tour. But we are good friends with them and there sure is a strong bond between us that time has made clearer. We have a very solid friendship.
What about upcoming releases? If I remember correctly, you were working on a DVD already a couple of years ago. What happened? Will this release ever see the light of day?
– We are working on this DVD from time to time, running alongside other projects. We have lots and lots of footage and we are still filming stuff. Our new record company, Major Records, are also very keen on this so hopefully this DVD will be released in a not too distant future. Maybe this autumn. Right now we are totally focused on the album "Industrial Complex" though.
How are the side projects running? We are still waiting for a proper European release of Maven, you know!
– I'm thinking of remastering the Maven songs and release them for the European market. It is just a question of finding the time. Economically, Nitzer Ebb is the main thing for all its members, but hopefully I will manage to release some Maven late this year.
Is it true that you've studied the piano during the last years?
– I've studied orchestration and that included some piano as well. I wouldn't say that I am a piano virtuoso but I've picked up some knowledge.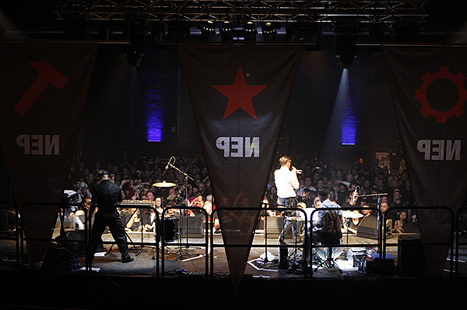 Missing UK?
Do you all live in LA now?
– Douglas actually moved to LA two years ago so we're all here now. He moved here right after ending a relationship.
I see, did this reflect the overall theme of the new album. I mean, lyrically? What is the basic theme of the lyrics on this album? Do you write them together or does Douglas write the lyrics?
– Most of the lyrics were written by him. I have some input but basically he did the lyrics. The overall theme of the album, I would say, is loss and leaving things behind - starting afresh.
You've been living in the US for quite some time now. Do you miss anything from back home in the UK?
– Not necessarily the UK but more Europe in general. In Europe, everywhere you go you can be sure that you will meet people that you will be able to have a stimulating conversation with and that are socially responsible with a general intelligence and awareness. In the States this really varies but it is OK when you're in cities like LA, New York or Chicago.
Do you have any upcoming co-work you can tell us about? Martin L. Gore did some backing vocals on the album. Any other collaborations with other people in the near future?
– Not at the moment but we are very open to it since co-operations make you grow artistically. You get great input and become able to exchange ideas and so on. Working with people like e.g. Billy Corgan was very widening for me.
Is there anyone special that you'd love to work with?
– I'd love to do something with Mark E Smith of The Fall!
OK, so I guess you're harassing him on a regular basis about this then. Keep on doing it - he'll give in soon I think.
– I sure will!
Thanks a lot for your time and sorry about messing up the first appointment that we had (due to a misunderstanding the first given time for the interview was missed). Thanks for giving us a second chance.
– Oh, don't worry. Nitzer Ebb always give people a second chance. Thanks for a nice chat!
Read more
"Industrial Complex" Release review.
Release 2006 Nitzer Ebb interview (where we broke the news on new material being produced).