NITZER EBB HIT BACK
By: Karin Martinsson
Pictures: Mute/EMI and Karin Martinsson
Published: August 3, 2006
After more than ten years apart, Douglas McCarthy and Bon Harris have smoked the pipe of peace – and are experiencing the best time in Nitzer Ebb's history. The current tour is being extended and there's even a new EP in the making.
The time is now
– When Douglas called me up and asked if I wanted to re-unite Nitzer Ebb, I was very surprised – and very happy. Before he contacted me it did not feel as if our dispute was over, but when he contacted me, everything felt just all right, says Bon Harris, percussionist and original member of Nitzer Ebb. I met him at a hotel during the Arvika Festival in mid-July.
One thing led to another, and they put together a one-off tour in connection with the double compilation "Body of Work". The first rehearsal was actually held only two weeks before the first gig at Wave Gotik Treffen in Leipzig in June 2006.
– It has been so much fun doing this together again, now we have really found our roots. We also understand what made us think it was so fun to create things together. Actually, I think that this is the best time in the band's history.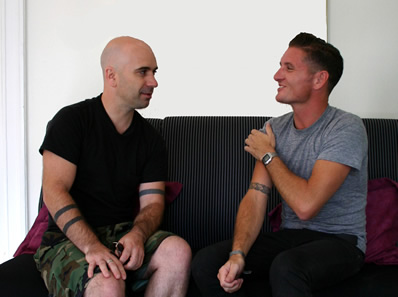 Happy to be back. Nitzer Ebb: Bon and Douglas, during our interview.
Photo by: Karin Martinsson
Re-visiting the experience
This is also a common comment from the audience; that the new tour is the best ever. Speaking about the audience: When Bon Harris sees it, he gets the feeling it is still the early 1990's.
– Of course the crowd varies a lot, but it is very much as it used to be… Sometimes it feels just like the time stood still. It can actually be a bit disturbing; it is as if both we and the audience are re-visiting an experience. Still, so much has happened since we last met and still, the places and audiences are the same.
To the delight of most Ebbheads, the 2006 tour offers lots of old-school material like "Let Your Body Learn", "Murderous" and "Blood Money". If you ask Bon Harris, this was not a difficult choice to make.
– There were never really any discussions on what material we should do, and now we are very happy that we chose to go for the classical material. We have got a lot more support than we expected during our tour. We discussed a future together already before we went on the tour and decided that "if all goes well, we'll do something", says Bon Harris.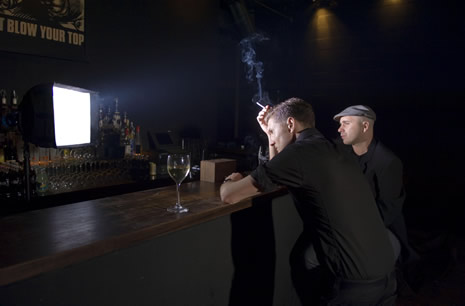 Sad to be back?
New back-to-basics EP 2006
Obviously, things have gone very well so far. The double compilation "Body of Work" is selling satisfactorily, the remix compilation "Body Rework" is here and the tour keeps getting extended; the fans are really supportive.
– We started to write new music a couple of weeks ago, and our plan is to release an EP of new Nitzer Ebb material before the end of 2006. If all goes well, we might even play some of the new material during this tour, reveals Bon Harris.
What will the new material be like? Well, after Bon's description it will be very much back to basics - back to the roots of Nitzer Ebb - and the sound will be very simple and direct.
– Nitzer Ebb has never really thought of how to proceed and develop, it has more been about trying to exceed our own standards and to break walls. And this is something we will continue to do also when producing new material.
And yes, the cool, hard-beating LA chick currently touring with Nitzer Ebb, Kourtney Klein, might be seen together with the male duo also in the future.
– We just love working with her. For us it was no problem hiring a female drummer – we have always tried to inspire people around us, so why not do it in this way as well?
You know, this might already be the stated source of inspiration. Can you name any female who after a new Nitzer Ebb concert hasn't secrectly made a drummer-pose à la Klein in front of the mirror?
Read more:
Release "Body of Works" review
Old print issues of Release contain Nitzer Ebb reviews, short stories and interviews, for instance a huge two-part interview with Douglas McCarthy after the split in 1995.
AD