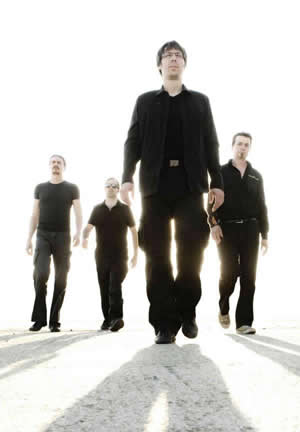 Mind.in.a.box
the story goes on
By: Johan Carlsson
Published: September 22, 2009

Mind.in.a.box is one of the most interesting bands on the electronic scene. The skilled Austrians mix EBM, ambient, techno, trance and synthpop, and add synthesized vocals. They also are brave enough to make all albums fit together with a story, continuing throughout all three released albums and onto the upcoming ones.
Even with that many albums under their belt, they still hadn't played live until this year's Arvika festival, where I met up with them to chat for a bit.

Started with computer games
The live guitarist Adam Wehsely-Swiczinsky also serves as a sort of tour manager for the band, so I was picked up by him in the lovely surroundings of Ingesund, several kilometers outside of Arvika where many bands and guests live during the festival. There, sitting in the shadows to get out of the burning sun, was (almost) the whole band. Stefan Poiss was present of course: the composer and singer of Mind.in.a.box. Roman Stift and Gerhard Höffler were there too: bass player and drummer respectively. Nice chaps all around, with Roman and Adam doing most of the talking.
Stefan and Markus are the people behind the name, and they are childhood friends from Austria. They started making computer games together with Markus on programming duty, Stefan doing the music. After a while, Stefan decided to make a whole album, and thus Mind.in.a.box began to take shape, and "Lost Alone" was released in 2000. Markus now writes all the lyrics. He doesn't like the spotlight though, so he's not joining us for this little chat, even though he was present in Arvika.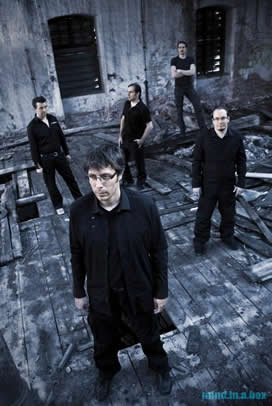 They all seemed very impressed with Sweden, having stayed here for a couple of days before the show. Of course, Ingesund and the warm sun helped.
Have you heard of the Arvika festival before?
– Yes, only good things, Roman starts off. Seem to be very relaxed, like all of Sweden.
You're new to the live situation, but I know you have played some warm-up gigs in Vienna?
– We have done three test gigs. They went very well.
– It was an improvement from start to end, which was to be expected, Stefan adds.
The story goes on
It's been a while since the third, brilliant "Crossroads" album, and Stefan is now hard at work on the next full length, due out in the beginning of 2010. It's still too early to say anything regarding a single though. He elaborates.
– It's about 60 percent ready now. Some songs are ready. I have lost a lot of time though, working on the visuals for the live show.
Is it a continuation of the story?
– Yes, and Markus has already written it.
The story we're talking about is an intricate blend of science fiction/cyberpunk and noir. It tells the story of Mr. Black and Mr. White, spying and trying to follow "Him". They're also trying to find "Her", and there are betrayals, twists and turns, and loose ends.
It's told from Mr. Black's point of view, a sort of government agent, and we still don't know what he's after. After "Crossroads", we know that Mr. White was not on Black's side, he realize that he doesn't know who he is, and that there is some person or organization called "Sleepwalkers" who seem to want to help him. It should be interesting to see where they're going next.
Electronic business as usual
Are you bringing the band into the studio now?
– No I think I want to make it as usual, electronic.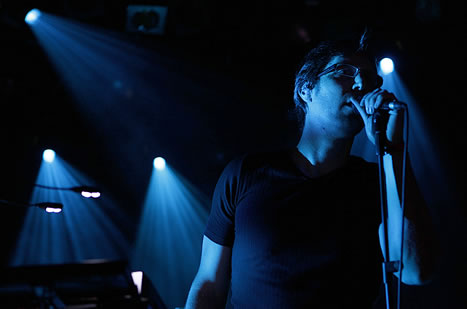 Photo by: Fredrik "Schlatta" Svensson (Release)
The live show sported a big projector screen, where impressive visuals and videos complemented the music. They have filmed short movies to accompany and further the story. Stefan controls his synthesized vocals live, and all effects are built in live as well. The guitar, drums and bass added lots of flavour to the hard electronics, and I was altogether very impressed with their performance.
They started working on the live show two years ago actually, at least the planning stages. Adam tells me about their thinking.
– The ambition was not just to take a laptop and a keyboard, rather using a complete band. And see how the audience responds to it. It's definitely a change in appearance.
Stefan continues:
– It's a bit difficult to not destroy the electronic atmosphere, and to combine it with a more conventional rock set. I think we're on the right way.
Adam fills in:
– We musicians have played together for about 20 years, and we come sort of out of the rock and grunge scene. We have done smaller gigs with our own bands, but this is something of a dream come true.
– It's good to come to different countries and play there, Roman continues. It's an experience for sure. We even had fans waiting for us, that's new to us! And people came from Poland to the shows in Vienna just to see us. That was a different situation, but also adds a different responsibility.
Adam goes on:
– In some cases there are very big expectations, and people have made a picture of Mind.in.a.box in their own mind. And Mind.in.a.box means something very personal to different people.
Do you want to play live more now?
– Depends on today, haha.
– It was such hard work, so now we must do more, Stefan chips in. There is no way back at the moment.
After Arvika, they played one gig in Canada on October 2 they return to Scandinavia not that far from Arvika, for the Elektrostat festival in Oslo. They also mention on their MySpace page that the Arvika show was a success for them. So maybe the chances of seeing them on stage from now on has increased quite a bit. I sure would like to see them again, doing a full concert and not an abbreviated festival gig.
Read more
"Crossroads" review (more in On Record archives)
Arvika festival 2009 report