So, I'm back from another Arvika Festival. This year was a bit special, since the festival booked their dream band Depeche Mode and had to remodel the festival area to accommodate the increase of visitors coming. The organisers were expecting a record breaking number, and finally got it.
I have some complaints though. They expected a record number of visitors, but got less portable loos than before? Plus, the number of food places was the same as every year, thus ensuring long queues.
The second largest stage Apollo had been moved to the other side of the festival area. This meant that, for instance after De/Vision had played at Apollo, around 8 000 people walked through the festival area to catch Depeche Mode at the same time. It got a little crowded. In the years before the Apollo tent was located right next to the main Vintergatan stage, so you could just wander to the side a bit.
It sure opened up the Vintergatan stage though, where 20-25 000 people watched Depeche Mode. But more on that later. For me, the festival began with Opeth, who really are damn tight live performers, with their complex progressive metal. I had to find something to eat though, so I didn't manage the entire gig. The festival food was good as always, but no moose kebab!? Where is the world coming to?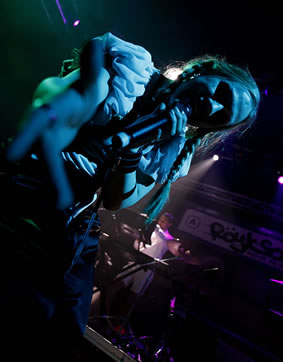 Röyksopp.
Thursday
The heat on this first day was excruciating, so finding shade was important. I thought I found it in the Apollo tent when Röyksopp played, but man, was it hot in there. I actually came as close to fainting as I have ever done, so I had to back down a bit. The concert was truly phenomenal though, with the wildest crowd of the entire festival. When Swedish singer Robyn joined them on stage for "The Girl and the Robot" I thought the tent would actually explode! Amazing, and they played cool versions of songs from their entire career. Please come back soon boys!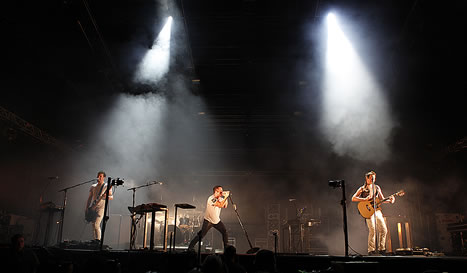 Nine Inch Nails.
After this it was time for one of those treks through the area I talked about, to catch Nine Inch Nails. They played a sort of farewell gig, but it wasn't a greatest hits concert. On the contrary, they played some of the newer, harder tracks. They did a good job, but I missed a lot of favourites.
Kite finished the first night off with a great performance on the Lyran stage. Nicklas' fragile voice complemented Christian's brittle synthesizers perfectly, and a good time was had by all. Now bring on the new EP! After going back to our sleeping quarters and talking for some time about this and that, it was time to hit the sack to prepare for next day's Depeche concert. But more on that later.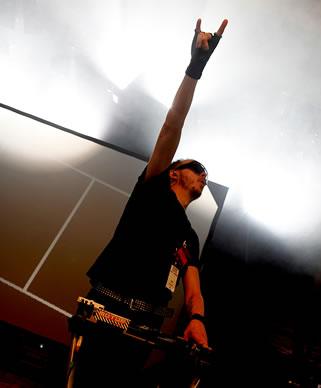 Motor.
Friday
Motor is opening for Depeche on the current tour, and played on the Andromeda stage, where their kind of weird techno fits perfectly. I've heard people say that it worked a lot better there than on the big arenas.
I missed almost the entire bob hund concert for different reasons, which is sad, since I had been looking forward to seeing them for the first time. I managed the last three or four songs though, and broke out into a smile almost instantly. Tomas Öberg is really the ultimate front man, joking and performing like his life was on the line, while the rest of the band doesn't miss a beat either. Fantastic.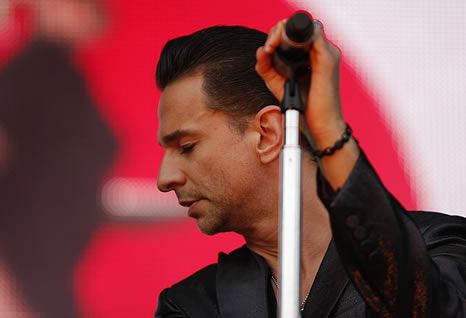 Dave Gahan.
Now we have finally arrived at Depeche Mode. Depeche was a big reason for even starting the Arvika Festival all those years ago, and now they were here! The schedule said two hours of Depeche Mode, and rumours were floating around about it taking a 100 people to rig the stage for their performance. The anticipation was staggering as masses of people moved to the main stage.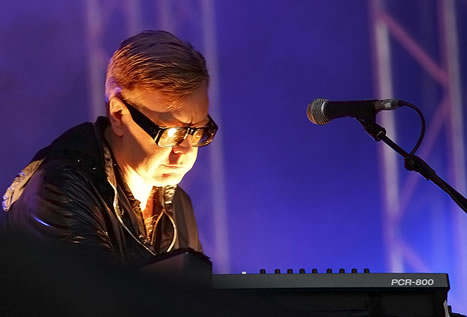 Fletch hard at work.
But unfortunately I was a bit disappointed. What we got was basically the same stage as usual, but with Depeche bits on it. We also got a bit of a slow start, with tracks from the exceedingly boring "Sounds of the Universe" album. It got better though, with strong versions of "Fly on the Windscreen" and "Precious". The current single "Peace" got what I asked for in my review, namely a decent beat! Finally the song got where it should have gone in the first place. After monumental renderings of "Enjoy the Silence" and "Personal Jesus", the show was over. A whole five songs shorter than their regular set, and disturbed by drunk kids and people talking incessantly. It's safe to say that Depeche should be enjoyed at a proper venue.
The night ended with some dancing to Style of Eye in the Orion room. Excellent techno/house.
Saturday
Lo and behold we were up early on the last day! We even managed to see the first band of the day, Aesthetic Perfection who played in Sweden for the first time. I find the Andromeda stage very intriguing because it's here that smaller bands come to be amazed by the Arvika audience. Singer Daniel seemed very surprised by the turnout, and the crowd was ready to party in spite of the early time. The music wasn't really my cup of tea, but it was fun to see the concert anyway.
The rest of the afternoon was spent talking to friends and chilling to Anna Ternheim.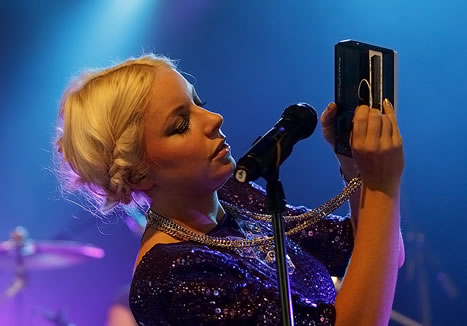 Little Boots played the Tenori-on too (but not in this pic).
Then it was time for the next Andromeda surprise, namely Little Boots. Great songs, EBM-style bass lines, hard beats, all mixed together to sound like a blend of Goldfrapp and Kylie Minogue. Sort of... It was brilliant anyway, and I think they were surprised as well. The Andromeda effect, as previously experienced by Iris, Assemblage 23 and IAMX for example.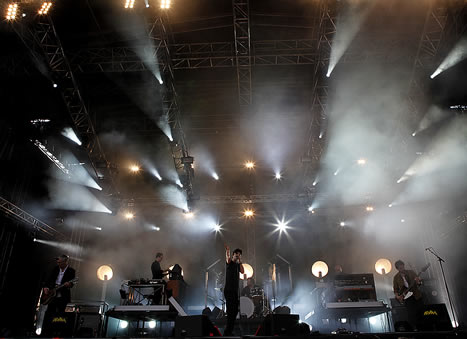 Thåström.
Thåström did an excellent performance, with a lot of intensity and man, his voice is still capable of cutting glass. We got some old classics as well, in new, heavy versions.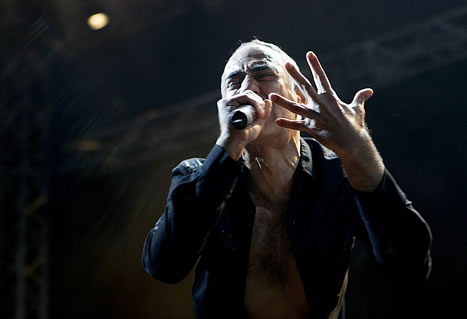 Gabi of DAF.
DAF didn't really impress me, but then again I have never been a huge fan. They have too many songs that just blunders along without anything happening. Not even a catchy bass line. But the crowd seemed to love it, so who am I to argue? They shot off "Der Mussolini" very early, so I left after a while.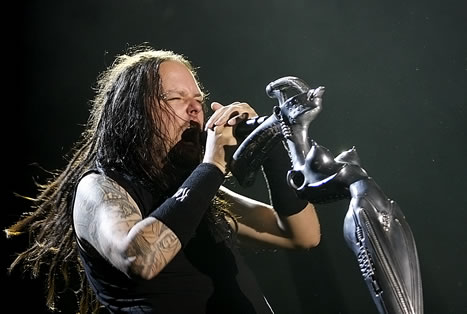 Korn had put some leather on their vacuum cleaner.
Eating pizza and watching Korn playing Pink Floyd covers, how's that for a Saturday night? Didn't see that one coming. The main stage was frantic when they played, and their special brand of metal is actually pretty good. Might have to check them out more...
The festival ended in style with Austrian electronic band Mind.in.a.box, who also played the Andromeda stage. People were queing well before the show started, and we were treated to a brilliant multimedia experience. The story that we have been following for three albums now was shot on movie, and displayed beautifully on the big projector screen while the band - filled out with live drums, bass and guitar - performed their best tracks in front of the enthusiastic audience.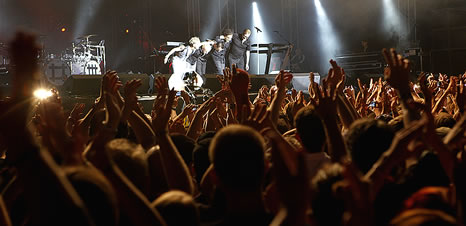 Depeche Mode.
Once again, I have discovered new bands, enjoyed old favourites, eaten great pizza slices, had more than my fair share of Red Bull, talked to friends, and downright enjoyed myself. The weather was excellent throughout most of the festival, with some rain showers here and there, but nothing serious. If only Depeche Mode had played a full gig...