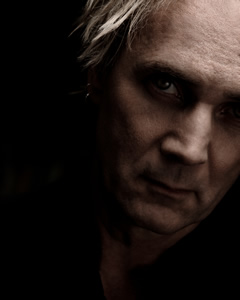 BILL LEEB
– a tortured soul
Text and interview by: Johan Carlsson
Spotlight published: July 8, 2010

After the somewhat disappointing album "Artificial Soldier" Bill Leeb and his friends in Front Line Assembly took their time before releasing a new full-length. Now the strong "Improvised. Electronic. Device" is here, and it's time for me to have another chat with Bill Leeb. He's phoning me up within seconds of our appointed time, and as usual he's a good talker. He is honest and open with how he feels about his musical career and the music business. He also speaks about when he met his father in Austria after 20 years just to find out he was dying.
First attempt failed
The new album sees a more varied palate than "Artificial Soldier", a move that seems to have been instigated by member Chris Peterson. Electronic tunes smooches up to brutal guitar-driven beasts, and one track is so heavy that Al Jourgensen had to help.
We could have had a totally different album in our hands however. The band that now consists of Bill Leeb, Chris Peterson, Jeremy Inkel and Jared Slingerland had started working on new material pretty soon after "Artificial Soldier".
Bill explains what happened.
– This was the most difficult album to put together. We spent a year doing stuff, but after six months, I thought "well, this is pretty good, but...". I called the band and said I would do some songs with Rhys (ed: Fulber, ex-member), which created chaos with the rest of the guys. We tried to get Rhys but he was too busy with Mindless Self Indulgence, Fear Factory and stuff like that, and it wasn't fair to the other guys. So we went back and started working on stuff again. We also got Ken Marshall to help engineer, which we've never had before. So after two years we managed to get it together. Also, turns out that Jared was a songwriter too.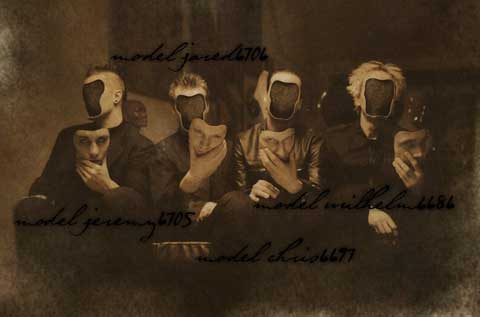 Front Line Assembly - 2010 edition.
Met his dying father after 20 years
Apparently a little competition brought out the best in the band. Lead single "Shifting Through the Lens" is one of their strongest singles ever, danceable as almost never before and with its sights firmly set on dominating electronic dancefloors everywhere.
There are also some other very strong tracks on the new album, with "Afterlife" sure to be a talked about track. Bill claims it's the first time they have used acoustic guitar, but I'll be damned if there isn't one on "Falling" on the "Implode" album as well. Be that as it may, it's a beautiful song about what happens when we die. It's also about Bill's troubled relationship with his father.
– When we moved to Canada, I didn't have any contact with my dad. It took me twenty years to hunt him down, and on the last tour of Europe we finally hooked up. He said he wanted to come to Canada, which I thought was cool. After two days, I found out he had leukemia. It took me twenty years to find him, and then he died after seven weeks. So the song is very personal. I usually write about more general stuff you know, so it's the first time I wrote such personal lyrics, and I wasn't sure if Front Line was the right place for it, but I figured what the hell, it's my band.
Another personal song is "Angriff", one of the more guitary numbers. It came about when the band played in Russia for the first time, the country where Bill's mom was born, before she had to flee to Austria during the war. The lyrics deal with the wars and hardships of the place, with a chorus sung in German.
– This record is sort of a climax of all I've done. It is more of an artistic effort, not "über aggro". It's introspective and has got different levels of aggression. It's sort of the perfect assimilation of what we've done.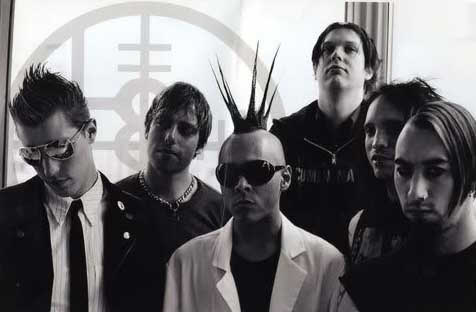 Jeremy's and Jared's other band, Left Spine Down. From left to right: Jeremy Inkel, Tim Hagberg, Kaine Delay, Jared Slingerland, Denyse McKnight, Matt Girven.
Wax Trax! founder recently died
How did the track "Stupidity" with Al Jourgensen come about?
– Jeremy, in Left Spine Down, supported Revolting Cocks and ended up becoming friends with Al and his wife. So he asked if Al wanted to do anything, but Al only wanted to do it if he heard it first. So we sent a track to him and he liked it. We made the music, and then we sent it to him, and he did the vocals, as well as produced it in his studio in Chicago.
Bill remembers the old days of the North American industrial scene.
– It reminded me of when I went to Chicago to shoot for our music video "Iceolate". It was a cool place, with Trent Reznor next door, just a kid, and Al was there too. So me and Al thought it would be very fitting to make the song a sort of tribute to Wax Trax! Records.
For those who don't know, Wax Trax! Records was a legendary record label from Chicago, where some really great, pioneering stuff was released during the 80:s and 90:s. Bands such as Front 242, Front Line Assembly, KMFDM, My Life with the Thrill Kill Kult, Coil and Revolting Cocks released music on the label.
Founder Dannie Flesher died of pneumonia in 2010, so it's a fitting time for a tribute.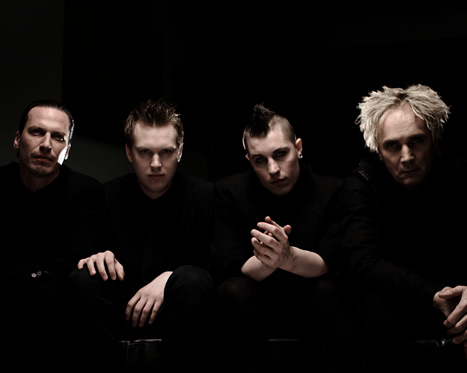 Photo by: Troy James Sobotka (also the Bill Leeb close-up pic)
"I'm not happy with anything I've ever done"
One important subject for Bill is the current climate in the music industry. He sounds a little bitter at times, but claims it goes up and down.
– Music business is a really tough place to be. Back in the eighties it was a whole other ball game, with bands like Front 242 and guys like that happening. Nowadays you need a reality show, haha. We don't need to be europop band, there's enough of that. I'm looking forward to the new Einstürzende Neubauten, that's a band that pushes boundaries. It's much more about the image these days, but then again, everything is done, so it's harder now.
What are you most happy with regarding the new album?
– Dunno, some days I put it on and love it, other days I hate it. It's more complicated now, people have lives, we used to just get together. I guess the best thing is the fact that we got it done. I find that this whole music genre, it's kind of limited. Music is so defined now, if you have the wrong style you won't get played. But I'm not happy with anything I've ever done. We artists are tortured souls...That's the thing with the artist life, it picks you I guess.
But you keep on doing it.
– Yeah, like Puppy. But is it progression or regression... Some days I don't really know why I do it, you know? I'm a tortured soul, I feel like I'm always limited. All the stuff cost money, so we're always up against it. It's all I can afford to do. On my tombstone it will read: I never really fully realized my dream, haha. I don't think I really realized it with Delerium either. The new album is a labour of love though, we pulled up our sleeves and let the blood out, you know.
A multimedia kind of guy
What is the meaning behind the title "Improvised. Electronic. Device"?
– Well, I'm a multimedia kind of guy, I love music, movies and all sorts of stuff. I get inspiration from everything around me, and it's stuff you hear from the news. All the stuff about war, after September 11. And it's also about technology, you're damned without it, you're damned with it. Our album is quite a reactionary thing to everything around us.
What can we expect from the new Front Line Assembly tour? I heard Chris Peterson is not joining?
– Well, Chris and his brother moved into the middle of nowhere, he has a T-shirt company. Music industry doesn't really pay your bills. We can't do the Rammstein thing with fires and explosions. We'll do what we can. In Europe you need to tour to cover the finances, and labels don't give you tour support. It's going to be me, Jared, Jeremy and a drummer.
It's time for a new Delerium album next and Bill hopes that the acoustic album "Voice" comes out this fall.
He and Jeremy have also written a lot of new tracks for another Delerium album. He tried to get Rhys involved there as well, but it doesn't seem to happen. The new material is much more underground, electronic, moody and "tweaky" than the usual poppy material, but as Bill says:
– It's my project, it might be cool to do something else you know. You need to stay true to yourself.
Hopefully we will see the fruits of this work next spring.
So, there you have it. A somewhat bitter Bill Leeb, that still manages to keep the fire burning and put out one of their finest albums in a long time. The album "Improvised Electronic Device" is out on June 25, and the single "Shifting Through the Lens" is already a success, storming to the top of DAC, and getting rave reviews. The Bill Leeb story continues.
Read more
Release "Improvised. Electronic. Device" review
Release "Shifting Through the Lens" review
Release 2006 Bill Leeb interview
Release 2002 Chris Peterson interview
Articles with Front Line Assembly and the side projects can also be found in the printed Release editions 2/90, 2/91, 2/94 and 1/95.