Arrived at Bloc Central, Maidenhead - and instantly a big grin comes across my face - how could you not feel happy with the prospect of so much live electronic music in front of you - coupled with the venue being held in a seaside resort, with more fairground rides and attractions than you can shake a stick at!
I was here for the second time (read my report from 2009).
It was good to have Bloc TV, pumped 24/7 into my, and everyone else's chalet again, but it could easily distract from the plan at hand - that of going to see electronic musicians.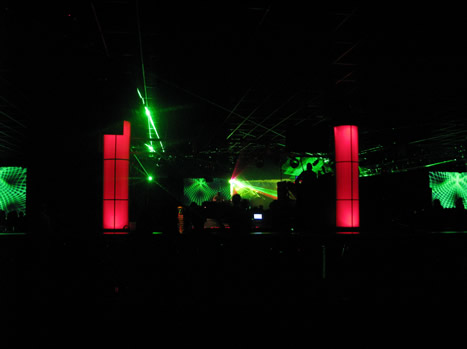 My first port of call was the rather sensational Dome:Bloc - a structure not unlike a huge inflatable igloo, where the VJ projects straight onto the roof of the dome, creating a 360 degree audio/visual feast.
Subliminal Criminal - started off my live music extravaganza and were good, though slightly too samey for me. Radioactive Man was the one I chose to act as my entree to the night's proceedings - a good choice he was too, as the electro/techno beatmeister unleashed a storm on the collective audience ear. Amazingly the crowd were up for everything from the very beginning, with even the R-Man stating to the up-for-it crowd "You do know you're in trouble, don't ya!" - highlighting the fact that the festival was only hours old by this point, and yet already looked like Saturday 1am!
No rest for me though, next it was Roots Manuva on the Centre: Bloc stage. A set made up new tracks and old favourites delighted the strong crowd, with "Dreamy Days" delighting - and the encore "Witness the Fitness" just about blowing up the speakers!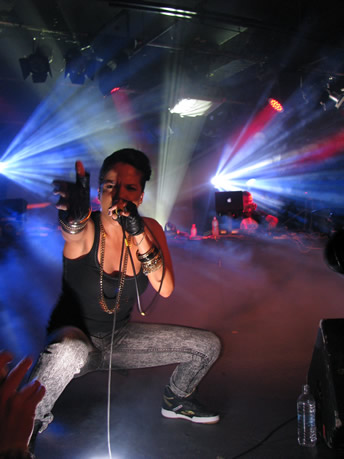 Ms Dynamite.
Try as I might I couldn't get into Nathan Fake - the popularity of this relatively new artist was clear for all to see. Instead I chipped over to DJ Zinc ft Ms Dynamite, which was awesome. Lots of aggression, lots of swagger - great performances and a great reaction from the crowd - I loved it.
Joy Orbison was next on the Jak:Bloc stage - again very popular, and J.O. himself looked a little like a cat in the headlights at the sizeable numbers - still the DJ set delighted, and he left a happy man.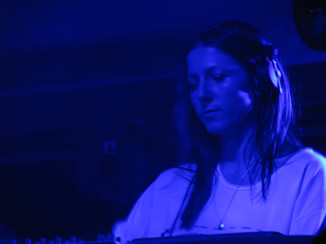 Ellen Allien.
Omar S provided some laid back, old skool sounds back on the Centre:Bloc stage - good for me as I began to flag. Used the time to have a seat and collect my thoughts before the next big push - Ellen Allien. Now this lady knows how to party! As the visuals (by celebrated VJ:s Pfadfinderei) proclaimed with a playing card image, she is the Queen of Clubs, and nobody liked her up-beat, bouncy music more than herself it seemed - spending most of her set boinging up and down like a coiled spring! More energy than me at this point though, as I wearily slumped off back to my chalet at 04:30...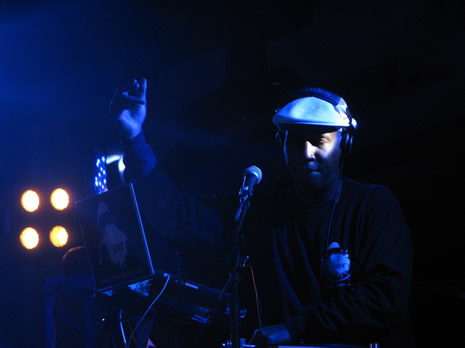 Grandmaster Flash.
The second day was undoubtedly the big day, yet the lack of sleep was already taking its toll. The sun slowly crept through my curtain and poked me in the eyes at about 10:30am. The day however went very quickly; before I knew it I was heading on my way to see the icon that is Grandmaster Flash. It was awesome to see such a legend in the flesh - and he didn't disappoint either, playing a set that ran through the gamut of hip hop, from the early days when he experimented with scratching, through to the likes of classic hip hop and gangsta.
Salt'n'Pepa where this year's Lee "Scratch" Perry - legends though not necessarily to my taste. Instead I headed off to see one of last year's biggest finds - Flying Lotus, who put on one of the performances of the event, with the crowd going wild for his style.
Back to Centre: Bloc for Anti-Pop Consortium, who started a little later than planned, but rocked a set that got the crowd in a frenzy, especially "Volcano", followed by the classic that is "Ghostlawns".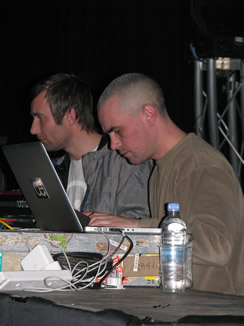 Autechre lit up by camera flash. Not your average live band.
For many the main event was Autechre - and they were determined to let their music do the talking. The spectacular lights and visuals of previous acts were all turned off (even the lights behind the bar), creating a cavernous, cerebral feeling to the music, which was typically AE in its alien organic/robotic stylings. For many in the crowd their attempts to dance were thwarted at nearly every attempt, with some giving up and left to simply stand there and soak the sounds in - probably what was intended all along.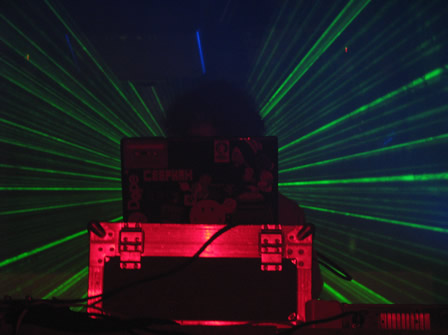 Luke Vilbert.
Luke Vibert followed up and got the crowd jumping with some spectacular fizzy proto-techno - while DMX Crew dropped the electro beats with a live set of his own brand of B-Boy. My flip-flopping between stages came to an end with the set of original junglists Congo Natty, who turned Minehead into another borough of London with its sound system booming out the sounds of Brixton.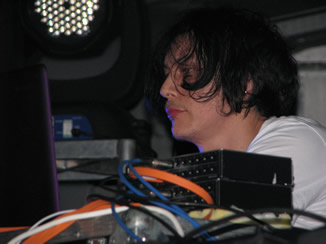 Luke Slater was my last call of the day, and pounding techno in his Planetary Assault Systems guise was the order of the day. By this point the crowd were starting to flag a bit (as was I, if I'm honest) - but I can well imagine that if he had been put on with the same material just a couple of hours earlier, the roof would have been quite literally ripped off the place. Still, as I reminisced on the days' events it was hard to dispute what proved to be a good, solid line-up.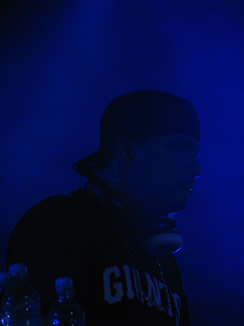 The final day was always destined to be an anti-climax, with a comparatively skeletal line-up scheduled, though there were obvious highlights - Mix Master Mike (of Beastie Boys fame) continued the trend for old school hip-hoppers, providing a veritable master class in the art of deckology,which left the crowd baying for more. My final call of the festival was to see Joris Voorn, who seemed to be able to seamlessly incorporate anything into his epic mixes - I believe I even heard flamenco at one point...
So, the festival came, the festival went - and though I don't think it had the raw excitement of last year, with Aphex et al, it seemed to be a much more solid affair, with acts on the whole giving the crowd what they expected (and wanted). As all good things, it passed far too quickly, but that only left me ready for more next year! So hip hop seemed to rule this year, but for me it was one guy with a flowery-sounding name who ruled the roost of Bloc 2010...