Festivals come and go, so it takes something special to catch the attention in these recession hit times. Bloc is something special.
Based around the idea of having all the excitement of a true festival, yet giving that little bit extra, Bloc delivers – and then some. All the events are held indoors, so no being at the mercy of the elements, and luxury Butlins holiday apartment accommodation is provided in the ticket price, so no sleeping outside in a cold, wet, mud-encrusted tent. I guess you're thinking that there must be a catch, maybe the acts aren't up to scratch – again, and especially for those into their electronic and dance music, I have to tell you you will be surprised. As soon as I saw the line-up I just knew I had to go to this festival – Aphex Twin and Hecker, The Future Sound of London, Lee "Scratch" Perry, Afrika Bambaataa... the cream of over 100 acts on display over the three day weekend.
Although it's not possible to give you the low-down on all the acts across all the five arenas, I certainly made an effort to see as much as possible, as I'm sure did most of the crowd attending. A list of highlights then:
First of all, Future Sound of London performing "live". As soon as you got used to the fact that FSOL were performing live, but not on stage, rather being beamed into the festival (on link), it proved to be a great set. Including many of the old classics, the highlight was of course "Papua New Guinea". The only problem I had with this set was that sometimes it was at the mercy of bandwidth, which meant the sound would sporadically drop out; obviously not a good thing.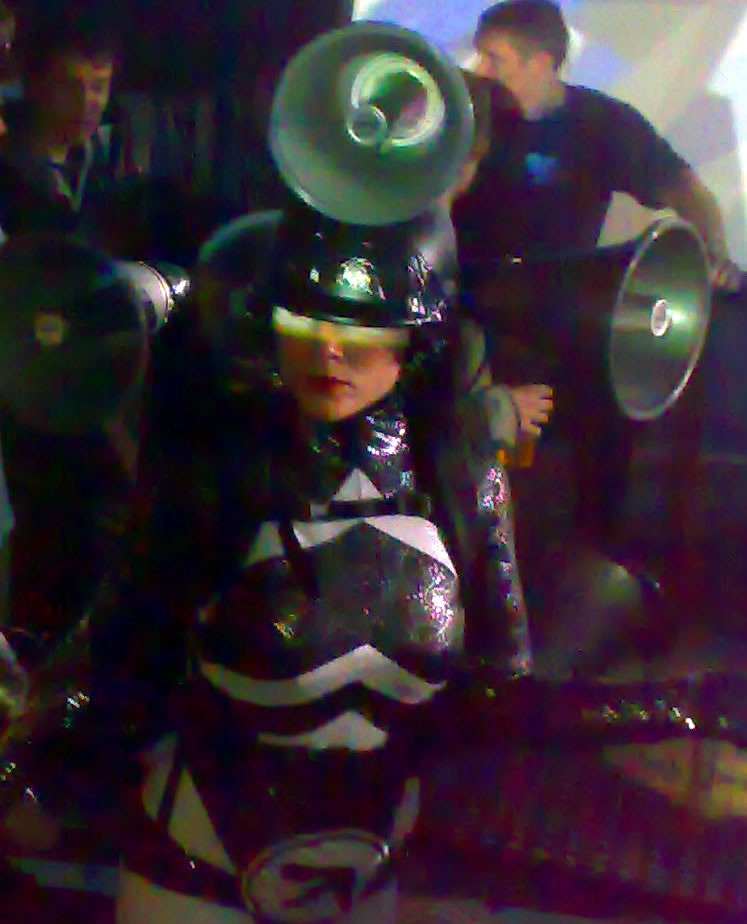 Aphex Twin made a grand entrance on Saturday with Hecker, a huge flashing Aphex logo sign frontispiece, and a robot voice monologue about saving the earth (I seem to remember). A meaty set followed full of electro/acid, and another of Aphex's celebrated mad dancers to add to the collection – this one being a futuristic, noise spewing megaphone girl (pic) – people being enthralled and wary in equal measure as she stalked around the arena.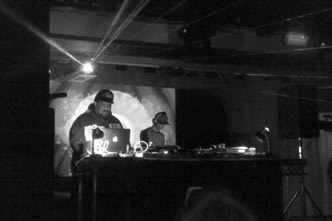 Afrika Bambaataa DJ:ed a set that although in terms of the music was a little too commercial (tracks like Salt and Pepa's "Push It" baffling the up-for-it crowd), but tracks like "Planet Rock" hit the spot. Other legends on display were the inimitable Lee "Scratch" Perry, who started late, but made up for with quality, Mad Professor playing a dub show, and making the bones rattle inside you in the process, and Carl Craig, who had everyone in the crowd bouncing along to some good old-fashioned house.
Other highlights in a festival where there was really little to criticise were Jamie Lidell performing alone with electronics and soul, Hudson Mohawke, who is genuinely providing something different on the revamped Warp Records roster, Ceephax Acid Crew and his acid karaoke, involving getting people onstage and singing classics to his acidised live backing.
Also festivals are great for seeing people you have never come across before, of these Bass Clef really impressed, especially providing live trombone and cow bells to his tracks!
A great festival then, with great organisation, a plethora of acts to choose from and a nice bed to go back to... with even the little touches provided for. A set list pack was left on each bed on arrival, and at the end of the day you could even watch Bloc TV, a channel made up of music filmed live from the festival, plus leftfield movies and shorts to boot. The only problem was the tiredness I felt as I wearily dragged myself away and back to reality the Monday morning after.
A festival to rival even the best in my opinion, long may it grow and prosper.