---

SYNTHPOP in the USA
By: Niklas Forsberg


Cosmicity
A decade back, when I was a die-hard synthpop fanatic (yes, even more so than I am now), I only knew of one or two US based synthpop acts. Looking at the scene today you face a wide spread melting pot of US bands all desperately trying to claim their 15 minutes of fame.
While Depeche Mode still sells huge amounts of albums in the States, the many smaller synthpop bands only sell marginally, but continue to struggle. A bit of a contradiction, really, because many of these bands sound similar to Depeche Mode.
I will attempt to dissect and examine the American synthpop scene here, covering a number of important bands and labels as well as other aspects, such as media coverage and possible differences between American and European synthpop.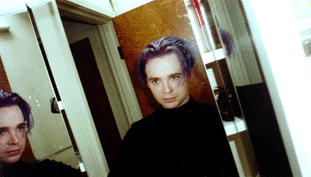 B!Machine.
Photo by: Nate Nicoll
Dozens of small bands
The most successful and widely known bands hailing from America are Anything Box, Red Flag and Information Society.
Anything Box, with mastermind Claude Strilio, released their first album "Peace" back in 1990 and has since managed to put out five real studio albums, with the most recent being "The Universe Is Expanding".
Red Flag won many fans with their critically acclaimed debut "Na´ve Art" from 1989. It scored hits like "If I Ever", "Count to Three" and "Broken Heart". They now run their own record label, Plan B Records, and release albums whenever they feel like it. The latest "Fear of a Red Planet" was released in June 2001.
Information Society had a huge hit in the USA back in the mid eighties with "What's on Your Mind (Pure Energy)" and put out three synthpop albums before restructuring their sound.
2001 sees many interesting hybrids in the synthpop genre, with branches of techno, dance and trance elements incorporated in the classic electronic pop sound. System22 for example, mixes trance with synthpop, Count to Infinity displays a slightly house/club influenced sound and B!Machine loans from Kraftwerk to create a hybrid of dance flavoured stuff and stale rhythms, heavy on electronics.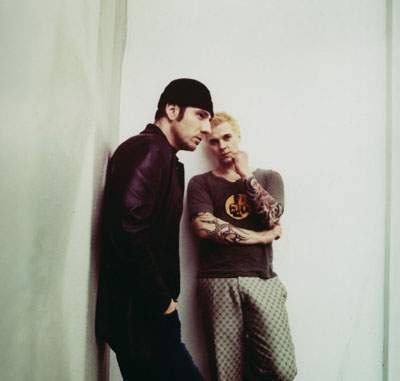 De/Vision have tried to reach out to the huge American Depeche Mode audience.
Photo by: Harald Hoffmann
Labels working together
There are, somewhat simplified, two main record labels spreading the sound of synthpop in the USA.
Synthphony Records started in the mid-nineties and initially contracted both American and European acts. Swedish bands Another Mission, Novelty and La Vogue all released albums in the beginning of Synthphony's existence. German band No Decay also bore, and still bears, the American label brand. American bands in the roster include Intact and Shades of Grey.
Based in the state of Utah, A Different Drum (ADD), the biggest synthpop label in the US, is not only a label, but also functions as a record store. ADD started as a music store selling all kinds of music that weren't available to the masses. Todd Durrant, label manager of ADD remembers.
- Since synthpop had always been a favourite style of mine since I was young, I focused a lot on building a good synthpop section. The scene had been completely abandoned at the time. I took that effort to the Internet, where it blossomed because so many other fans were having a very hard time finding the music they wanted. The physical store was eventually closed as the Internet presence became much stronger, and the focus went entirely to synthpop.
The label also introduces many of the bigger European acts to the American market through licenses. Elegant Machinery and De/Vision are both examples of European synthpop bands being spread over the US through A Different Drum. The label is doing reasonably well right now.
- I think it is now at the point where it could survive on its own, but it sure helps having an online store, because that's where synthpop fans can find our label releases anyway. It is often difficult finding those releases in stores around the country, Todd says.
- The two parts of the business have become so intertwined now that it is hard to imagine them as separate entities. People just think of A Different Drum as the label that releases the music and also the place to buy it, he finishes.



Red Flag.
A few smaller labels have popped up in recent years, of which Ninthwave Records and Canadian Kinetic Response Records can be mentioned. The former hosts among others Ganymede, Gary Flanagan and licenses Swedish pop band Nasa in the US. The latter, just starting up, supports the US dance/synthpop duo Lode.
There is a mutual acceptance between all the American synthpop labels. Todd tells me.
- We communicate constantly. We even have an e-mail list/forum that we use to discuss business ideas, promotion, signing bands etc. There are other small labels too, like Kinetic Response, Border Blue, 11th Records etc. Some of them only have one or two bands so far, but they will grow with time. Everything has to start small, but it can grow much faster with cooperation and good will.
There are, of course, other labels specialising in electronic and industrial music, with one or two bands gravitating towards synthpop sounds, but overall labels like Metropolis and Cleopatra focus more on harder electronics and some guitar based acts.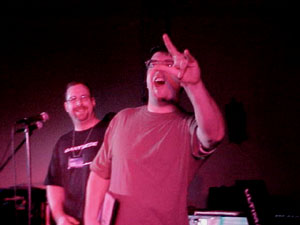 Happy guy. Todd Durrant from A Different Drum is awarded for Best Compilation ("Shadow Dancing") at the American Synthpop Awards during the Hollywood Synthcon meeting. David Richards (Ninthwave Records, Lexicon Magazine) by the mics.
Underground vs mainstream
As in most other countries, synthpop is considered underground and a sub culture in America. It is, to say the least, quite strange, given the genre's gentle nature in general and catchy chorus/hum-along melodies policy in particular. Todd Durrant confirms:
- The general media has given synthpop very little attention over the last decade. I've rarely seen reviews or articles in major general music magazines, unless those are reviews of long-time major bands like Depeche Mode. There was a favourable article in Revolver Magazine a couple of months ago, saying that the genre is making a comeback, but that was a rare thing to see. They called me a "musical Messiah from Salt Lake City", which was good for a laugh. The genre only gets attention in the underground media that covers the gothic/industrial/synthpop scene, he says in conclusion.
Personally, I think that some of the magic of liking a genre like synthpop, or any other so called underground music style, would disappear if the scene was to be big again. A revival would give the bands more money, but maybe they too, agree with me in this. Todd does.
- Synthpop has potential to be very mainstream, like it was in the past. It is just a matter of having the big-money major labels and commercial radio stations discover it and exploit it, but too many fans, that is what ruins the scene. Unfortunately, we've all learned that money is what makes the music "popular" to the general public, and synthpop is not what those powers have decided to make popular at the moment. Personally, I feel that those big-money folks are losing more and more of their power through time because places like the Internet are making it possible for people to find what they really like without having to depend on commercial radio or chain stores. Hopefully that trend will continue until the pop music scene is a fair playing field where all musicians and genres can receive proper attention and music can be equally accessible to people with all different tastes, Durrant dreams.

Tours and events
However, there are occasions when the synthpop fan base can enjoy the music they love. The American Synthpop Awards (ASA) and Synthcon have recently started up. The ASA are quite similar in structure to their Swedish counterpart SAMA (Swedish Alternative Music Awards), with a number of different categories, like Best Album, Best Artist etc. The ASA also has an award for Best Foreign Artist and best Single Remix though.
As for touring in the States, very few electronic pop bands go on full tours. They perform in clubs when invited and occasionally at festivals. Todd tells me that the scene is not strong enough, and hasn't been in the past, to support major touring.
- Typically, when they play shows, they play for 200-300 people, Durrant says. Hopefully the tour situation will get better as more promotors, clubs, and booking agents see the demand for synthpop shows in different parts of the country. We have found that whenever the bands do play, the response is positive and the merchandise sells very well.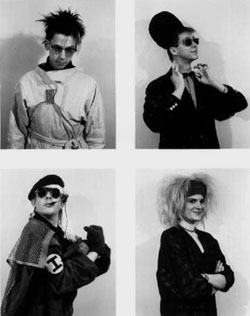 Information Society. This picture is - obviously - from the eighties, from 1986 to be exact.

Is there a US synthpop style?
So, what are the characteristics of American synthpop bands? I tend to think they sound more commercially polished and with better vocals than European bands. Mr Durrant is more diplomatic.
- In my vision, most of them face the same challenges and have the same hopes and dreams. As for stylistic differences, there are obviously some, but I don't think they are so important because the bands I work with make music in their own sound, and that's what I like about them, they have talent and their own identity rather than some kind of national signature.
With more and more hungry synthpop bands popping up all over the world in general and the US in particular, it seems the future of synthpop will continue as it has ever since it vanished from the spotlight in the eighties. As a joy to those involved and the fans, and treated as dead by the general mass.
Because who wants a revival?