---
Sonic Havoc, Allhuset, Stockholm University, Sweden - May 10, 2003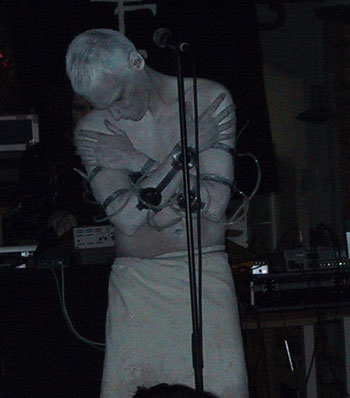 Interlace, singing "A Whiter Shade of Pale"
By: Johan Carlsson
Photos by: Ulf Ljungdahl
This was the first time for the Sonic Havoc festival. The team behind Tinitus decided to make an event geared more towards harder styles. I like the idea of having different festivals aiming at slightly different audiences, and it shows that the scene is growing, when a festival with many unknown artists still gets a big audience.
I arrived pretty early, since I didn't want to miss any of the bands. I like browsing around and discover new stuff, and this was a great opportunity. First up was Empusae, a one-man project I had never even heard of. Unfortunately no one else seemed to have heard of him either, resulting in very few people watching. He did a good job though, and I really liked what I heard. Dark, harsh, rhythmic and ambient music that I think got him some new fans.
People started to trickle in, and even though not all tickets had been sold there was a good-sized crowd by the end of the evening. I guess Funker Vogt pulled quite a lot of people.
The venue Allhuset is a fantastic place for an event like this. It's got a huge bar with DJ possibilities, one big stage and one huge room downstairs which had been divided into a smaller stage and a backstage area.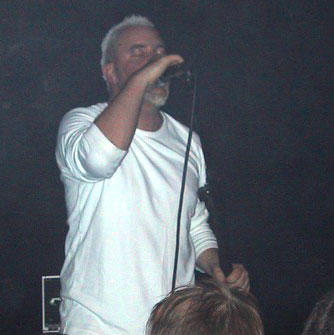 Daniel Myer from Haujobb.
Interlace sound very good on album, and also live, even though the singer - who looked like Das Ich's Stefan Ackermann's little brother - was overshadowed by the electronic sound cascades. You couldn't hear his voice that well. Fear of sars was pretty evident as all keyboard players wore face masks…
Decoded Feedback made a good show, even though they sound pretty generic to me. Some good tunes though, and good response from an until now pretty laid-back crowd.
It was now time for some German synthpop in the form of Beborn Beton, a band that seemed to have quite a lot of fans, but has passed me by throughout the years. Solid songs, good singer, but it got pretty boring after a while. They have a way to go before they hit the big league. I chose to go downstairs to see This Morn' Omina instead, a band that was warmly recommended to me by a friend, and they didn't disappoint me. Their blend of tribal ambience and trance soon turned the room into a big dance floor, and people went totally nuts.
After this workout we got a taste of Haujobb's upcoming album "Vertical Theory" on the main stage. Daniel Myer and Dejan Samardzic tried their absolute best to get the crowd moving. I don't believe the band is that well known here either, but they should have been able to draw a bigger crowd than they did. Fantastic show though, featuring Daniel crawling around on the floor, as well as jumping around like a madman. The new material sounded as slick and professional as usual.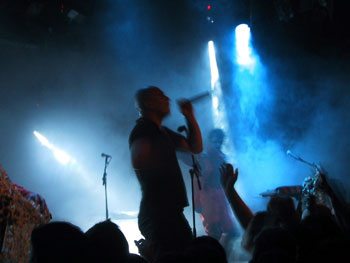 Funker Vogt.
After a sandwich, a Coca-Cola and some shopping in some of the stalls available it was time for me to watch Scooter…umm, sorry, Funker Vogt enter the main stage. The success of this band will forever amaze me, but they got the best reception of the night. Crowd surfing, pogo dancing and whatnot was going on, while the German bulldozer-EBM was pumping out of the PA. "Subspace" is a smashing song, but I have a distinct feeling they played it about ten times throughout their set. Plus points go to the Nightcrawler-lookalike playing keyboards, complete with blue skin and something that looked like scars on his face.
By now my legs hardly carried me anymore, so it was time to head home for some well-deserved sleep.
---