Thursday June 16
It's been a long time since we were last here, but finally I am is back in my summer home - Sonar Festival in Barcelona (or to give it it's proper title: the 18th International Festival of Advanced Music and Multimedia Art). It was hot on our arrival in the city, would the festival be as hot?
Once the formalities of getting passes and what-not were accomplished, it was time to get down to the business of listening to music, and as normal things kicked into stride pretty quickly.
My first port of call was to see the Barcelona Laptop Orchestra, fitting being that they were from the port-city itself. It was an interesting diversion, though probably not to everyone's taste. Next up was Beat'a Boom , who mixed up beat boxing style with jazz to nice effect.
After a trawl around the stages I was presently surprised and intrigued to find AEIOU (pic) from Mexico - the singer of which was literally covered from head to toe in a body stocking of gold sequins.
Things were starting to warm up nicely, both in terms of the weather, and the music, as Floating Points from my home country the UK melted the crowd with a set of funk and jazz breaks. Nicolas Jaar pulled in the biggest crowd of the day, with a large proportion of people unable to get into the cordoned off packed-to-capacity theatre to see them – their music seeming to me to be a more musical version of bands like Battles. Kidkanevil did his grungy hip hop thing out in the Sonar Dome while Little Dragon (pic) provided some interesting visuals to her set of trippy dance, creating accompaniment to her band on a musical make up box, apparently.
The Open Reel Ensemble proved to be the first real stars of the day, creating cutting-edge electronic hip hop sounds with scratching top turntablists would have been proud of, even more so when you consider they were doing it on tape loops. A quick dash back to Sonar Hall to see Tyondai Braxton provide a set cross-legged on a podium of effects and guitar, which though interesting proved to be slightly too introspective for many, as if it didn't matter whether the audience were there or not.
Daito Manabe (pic) proved to be the last act of the day for me, simply because after I'd seen their face-contorting antics, I really didn't need to see anything else - it was quite simply amazing, with people laughing and chattering in wonderment at what they were seeing before them. If Day One was this good - I couldn't wait for Day Two!
Friday June 17
Apprehension was the order of the day - for Release it was a biggie - and I so wanted to make sure I was in with a shout of getting some good pics at Sonar by Night for you all! Still, that was later - so I headed off, camera in one hand, notepad in the other and a certain brand of energy drink in my top pocket! My first port of call was the bustling Sonar Village, where Facto Y Los Amigos Del Norte, a much hyped Spanish brand of sunshine hip-hop, where doing their best to whip up the early arrivers.
A quick run over to the bustling Sonar Complex provided a glimpse of the amazing Sewing Machine Orchestra, with music that sounded like a cross between Autechre and a knitting group - baffling and awe-inspiring in equal measure - especially applauding a group of Singer machines at the end! A brief run past Atmosphere, who seemed to bring the dance/hardcore rap crossover to life before taking in DJ Zinc followed by Katy B on the Sonar Dome stage - both bringing the crowds in numbers for their sets, with Ms B showing off her powerful lungs to some effect throughout her impressive live rendering of her much-hyped new album.
After a huge struggle to go against the crowd heading for the Dome, I managed to catch a glimpse of oOoOO, who reminded me of the 80:s (but with laptops), then took in the wonder that was Four Tet, who played to the largest crowd of the daytime events, with the blissed out vibes sending the crowds into raptures. Remembering though that this was just the first half for me, I scootled off to find out my fate at Sonar by Night...
...I was in! A sticker stuck firmly to my laminate allowed me to go into the press pit - so eagerly I made my way across town, all thoughts focused on The Human League. As I came into the cavernous Sonar Club, the lights dipped and a greatest hits package proceeded to eminate from the instantly recognisable Sheffield band. A couple of new tracks were previewed, but the night belonged to "Don't You Want Me", and "Together in Electric Dreams" - so much so I was shouting the latter's refrain as I trotted over to Trentemoller at Sonar Pub. Initially obscured from view by a stripey net, the set rose and fell to reveal the stage in all its glory. The music was loud, the set tight and the crowd lapped it up! Not finished yet I headed for my big three of the evening.
First M.I.A. (pic) - who provided for me the set of Sonar, dancing, crowd jumping and oh, the tunes! It was loud, chaotic and by the time the audience was invited on stage, I became lost for words.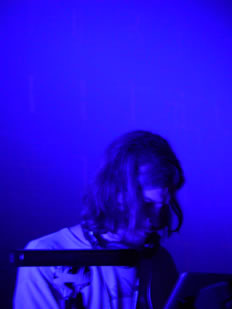 Aphex Twin (pic) followed next, with a very slick set across the history of music according to AFX, there were some old tracks, some Ambient Works thrown in for good measure, and of course some teeth chatteringly fast drill'n'bass - topped off with some awesome visuals, Aphex lollypop ladies and whole classroom photos of grinning Richard D. James - just when I thought I'd seen it all!
Starting to flag I headed out into the open air to take in a bit of A-Trak, who proved to be very adept at the old turntablism - leaving my now banging head in awe, but much in need of sleep. Now where was the Sonar bus back to the centre?
Saturday June 18
Very difficult to wake up today, but a quick, and very cold, shower (on purpose) got me into the party mood (well, at least out the door), and before I knew it I was back at Sonar by Day. An interesting day this one too, as there was a noticable increase in numbers - a large amount who seemed to have come for Apparat Band, who were good, if not spectacular.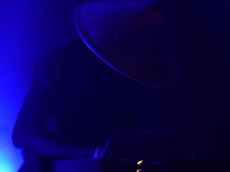 Fighting the crowds again I made my way to Shangaan Electro, which was inspiring, if not for the fact that the band seemed to win the award for happiest act of Sonar - the smiles were plain for all to see! A duo of Spanish bands interested me, having heard noises about them while in Barcelona, so I headed into the Sonar Complex to catch a glimpse of Downliners Sekt followed by C156. Not quite as good as I had hoped, but Actress (pic) was the reverse - creating some really incredible sounds over in the Sonar Hall, and all from under the cover of what liked like an Indonesian fishing hat! It was all happening backstage on my way out, with a lot of the acts from the previous evening relaxing and chatting, though discretion stops me from disclosing who was doing what...
It really only seemed like I had been here literally five minutes ago, as I walked into Sonar Club for the second time in two days - but like all good dreams, I didn't want it to end. For the last session of Sonar by Night there were some heavy hitters on display, first of all, visionary film director Chris Cunningham. The amazing thing about his set was that, despite the fact we had beats, and some of them very famous ("Analogue Bubblebath 4" by AFX being one of the remixed tracks in the mix), most people were too focused on the visuals to dance - me included - it was so eye-poppingly spectacular. My second favourite set of Sonar.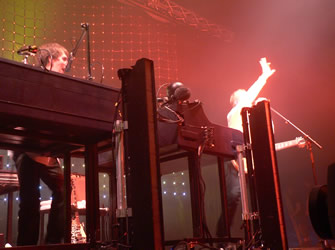 A brief glimpse of Janelle Monae followed, before another mad dash over to Sonar Club and Underworld (pic). Again, another feelgood set of classics was the order of the day, and was it loved. The first time in an already impressive festival were I saw every single person in the room dancing - quite a feet considering the sheer number of people there. Rather than get to the stage where I would be "...shouting lager, lager, lager" at the end, I made a lquick scoot around the other stages, seeing Buraka Soam Sistema and Mary Anne Hobbs living it up over on the Sonar Pub stage, and a little bit of the Numbers lineup, with Redinho followed by Spencer at Sonar Lab.
The cutting edge UK sounds here set me up nicely for the latest dance supergroup - Magnetic Man. It is only at a festival like this that you can be entertained by face-pulling electrodes and Techno sewing machines during the day, then cutting edge dubstep at night, but after a pretty astonishing set from the line-up of Skream, Benga and Artwork, including a fantastic version of "I Need Air", the sight of the next generation of clubbers going for it on the dancefloor reminded me that it was my time to depart.
Consoling myself that the people still inside hadn't been to three day sessions followed by two night sessions back-to-back, I made my way to the Sonar bus and a slowly brightening sky. As I sat on the bus, melancholy was already starting to take over, this was it, then end of another Sonar - how I would miss it, but how special it had been. The tagline this year had been "Sonar Is for Sale" - if I could buy it I surely would, and have Sonar all to myself 365 days of the year. A fantastic festival, no doubt.