| | |
| --- | --- |
| | |
---
Doomsday Festival '00, Dresden, Germany, Ostragehege - August 19-20
It was a hot late summer day and the air trembled. The sun shined merciless on the black crowd, many dressed up in plastic, lace, velvet and leather. People from all over the world had met up to experience among others De/Vision, In Extremo, Sisters of Mercy, Covenant, And One and last but not the least the reunion of Skinny Puppy.
Taking place on an old sports arena the festival was very compact but this made it possible to walk around the area and still be able to see and hear the band on stage from anywhere. The usual market stands filled with extravagant costumes of doom and gloom stood in contrast to a large variety of hot dogs, grilled chickens and huge pans filled with pasta or paella. Due to hot weather cold beer was the most sold item, I think. Who likes to dress up in a newly bought velvet dress and a fur when the temperature is next to 35° C?
My festival evening started with De/Vision setting off with their characteristic synthpop spiced with, in my opinion, lame guitar sounds. According to the fans in front row De/Vision made an impact anyway. Next in line, In Extremo, mixed medieval tones with metal guitars and heavy drums.
The evening went along with Germany's all festival rock band: Philip Boa & the Voodooclub followed by Wolfsheim's nicely tuned electrified pop music. As darkness sunk over Ostragehege The Sisters of Mercy made their way up on stage. Andrew Eldritch moved into position but without that power that used to come from this little man. They have an outstanding song material to choose from. My judgement went from somewhat disappointed, due to bad mixing, up to satisfied in the end with its sing-along-songs that even the most boring visitors could not have missed. Fireworks over Dresden skies framed Sisters' bonus appearance and made the first Doomsday end in sparkling light.
Day Two: An even brighter sun fried the audience who had arrived for the long awaited appearance of Canada's animal-rights fighters of all times - Skinny Puppy. With a strong line up of EBM-bands like Velvet Acid Christ, Terminal Choice and Covenant time disappeared. All three acts made danceable performances and though sweat was pouring down our backs we could not stand still. Even the next band And One let their harder sounds come into the first place. And then there was waiting...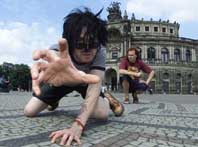 Nivek Ogre (front) and Cevin Key (back) in Dresden.

The main, and only stage, was covered in black cloth and expectations rose. Thunder clouds summoned in the sky and the air was shivering. We all knew what we were waiting for but would it be worth travelling all the way from Gothenburg? The intro started and the drape fell. Front man good old Nivek Ogre lying down on stage and Cevin Key behind a huge drum set in the first Skinny Puppy live experience in Europe for twelve years. And we were all thrilled! An almost two hour long show went on with all the classical ingredients. With big screens showing obscure video clips, pyrotechnics, blood and in of course a human dummy in "Testure", which was "slaughtered" and then thrown out into the audience. Most of the big hits were performed and the sound quality and mixing, as well as Ogre's vocals were near perfection. The first day ended with sparkling fireworks and now we got the real thing with thunder and lightning accompanying the end of an historical event.
A comeback that must have made deceased keyboardist Dwayne Goettel proud.
LOTTA JANSSON