After a one year hiatus, it was again time for me to head to Arvika and the nicest festival in Sweden. I had a busy schedule as always, as there are lots of interesting bands to see, but also lots of friends to hang out with, numerous performance artists and DJ:s to experience, and records and clothes to buy. I also tried my tired feet in the techno area a couple of times this year, which was tremendous fun. Psy-trance and progressive house was on the menu.
We were blessed with sunny weather throughout, even though it was damn cold a couple of nights. Living in a small tent isn't quite what you're aching for then, but camping is a big part of the Arvika experience, and there´s where the cool people are. Spirits are always high, and it's a peaceful festival, although there were some reports of thefts. Sadly, when I got home I also heard about two rapes and one attempted rape.
Musically, Thursday was mostly something of a rock day, but I checked out Hype – synthpop fronted by ex-Elegant Machinery singer Robert Enforsen – who was well-received on one of the smaller stages. The band seemed to have fun, but I desperately needed to get a bite to eat, so I left.
Client B had a sprained ankle, but that didn't stop the charming pop trio. And as if two beautiful women wasn´t enough, well, now there´s three of them. Their audience friendly lyrics got a lot of people singing, but I thought the songs sounded mostly like on record. That's not bad of course, just not very exciting.
Swedish rock icon Joakim Thåström played on the biggest stage later that night, and I heard many people say this was their favourite gig. I was a bit disappointed however, because I wasn't prepared for it being so slow and moody. I wanted his more upbeat, rockier work. Even "Du ska va president" was a slow piece.
I find Blutengel to be one of the crappier bands out there with their "erotic" fang body, so I didn't really bother with them, but they had a decent turnout. Everyone I talked to hated them as well though, so I don't really know who were there? Anyway, after a break I went back for Crystal Method, a techno/dance/big beat band that was finishing off the day on the Apollo stage. Not many people showed up, but the ones present fell in love and danced the night away. The stage show was non-existent, but they're more DJ:s than artists anyway, so that was alright.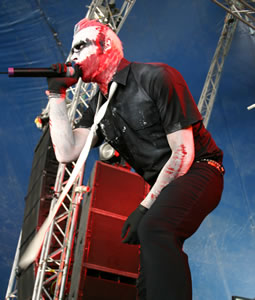 Combichrist.
After some sleep it was suddenly Friday, and this was the big day for many electronic fans. Combichrist rocked people's socks off early in the afternoon, but the sound was a bit tame, and I find that there's very little variation in their material. Luckily after that, Slagsmålsklubben performed one of my favourite gigs ever! The huge Apollo tent was absolutely packed with fans, and everyone was dancing. And I mean everyone! Party deluxe indeed, and there was a lot of singing along with the instrumental (!) and bouncy bitpop tunes.
After this monumental energy release, there was hardly room to breathe until the following suite performed: The Young Gods, Nitzer Ebb, Cat 5, The Knife and Juno Reactor. Holy crap did my feet hurt after that!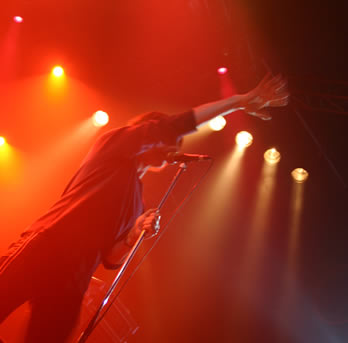 The Young Gods.
Swiss pioneers The Young Gods rocked without guitars to everyone's joy, and then Nitzer Ebb played the biggest stage in front of an enormous crowd. Both Douglas McCarthy and Bon Harris seemed to be in a terrific mood – even though a partying Douglas was involved in a bar brawl backstage the night before. He even mentioned it briefly during the show – he was looking for the guy that pushed him to the ground. Douglas and Bon sang and screamed the brilliant opener "Getting Closer" together. Kourtney Klein on drums played extremely tight and Douglas walked around the stage in his old-school EBM outfit with high boots, yelling the lyrics. I thought the focus was lost on the last two tracks "Ascend" and "I Give to You", but the rest of their performance was pure gold. Good to see them back again.
Swedish electropop band Cat5 was cute (especially the dark haired girl, ehrm), and their songs worked very well live. Fun was had by all.
There was a lot of buzz about The Knife before the show because this was their first festival gig ever, and they haven't actually played live much at all before. The buzz was justified though, I discovered. I don't care much for their records, but this was something else entirerly. Cold, machinelike, lush, beautiful and weird at the same time, I was in awe. And more so by the breathtaking projections that was cast in front of Olof and Karin! The thin veil let you see them behind it, wearing strange masks with red glowing eyes and mouths. Visually stunning display, but wait, there's more! The show was also in surround sound! Used to great effect, noises travelled around the arena and induced a trance like experience.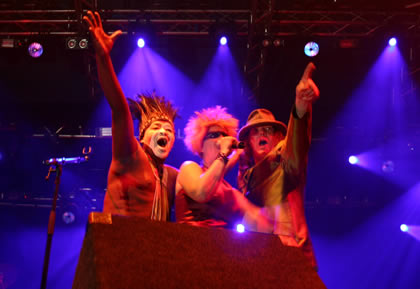 Juno Reactor.
Juno Reactor with four South African percussionists came on after this, and banged their drums like mad. I missed the EBM basslines from the latest album, but it was a powerful dance experience.
I slept really well after this onslaught of acts, to say the least.
The sun was blasting its rays down on us when I woke up, and most visitors were starting to turn intense shades of red (or pink in some cases). EBM newcomer Cryo got up early to play his fourth gig ever, and he did pretty well I thought. He needs more practice, but don't we all?
Mesh did what they use to do, namely play their hits without much gusto. I love their music, but they really need to liven up on stage. Maybe this is why they were demoted from headlining the biggest stage a couple of years ago, to the smaller Apollo stage. This also happened to Ladytron and Covenant. Mesh' back projections included black and white video clips of numerous washing machines in slow motion.
Teddybears STHLM have no such problems, that's for sure. Those crazy bastards were my highpoint on the last day. Electronic and funky party music that energized thousands. The bears had a lot of guest artists with them, like Swing Fly, Rodrigo (from Infinite Mass) and Thomas Rusiak, and they tore the stage apart! Fantastic stuff.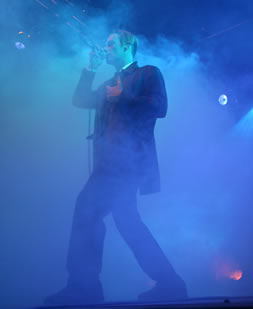 Eskil Simonsson, Covenant, in the sauna that was the Apollo tent.
When I met Joakim from Covenant backstage after The Knife he was so ecstatic about their show that he said that he would refuse to go on stage, since they really couldn't top that. He must have changed his mind though, because they appeared on stage on time. They must have been determined to at least try to top it, and really gave it all. Another highpoint.
I know that lots and lots of people love Franz Ferdinand, but I simply don't get it. They headlined the huge outdoor Vintergatan stage, and it seems their fans loved it, but I got bored and left.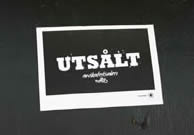 Every time I go to Arvika it gets better, and this year it was also sold-out. The future of the festival is secured, thank god. 15 600 friendly people bought tickets to enjoy music and party, that's my idea of fun. Too bad that my bus got stuck in a ditch on the way home though! Luckily enough, the good mood continued, and a kind of Arvika 2.0 started. Food was soon cooking, and new friendships started as we all waited to be towed for over two hours. I got home at last, and promptly fell asleep, exhausted but happy.