| | |
| --- | --- |
| | |
---
Arvika Festival '00, Sweden - July 14 - 15
It seems that nothing can ruin the Swedish Arvika festival. Despite the fact that a diabolic rain turned the camping area to something more resembling a muddy lake than anything else, covering everyone in mud from their feet to their soul, the 9 500 visitors seemed to enjoy themselves shamelessly. A few went back home, but among those who remained the mood was as great as always, although a fair amount of all the goths present must have mourned Fields of the Nephilim's sudden cancellation.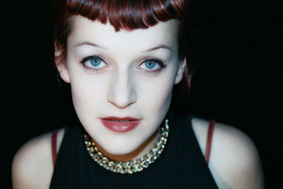 Sadovaja live impressed Kristoffer Noheden more than on record.

But there were plenty of other bands to enjoy. The first day, Friday, had its highlights in two Swedish artists - rapper Petter had a fantastic stage presence (and the encore of "Så klart" was nothing less than amazing) and Sadovaja proved to be a way more intense and vivid band on stage than on record. Aided by a string quartet, their performance made them reach a height where they actually earned the "techno soul" label they like to put on their music.
Also seminal was Luke Slater, who unleashed a great racket of industrial techno in the "Pangaia" dance building. Laibach, however, left me fairly cold. Their apocalyptic mixture of bombastic choirs, metal riffs, Wagnerian orchestrals and unbelievable deep throat vocals, was very tiresome, especially as it made every song sound as if picked from their "Jesus Christ Superstars" album. Their odd humour is enjoyable in small doses, but I honestly have severe problems to understand how they have gained such a status as legends.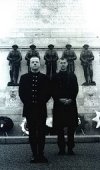 Not everybody at Release founds VNV Nation cool.

Utterly hopeless was British body band VNV Nation, sounding like a pale replica of Covenant and delivering a clichéd performance where the funniest part was the fact that the vocalist sounded like an aerobics instructor between the songs.
Saturday's highlight was naturally Einstürzende Neubauten, although their performance was a small disappointment. They were great, but I still couldn't avoid an unsettling feeling that they didn't really combust this very night. In songs like "Zebulon" (still the most beautiful piece ever), "Die Interimsliebenden" (with SO amazing metal percussion), "Zampano" and "Haus der Lüge" they found the true, devastating power that makes them one of the greatest bands throughout the music history, but in other places they lost a bit of their edge and attention-demanding presence.
Earlier in the day, Fantômas overwhelmed me totally with a schizophrenic eardrum assault. Landing somewhere between Ministry and thrash jazzers Naked City, they were an exhausting experience, making more swings in ten minutes than many bands do throughout an entire carreer.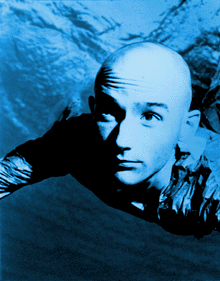 The largest audience was probably attracted by Moby (pic). I'm not really that fond of all his material, but two things are for sure: He's an entertaining little guy, making fun of Bauhaus by playing "Bela Lugosi" and then turning it into Gary Glitter's "Rock and Roll" and pulling weird jokes about all the time. And he's got an unbelievable energy, rushing around the stage singing, playing guitar or congas, or just jumping up and down shouting. Some of his earlier material feels a bit dated, but I like the way he challenges his audience by swinging between commercial techno hits, blues, punk rock and the doomsday finale of "Thousand", the fastest song ever recorded.
So this turned into yet another superb Arvika festival. And after this year one thing stands clear: It will probably take an earthquake to wreck this event.
KRISTOFFER NOHEDEN
---