---
---
Mar 31 2003

---
Laibach to Electric Gathering
• According to Mute today, Laibach will headline the Electric Gathering in Stockholm on August 30 (Laibach will play in the night, 1 am on August 31). /Mikael Kahrle
Kamera rolling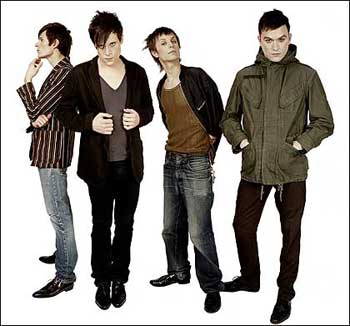 Photo by: Caroline Roosmark
• "At Work" is the first single from Swedish newcomers Kamera, a (mostly) electronic band with clear chart aspirations. The debut album sees the light of day in August, and the band is soon busy being support act for The Sounds in April. Kamera is made up of four boys: Carl DeLorean, J Lukks, Joakim Hjelm and Olof Ålenius, and together they make music about topics like love and hating the suburbs. /Johan Carlsson
Good timing for Suicide Commando?
• "Face of Death" is Suicide Commando's new single from their upcoming album "Axis of Evil" and will be out on May 26. /Peter Marks
---
Mar 28 2003

---
Laibach back with new album on June 30


• Laibach will hopefully finish their new recordings before they hit the stage at Agra Halle in Leipzig for Wave Gotik Treffen on June 7. The band's progress has been quiet since their last live appearance at Arvika in 2000. Mute Records (UK) is tentatively set to release the new material on June 30. More live dates are likely in Europe for September and discussions for Sweden are going on as we speak.
The militaristic band hope to release a DVD of a 1993 concert event that was previously held back by Slovenian Media. /Alex Veronac
A new Electric Gathering in Stockholm
• Planning is under way for a new Electric Gathering festival in Stockholm this Summer. This time the synth music festival will be held indoors. /Mikael Kahrle
SAMA live line-up complete
• Tyskarna från Lund and Michigan are the latest - and last - addition to SAMA's live line-up. The SAMA voting process is now over. /Mikael Kahrle
3D charges dropped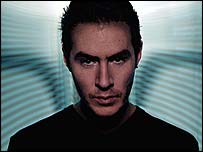 • The controversial arrest of Massive Attack frontman Robert "3D" del Naja has ended with Avon & Somerset Police Detectives dropping charges on March 21. The UK band is currently in Japan touring their "100th Window" CD which also brings them to New Zealand, UK and Europe. They recently stopped for a minute of silence at their gig in Adelaide, Australia for Iraqi civilian war innocents.
See earlier Release news on 3D here. Catch Peter Marks' "100th Window" review here. /Alex Veronac
The Sisters of Mercy post song
• You can listen to a live take on the song "We are the Same, Susanne" in full at The Sisters of Mercy web site. A video clip published the other day is now gone due to extensive downloading. /Mikael Kahrle, Johan Åman
Preview the new T.O.Y. album and prepare for live dates
• All twelve songs off of the new Trademark of Youth album "White Lights" (May 26, E-Wave/BMG) are now available to preview at the band's web site. Volker Lutz will take his band on the road to play the following dates - to start with: March 29 in Athens, April 4 in London and April 21 in Cologne. Whether or not any Evils Toy songs will make their way into the set list is a very good question at this point. This is T.O.Y.'s second album and was preceded by 2001's "Space Radio". /Peter Marks
Z Prochek goes hunting for a new lead singer



• Johan Otterhem has left the Swedish electro band "in search of new challenges elsewhere" and thus Z Prochek are now in the market for a new lead singer. Z Prochek member Martin Skanberg states that this in no way jeopardizes the future of the band and is feverishly working on a new album. /Peter Marks
New European Mortiis tour
• May 1 marks the kick off of a new Mortiis tour with widespread concerts over Europe. The Czech Republic, Slovenia, Switzerland, Belgium are among the countries to be visited this time. /Mikael Kahrle
"Hail to the Thief"



Photo by: Jason Evans
• We have already told you about Radiohead's new single "There There". Now we have got some more information about the upcoming album. It's entitled "Hail to the Thief", contains 14 songs and is produced by the band and Nigel Godrich, as usual. The wait is soon over, June 9 is the date to look out for. /Johan Carlsson
First impression of David Gahan's solo album
• The unofficial web site www.depeche-mode.com has put up an early review of David Gahan's eagerly awaited solo album "Paper Monsters", due out on June 2. This is the first text on the new album we have seen. The review is very positive (but remember this is a Depeche Mode site), and describes the music as rock, but with a lot of electronic elements. The sound is supposedly a bit similar to Depeche Mode at times, and the only gripe is that there might be a tad too many ballads. /Johan Carlsson
Ein bisschen Tyskarna från Lund


• Tyskarna från Lund have been on the roads latetly. Last weekend, for instance, they played three (!) gigs in Gothenburg and now we hear, they will return to Gothenburg again for SAMA.
They made quite a splash with their Football World Cup song "Global Fussball OK" last year. Another single, "Actung X-Mas" followed and finally the full length "Metamorphobia" early this year.
- The band initially formed as a result of my uncle, who played in a symphonic rock band called Traxas. He introduced us to the mysteries of electronic music as early as the late seventies, front man and newly born synth star Lothar Jensen says.
So, what does the future hold for Tyskarna från Lund?
- We hope to release more singles, maybe "Still Loving You" (Scorpions cover) in the Summer. Other than that, we're going on our annual trip to Greece. We will also visit our relatives in Germany, socialize with friends, read books and stuff like that.
Many with me have wondered what made the band decide to make a tune about football. The answer is short and concise:
- Football is the biggest thing in life, not counting flowers in a field, Lothar says.
Suspicious minds have also asked themselves if Tyskarna från Lund is a "real" band or just a comic fling on the side.
- I don't think we're that funny, Lothar begins. The myth is true: Germans don't have a sense of humour. We have to concentrate on making good music instead.
He also says the band's attitude towards the electro scene is, and I quote, "reverential". Fans of the band may have noticed a slight linguistic flaw in most of their tracks... I ask Lothar if this is due to their long stay in Lund (Sweden).
- That could be it, he admits. We try to use our German as much as possible, but we usually speak English with our Swedish friends. Rudi (Könnerman, band member) takes German language lessons to maintain his German. /Niklas Forsberg
---
Mar 24 2003

---
Life after Dubstar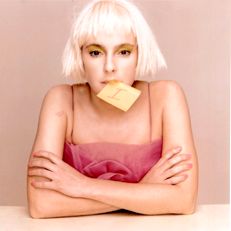 Sarah Blackwood, once Dubstar, now Client.
• British electropop trio Dubstar split 2000 after three albums. They had nine top forty singles (for instance "Star") and three top forty albums in the UK alone.
Now we hear, vocalist Sarah Blackwood is one of two Clients. The band and label seem to have chosen to keep her identity rather quiet so far. Synthpop duo Client will debut on Andrew Fletcher's Toast Hawaii label shortly.
Dubstar's main song writer Steve Hillier has moved into writing and producing for other artists, mainly from his studio "Stone Beach" in Brighton. He has worked with artists like Mark Owen, Things in Herds and Carl Faure and he has contributed incidental music to many TV programs. /Mikael Kahrle
VNV Nation screens new DVD in Leipzig
• A double DVD entitled "Pastperfect" will be shown at this year's Wave Gotik Treffen festival in Leipzig. The DVD contains live show footage from VNV Nation's "Futureperfect" tour which ran from October 2001 to August 2002, interviews with the band, exclusive footage, the history of VNV Nation, the making of the album "Futureperfect", a short film and much more. Ronan Harris and Mark Jackson will be at the festival during the screening and will answer questions afterwards. This event will begin at 3.15 pm on Sunday, June 8 at the Cinestar cinema in Leipzig. Capacity is limited to 400 people so plan ahead. The DVD will be out in mid August. /Peter Marks
Industrial rock with Sulpher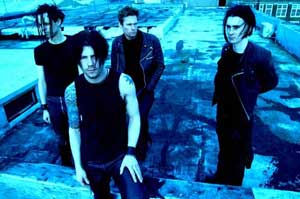 Feeling blue?
• Industrial rock band Sulpher is ready to unleash their new single "You Ruined Everything" on March 31. As we reported earlier, Sulpher is supporting Sisters of Mercy on the upcoming tour. /Johan Carlsson
Delerium remix contest won by Iris member
• The Delerium remix contest that Nettwerk hosted is now over. A jury has, after listening to over 150 mixes, decided that Andrew Sega from Austin, Texas made the best version. Now we will find his effort on the bonus disc of the upcoming Delerium album "Chimera". Andrew is a member of The Alpha Conspiracy and also of American synthpop act Iris.
"Chimera" is out on June 24, but you can already listen to the new track "Love" on the album "Chillout 2003 - The Ultimate Collection" from Nettwerk. It also features Conjure One, Hooligan, Kristy Hawkshaw and others. /Johan Carlsson
Monthly industrial live events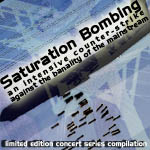 • Toronto's Industrial Kollective is hosting a monthly series of live concert events tagged "Saturation Bombing". To celebrate the current live music series, they have released a limited edition CD-R compilation with previously unreleased tracks. "Saturation Bombing" on TiK Recordings includes the unknown acts Liar's Rosebush, Displacer, Prospero, L'Ombre, s:cage, Antigen Shift, Skeeter and Iszoloscope. /Alex Veronac
---
Mar 21 2003

---
Martin L Gore to Release: "I don't want to go out on a big world tour"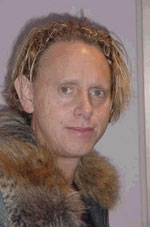 Martin L Gore on a promotion stop in Cologne recently.
Photo with friendly permission by: MartMan (E-lectric)
• After a time of rumours, Martin L Gore's upcoming mini tour is now confirmed. Release talked to Gore in London a few days ago:
- I'm planning to do a few live shows to promote this record, and after that, nothing in particular. I may decide to do some DJ things in the summer, as again like a small promotional tour. I don't want to go out on a big world tour.
Gore will not be alone on stage.
- Andrew Phillpot is going to be onstage with me, playing laptop and keyboards and then Peter Gordeno, who is the keyboard player who played with us on the last two tours, he should be on stage with me, he says.
The tour schedule looks like this: April 22, Stockholm (Nalen), 24 Cologne (E-Werk), 26 Hamburg (Hamburg Docks), 28 Paris (La Cigale), 30 Milan (Alcatraz), May 2 London (Astoria). /Mikael Kahrle, Mike Whyte
No more Morlocks
• Gothenburg multi-styled band Morlocks have decided to quit. The members will pursue their musical careers elsewhere. /Mikael Kahrle
Project-X cancels US tour
• EBM band Project-X tells Release, due to the current war, the have cancelled their upcoming US tour. The tour will be set up again at a later date. /Mikael Kahrle
Two new signings to SubSpace Communications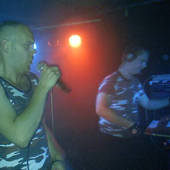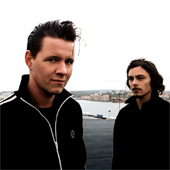 Spetsnaz live assault and Universal Poplab.
• Two Swedish synth duos have just signed world-wide deals with the Swedish label SubSpace Communications: Spetsnaz (classic EBM) and Universal Poplab (energetic synthpop). Spetsnaz' debut album "Grand Design" (April 28) is co-produced by Jouni Ollila (ex-Pouppée Fabrikk) and mastered by Andreas Tilliander. The debut single from Universal Poplab, "Casanova Fall", will hit record stores on April 28. It contains remixes and the Marc Almond cover "Brilliant Creatures".
Both bands will play at SAMA in Gothenburg. /Mikael Kahrle
Limited edition single from The Fair Sex
• A new single by the German darkwave band is now out and is entitled "Get out of My Head". This release contains four remixed tracks by the likes of Tim Schuldt and others. It is limited to 400 copies and is out now on Endless Records. The original version of "Get out of My Head" can be found on The Fair Sex' album "TFS" which was released in 2002. /Peter Marks
---
Mar 19 2003

---
"There There" new Radiohead single
• The single to precede Radiohead's new album (June 9) is called "There There" and will show up on May 26. Radiohead plan live dates in UK, France and Italy. /Mikael Kahrle
New Johnny Cash single with Nine Inch Nails and Depeche Mode covers
• The next Johnny Cash single (April 21) will feature his cover version of Nine Inch Nails' "Hurt" and also Depeche Mode's "Personal Jesus", taken from his latest album. The video for "Hurt" is directed by Mark Romanek ("One Hour Photo") and shows Cash in his home. /Mikael Kahrle
---
Mar 17 2003

---
First bands booked to M'era Luna festival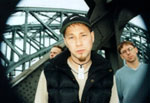 Mesh.
• The German M'era Luna festival (Hildesheim, August 9-10) has revealed the first wave of artists to us. Nightwish, Deine Lakaien, Mesh, In Strict Confidence, Haujobb, Qntal and Subway to Sally are some of the entertainers mentioned. /Mikael Kahrle

Cobalt 60 returns with powerful EBM in French
• Jean-Luc de Meyer's Cobalt 60 plan to return with powerful songs in French and with a new member, Fred Sebastien.
- We sound more efficient, more aggressive but more melodic, he says to Release and we agree after listening to five new songs.
Their third album will be released later 2003. /Mikael Kahrle
21 date Sisters of Mercy tour starts this month
• Still no record in sight but The Sisters of Mercy embark on another, this time huge, tour on March 30. 21 concerts are booked in the UK, Germany, Poland and The Netherlands. Support acts are Sulpher (Germany) and Oceansize (UK). Sulpher is an industrial act that claim they play all music 100% live and they will also play support for Marilyn Manson in Dresden in June. /Mikael Kahrle
DVD compilation with 35 video clips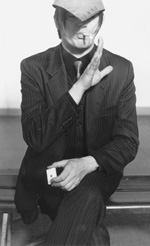 Blixa Bargeld.
• One of the leading printed magazines for electronic and darkwave music in Germany, Zillo from Lübeck, will present a DVD release called "The Dark Side" in co-operation with Universal on March 31. The compilation DVD will feature over three hours of playing time with 35 video clips from many leading artists in the Zillo genres, for instance Einstürzende Neubauten, Paradise Lost, Apoptygma Berzerk, Mesh, Tiamat, Type O Negative, And One, Skinny Puppy, De/Vision, Wolfsheim and Deine Lakaien. /Jens Krause
DAF perform 30 songs live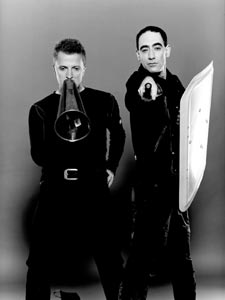 • DAF will play only four gigs in April and the name of the mini tour is "30 DAF-Lieder". 30 new and old DAF songs will be presented. The management of the band are currently organising a full European tour and some festival stops, in Scandinavia for instance, but nothing is confirmed as of now. /Jens Krause
Report from tour with electro newcomers
• There are two remaining dates of industrial newcomers Dismantled's Northwest mini-tour in USA and Canada. Vancouver's S.V.D. will open both shows.
Release recently witnessed Dismantled on the first date of their small outing at The Paris Theatre in Portland, Oregon on March 14. Dismantled consisted of Gary Zon on vocals and keyboards, one keyboardist, a bassist and a drummer. The songs were all taken from the debut album and in some cases were shortened for time constraints. The sound quality was a little bass heavy and after about nine songs, the band began to run out of steam but they are quite intense when they are locked into the songs. The feel of the drums was quite hip/hop influenced and the keyboards were certainly atmospheric.
S.V.D.'s debut album was released a few weeks ago and Dismantled delivered their first offering last year. /Peter Marks
---