---
Contact
Release Music Magazine
V Stillestorpsg 23
SE417 13 Gothenburg
Sweden
E-mail: info at releasemagazine dot net
Do not hesitate to let us know what you think - send us your opinions, ideas, questions and so on. These e-mails are always read - and answered when needed.
We also welcome reports of, for example, broken links in our link department or spelling errors.
Record companies, organisers, marketing firms and others:
...are most welcome to send us information and promotion material. All is handled from our office above and then distributed to our staff members. You don't need to address a specific person. Send packages to the postal address above and info to the e-mail address above. We receive 5-25 CD:s per day and therefore it is impossible for us to give feedback and answer all e-mails, although we do what we can because we know this is important.
---
Support Release
Release is free. We need your support to maintain and develop Release. If you enjoy the magazine and want to support us, please make a donation (or advertise).


---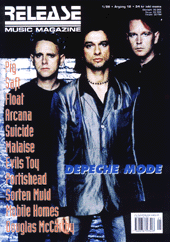 The printed magazine - Release Music Magazine - 1986-1998
Release Music Magazine was the printed version of this web magazine - one of the leading Swedish magazines for our music since 1986! The magazine was written in Swedish and contained features, reviews, news, classified ads, tour guide, letters, playlists and more. We printed 10 000 copies and had distribution all over Sweden. Release could be found in newspaper stands, supermarkets, gas stations, libraries, record shops and so forth. A substantial amount of our readers were subscribers.
The magazine was born in Umeå, northern Sweden, in 1986. The first years it was run by Britta Näsman as an A5 small fanzine, just for fun. When she moved to Belgium, Mikael Kahrle and Lotta Kahrle (then Jansson) took over the business gradually. They wanted to slowly convert Release to a real magazine, which they did.
Issue 1/91 was the first A4 glossy Release made with computer design. When 1/92 came out the company was born. With 1/94 the layout was upgraded. The circulation grew steadily. 1/95 was the first issue with distribution to around 1 000 shops through Interpress and the circulation was suddenly raised to 10 000 copies. Release had become one of the major music magazines in Sweden.
Unfortunately no issue has been released since 1/98 (August 1998). We have focused on the large, international, free, always accessible version of Release, with more readers and better potential.
Actually the one you're reading right now - the web magazine Release born 1997.
---
The company - Release Musik & Media
Release Musik & Media i Göteborg HB is the company behind Release Music Magazine. Release also produces texts for among others Metro - a daily newspaper with over one million readers - and design adverts etc.
Throughout the years has also been working with:
- Release Merchandising - mailorder with store for CD:s, band merchandise etc.
- Concerts in Gothenburg (Die Krupps, And One, S.P.O.C.K, Leather Strip, Dance or Die, Elegant Machinery, Cat Rapes Dog etc).
- Clubs (Electric Café and official Depeche Mode after-party).
- Bus trips (to Arvika Festival, Virtual X-Mas etc).
- Compilations ("Sounds from the Electric Café" etc).
- Release Distribution (the printed magazine, records etc).
- SAMA - Swedish Alternative Music Awards (co-organiser the first years).
Release Musik & Media i Göteborg HB is owned by Mikael Kahrle and Lotta Kahrle (ex-Jansson) and the office is placed in Gothenburg (Göteborg).
---
The Google ads at the Release site
They are generated automatically mainly based on the content of the page in question (like a review), the geographic location of the visitor, the current ads on rotation at Google etc. We sometimes block individual ads. Clicking the links (and other ads) generates a small income used to maintain this site.
The Google search square lets you search Release for your favourite bands, old News, that release date you forgot and so forth.
---
Staff
E-mails:
firstname@releasemagazine.net


Mikael Kahrle (Gothenburg, Sweden)
Editor-in-chief/owner


Lotta Kahrle (ex-Jansson, Gothenburg, Sweden)
Owner


Niklas Forsberg (Kungälv, Sweden)
Writer


Johan Carlsson (London, UK/Stockholm, Sweden)
Editor


Alex Veronac (Geneva, Switzerland)
Writer, photographer


Mike Whyte (London, UK)
Writer


Karin Wallström (Martinsson) (Gothenburg, Sweden)
Writer, photographer
Read more about Karin.


Tobias Eliasson (Gothenburg, Sweden)
Writer, DJ


Fredrik "Schlatta" Svensson (Gothenburg, Sweden)
Writer, photographer, DJ


Peter Marchione (Gothenburg, Sweden)
Writer


Jonas Carlson Almqvist (Stockholm, Sweden)
Web developer, photographer
---
Swedish printed magazine distribution

When the printed edition of Release was available, it could be found in the majority of Sweden's leading magazine retailers, newspaper stands, gas stations, librarys and so forth through our distributor Svenska Interpress AB.

Our record store distributor was House of Kicks Distribution AB (now MNW).