---
The result from Swedish Electronic Music Awards!
On April 3, 1999 the world's second Swedish Electronic Music Awards took place in Gothenburg. It was sold out - again. Except for some minor delays and technical problems at the small stage two the whole night was a great success. The temperature rose during the evening and by the time DAF/DOS and And One played it reached the boiling point.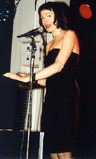 Release readers and web site visitors had voted for the best Swedish electronic newcomer, live artist, song, album and artist of 1998. The proud winners in each category received the awards on stage from our hostess Marina Schiptjenko (Vacuum, ex-Page).
More than three times more people voted this year than last year!
Only 21% were females. The average age among the voters was 24 years.
We will soon publish the result from the foreign poll.
Swedish Electronic Music Awards photos by: Peter Åstedt, Release
Covenant hotel photo by: Anders Ekne, Release
---
Swedish newcomer of 1998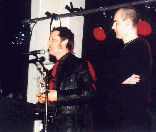 1. Sista mannen på jorden
2. Filter 2.0
3. Proxy
4. Project X
5. Tolchock
6. The Mist of Avalon
7. Red Butt Closeup
8. La Vogue
9. Headtrip Inc
10. Hayce
Comment: Sista mannen på jorden did get twice as many votes as number two, Filter 2.0. Filter 2.0 didn't release any CD 1998 - they haven't got a record contract. Obviously they reached out anyway.
When Eddie Bengtsson received the Sista mannen på jorden award he was amused by the fact that he was considered a newcomer around two decades after he begun his musical career! But 1998 was the obvious break through year and the year they released their debut mini album and album.
Swedish live artist of 1998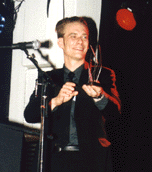 1. Covenant
2. S.P.O.C.K
3. Saft
4. Elegant Machinery
5. Cat Rapes Dog
6. Sista mannen på jorden
7. Project X
8. Kent
9. Statemachine
10. Bob hund
11. Mobile Homes
12. Tolchock
13. Malaise
14. The Mist of Avalon
15. Red Butt Closeup
Swedish song of 1998


1. Saft: "Ditt namn i min mun"
2. S.P.O.C.K: "Speed of Light"
3. Saft: "Undantag"
4. Covenant: "Leviathan"
5. S.P.O.C.K: "Dr McCoy"
6. Elegant Machinery: "Words of Wisdom"
7. KieTheVez: "Erina"
8. Sista mannen på jorden: "Maskinen går bra"
9. Covenant: "Tension"
10. Covenant: "Final Man"
11. The Cardigans: "My Favourite Game"
12. Sista mannen på jorden: "Brinner"
13. Cat Rapes Dog: "Motorman"
14. Proxy: "This Key"
15. The Mist of Avalon: "Lost in Feelings"
16. The Cardigans: "Erase/Rewind"
17. Statemachine: "Thermal Noise"
18. Statemachine: "As Elusive as Ever"
19. Mobile Homes: "You Make the Sun Shine"
20. Covenant: "Wall of Sound"
21. Covenant: "Riot"
22. Page: "Hon sa"
23. Mobile Homes: "Circle of Stars"
24. Sista mannen på jorden: "Ögon"
25. Filter 2.0: "Hur många dagar"
Comment: Everybody seem to have their favourite song with bands like Covenant and Sista mannen på jorden. The votes for some bands were scattered over several songs. Obviously these bands make lots of good songs, but no real hits. If people had agreed on, say one Covenant song, the result would have been very different.
And there is always the question of reaching out to the audience. Seven of the top ten songs were released as singles. Number four, Covenant's "Leviathan", appeared on some compilations.
Swedish album of 1998


1. Covenant: "Europa"
2. Sista mannen på jorden: "Ligg tyst ett tag med..."
3. Saft: "Paranoia Erotica"
4. Cat Rapes Dog: "The Secrets of God"
5. The Cardigans: "Gran Turismo"
6. Bob hund: "Jag rear ut min själ! Allt skall bort!!!"
7. Tolchock: "In the Name of Tolchock"
8. Mobile Homes: "Mobile Homes"
9. Broder Daniel: "Broder Daniel Forever"
10. Page: "Helt nära"
11. La Vogue: "Rebirth of the Century"
12. The Mist of Avalon: "The Mist of Avalon"
13. Red Butt Closeup: "Red Butt Dreaming"
14. Incka: "Nu ännu bättre"
15. Fläskkvartetten: "Jag ger vad som helst för lite solsken"
Comment: This was one category where Covenant wasn't a clear winner. Sista mannen på jorden was not far behind, but they also had an advantage: their album was released late 1998, Covenant's early.
During the voting we clearly said that the album category only covered real, new studio albums. Therefore all votes for Elegant Machinery's compilation with mostly old songs, "A Decade of Thoughts", and Statemachine's "Breakdown" (a remake of 1997's "Avalanche Breakdown") was deleted.
Swedish artist of 1998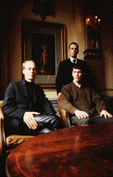 1. Covenant
2. Saft
3. S.P.O.C.K
4. Statemachine
5. Sista mannen på jorden
6. Cat Rapes Dog
7. Elegant Machinery
8. Page
9. Mobile Homes
10. KieTheVez
11. Tolchock
12. The Cardigans
13. Kent
14. Project X
15. Freddie Wadling
16. Red Butt Closeup
17. Nasa
18. Bob hund
19. Lustans Lakejer
20. Funhouse
Comment: The heaviest category. A summary of the whole picture - album, songs, live performances, image etc. Once again Covenant won this award - and it was their third this year!
And not bad for a debut band like Saft to make it to number two. It shows that a new band can make a fast career in the electro field in Sweden, and put aside giants like S.P.O.C.K and Elegant Machinery.
Let's wait and see what suprises there will be at next year's Awards. Remember that it's very much up to you. Use your eyes and ears, track down the good music out there - and vote.
---