I remember the Pet Shop Boys as being my threshold into more common pop music. At one point, being the most intolerant me, I couldn't stand the sound of a guitar or even, for the synth scene typical dark singing vocalists. Not that the English duo ever was a rock band, but they always blend in elements from other genres and inspiration sources and mold it into their own charismatic dance flavoured pop. The "West End Girls" of 1986 have, in 1999, become a "New York City Boy" and high time to visit the Pet Shop.
Rocket start
Pet Shop Boys is one of the fortunate bands getting a rocket start of their career. Their first single releases "West End Girls", "Opportunities" and "Suburbia" instantly became huge hits. Followed throughout their career by "Rent", "Being Boring", "Go West" and "Se a Vida é" to name but a few.
On October 11, the new Pet Shop Boys album, "Nightlife", was released. The singing journalist and the composing architect student have reassembled their forces in yet another attempt to climb the hitlists.
Neil Tennant, singer and dominant front figure, claims "Nightlife" is more of a pop and dance album than their last release "Bilingual", and I tend to agree with him. More space is given to the fast outbursts of the duo, the one tickling your dance nerves.
In a way, the new album is a contradiction to "Bilingual". Neil explains.
- The last album was more personal and had a more "happy" feeling to it. For instance, the video for "Se a Vida é" was shot at a water park in Florida and it kind of represents the sunny naturalistic, Latin theme of "Bilingual". "Nightlife", on the contrary, is about relationships, people wanting their loved ones to come and see them, people wondering how and why something went wrong and such. And these thoughts take place at night when people's perceptions of life seem exaggerated. Something bad seems worse and something good seems better.
He continues:
- And nowadays the night, in terms of clubbing, extends into the day - you can findpeople in clubs still dancing at midday, so, although it's light outside, for them it's still the night. All of these themes come into the album, Neil says.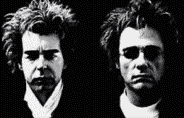 New image influenced by samurais
Those of you who've seen the videos of the two released singles may have, or really should have, noticed their new, tailor-made outfits including orange punky wigs and, to say the least, distinct black eyebrows. According to the band "Nightlife" is an album that needs an attached image.
- Basically the new look is inspired by Japanese Samurai warriors, Neil begins. We also wanted to create a new look fitting the moods of "Nightlife", which is more of a pop and dance album and came up with the new striking appearance in consultation with Ian MacNeil, a famous theatre/fashion designer, Neil says.
The idea of the new, conspicuous Pet Shop Boys was created due to the fact that the band always felt they've been operating in their own world, and the video for "I Don't Know What You Want but I Can't Give It Any More" shows this. They start out as normal persons and at the end they've been transformed into these new, Samurai characters, and everyone else also looks that way; the Pet Shop Boys world. Tennant also explains how the costumes make it easier to distance yourself from the music, when you're wearing them you're playing a role, and that's a nice approach, according to Neil. The songs don't feel as personal.
In support of the acclaimed new album, they'll go on tour for the first time in years. The tour is a collaboration with renowned architect Zaha Hadid, who will design the stage set. The first gig is to be played in Glasgow, Scotland on December 4 and yes, the new outfits will be worn on tour.
Kylie Minogue gay theme duet
"Nightlife" features a total of three producers, excluding the Boys themselves; Rollo, Craig Armstrong and David Morales. And a duet with Kylie Minogue. Both Chris and Neil says they're both pleased with the collaboration with her.
- We asked Kylie to do a duet with us and told her to come have dinner with us, and then one day she just popped by, unannounced and by herself, laughs Chris. The track is called "In Denial" and deals with the "gay father-unaware daughter" dilemma, where Neil is the father and Minogue the daughter.
The only "Nightlife" song not recorded in London isn't all that hard to guess. "New York City Boy" of course, produced by David Morales. The song is, as was speculated, a tribute to the Village People and the idea came from Mr. Morales, who also co-wrote this song. So Chris and Neil went to New York to record it. Neil tells about a funny anecdote from the time in the US:
- We had to interrupt the recordings of the track, because David had to fly to Milan, for a fashion thing for Madonna. And he came the next day. He's a fashion fanatic and always wears things like Versace plus he's always on the phone, giving you the impression he's talking to you when in fact he's on the phone talking to someone else, laughs Neil.
Slow producer
"New York City Boy" is about some boy in the NY suburbs, bored with his everyday life wanting to wander the streets of the Big Apple checking out the stores and clubs.
Another of the producers, Craig Armstrong, has been known for his work with, for instance, Massive Attack and according to Chris, his features have a significant role. He speaks about Armstrong's tendency to slow everything down, or as Chris himself jokingly puts it:
- If Craig had produced all of the tracks none of them would probably have had more than 80 bpm.
The Pet Shop Boys trademark over the years, innovative, smooth pop with a wide range of influences, has filled an empty space, given their unique sound. Hopefully "Nightlife" isn't the last thing we've heard from them. I still say they deliver personal, and characteristic music with a very special edge, or touch if you will. A touch they luckily seem to have the monopoly of.
Pet Shop Boys Online, official homepage