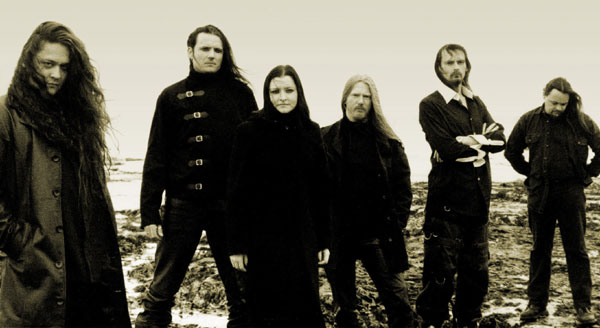 Lured into darkness by
MY DYING BRIDE
By: Kalle Malmstedt
After seven full-length albums dark as tar, the gloomy Britons My Dying Bride are back with a new cheerless masterpiece – "Songs of Darkness, Words of Light". But wait… Light? Is it true, are My Dying Bride finally seeing the light at the end of the tunnel? Release felt compelled to have a chat with front man Aaron Stainthorpe to find out.


The axe drops
It's a bright, warm and sunny day in North Yorkshire, Aaron Stainthorpe cheerfully informs us. The voice at the other end of the phone line is as friendly as the one of your next door neighbours and it is impossible to interpret the occasional slurping sounds as anything else than a nice cup of afternoon tea being savoured.
- But be assured, there is no hope on "Songs of Darkness, Words of Light". None at all. We just wanted to lure our listeners into the record, then we let the axe drop! laughs Stainthorpe.
And it is almost 15 years now since My Dying Bride formed, with the stern resolution to make albums as joyous as a funeral. Since then, their reputation has grown and now they are considered one of the most important forerunners of the goth- and doom metal genres.
- But to be honest, I feel a bit disjointed with the genre right now, Stainthorpe tells us.
- In the beginning I tried to keep track of all of the bands, but now it is impossible. And I actually don't listen to guitar based rock much any more. I listen to, and get inspiration from, bands like Dead Can Dance, Swans and Nick Cave.
Speaking of inspiration – isn't it hard to find it in you to write such wretched and depressing lyrics year after year?
- It actually gets harder and harder. But I think I have succeeded with "Songs of Darkness, Words of Light". Those lyrics are not as personal as my old ones and won't hurt as much to perform live. I only write when I'm feeling depressed, and when I'm finished I feel fine again. I hope I can serve as an inspiration to other people on ways of dealing with sadness and frustration.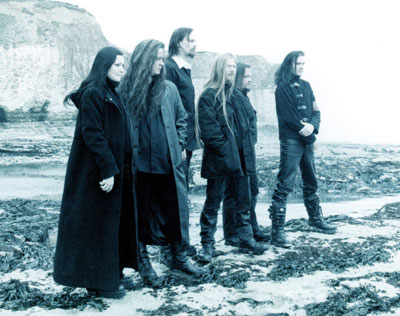 Embarassing
Tell us a bit about when you recorded "Songs of Darkness, Words of Light".
- We recorded it – as we always do – in the Academy Studios in Yorkshire. But we always have about 90 percent the material ready when we go into the studio. This time the studio was booked when we only had been working on the material for about three weeks, so it was kind of pressed, no time to correct mistakes. But I really like the result, so maybe we'll do it like that the next time around, too.
And how has others liked the result – critics and fans?
- So far, so good. Everybody seems to be going crazy over it. It is actually quite embarrassing.
And will the fans be seeing you on the road soon?
- Yeah, we're working on a tour that will actually take us to Scandinavia in the end of the summer. We haven't toured there for like six years, so that will be nice. And we are also doing some festivals and a spot at The Inferno in Oslo, Norway, in April. So far.
Lots of angst all over the world, in other words. But how about angst in Yorkshire? Well, Aaron Stainthorpe wraps things up by telling us there's not much of that around.
- I like to read a lot and do art, paint. At the moment I'm quite into Terry Pratchett, for example. And the guys and me see quite a lot of each other – we all live within 5 miles of each other. Actually, I'm going to dinner with Hamish and Ade tomorrow night. We do things like that all the time.


Line-up
Aaron Stainthorpe (vocals)
Ade Jackson (bass)
Andrew Craighan (guitar)
Hamish Glenncross (guitar)
Shaun Taylor-Steels (drums)
Sarah Stanton (live keyboards)
Album discography
"As the Flower Withers" (1992)
"Turn Loose the Swans" (1994)
"The Angel and the Dark River" (1996)
"Like Gods of the Sun" (1997)
"34.788%…Complete" (1998)
"The Light at the End of the World (1999)
"The Dreadful Hours" (2001)
"Songs of Darkness, Words of Light" (2004)
The art of Aaron Stainthorpe
www.azzron.com
Read more
Read our review of My Dying Bride's "Songs of Darkness, Words of Light" here.
Further reviews in the On Record archives.
Another My Dying Bride interview can be found in the printed Release issue 1/96. See Shop.