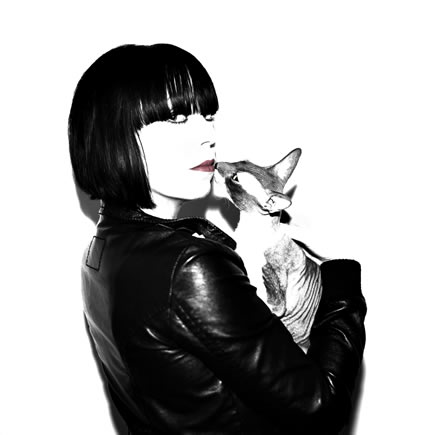 EMMON
- always on the move
By: Mikael Kahrle
Spotlight published: Jul 22, 2011

Over the years, we've seen more and more female artists in the Scandinavian electronic music scene. I'm talking about women that choose to do more than sing, dance and pose. Robyn, Björk, Anneli Drecker (Bel Canto, Röyksopp), Karin Dreijer (The Knife/Fever Ray), Sophie Rimheden, Stina Nordenstam, Toril Lindkvist (Alice in Videoland), Lightbulb Project/Cat5/Otur and Firefox AK are some of the names.
And then we have Emmon aka Emma Nylén from Stockholm, originally from Mora in Dalarna in Sweden. She has released several indiepop albums with the four-piece Paris. But it's her electronic project Emmon that catches our interest, on record as well as on stage. We hosted a popular Emmon remix competition a while back, won by Australia's Parralox. Her two previous albums "The Art & the Evil" (2007) and "Closet Wanderings" (2009) both received positive reviews in Release.
2011 marks the release of the Emmon album "Nomme", touring, a video for "Ghost Dance" filmed in Berlin, remixes and collaborations with And One, Melotron, Monostrip and others.
A smooth ride
"Nomme" (Emmon spelled backwards) was just released and the former art-school student with her black hair and black clothes paints darker soundscapes this time around.
– "Nomme" got a darker and more suggestive feel to it, Emma says. I have tried to go back to the way I worked at the very beginning of the Emmon project. This means more of a "just get it done" way of working rather than overthinking things. It's been more about intuition, feeling and creating with myself as a base. I have sought a more dirty, trashy and full sound but still with a soft and sensitive atmosphere. The same goes for the lyrics.
She continues:
– I don't really like analyzing my own work too much, I prefer that it speaks for itself. The thing is that music usually stands for different things for different people anyway. Better then to leave something for the listeners to discover for themselves.
I asked Emma if she could tell me about the "Nomme" album making process.
– It has actually been unusually smooth and painless. Since I started working with Jimmy Monell (ex-April Tears) as a co-producer I have had the luxary to be able to concentrate on writing the songs and then he has put his magic fingers on the songs to refine them into gems. Then we have thrown ideas back and forth so many times that in the end we have no clue on who contributed with what.
It's the first time Emmon leaves her songs in the hand of another person.
– It's been a lot of fun and a very rewarding experience to, for the first time, leave my songs in the hands of another person and see what happens. Luckily I have been taken good care of and I have felt perfectly safe during the process. Jimmy has so much experience in producing that I have been able to sit back and get a nice perspective. He is also very good at interpreting which direction I want to take and the kind of sound I am after.
Singing here and there
Emmon collaborated with other artists 2011, for example Monostrip.
– It started when they became label mates with me on Wonderland Records and they wanted female vocals on one of their songs. I really like their stuff and it's been a nice tradition to collaborate with other members of the Wonderland Records family. The song "Drowning" will be the third single from the debut album.
Emmon is featured on the new And One album "Tanzomat", released earlier this year.
– The collaboration with And One started when they wanted a female voice with a nice retro feel to it. They called me, put me on a train to the S.P.O.C.K-studio in Malmö to record with producer Christer Hermodsson and after what felt like a split second the song "Dancing in the Factory" was done and released on their brand new album.
The new album from another similar German electropop band - Melotron - will most likely feature vocals from Emma as well.
– The upcoming collaboration with Melotron has been delayed but the plan is to record something together for their new album, due out later this year.
Horror movies
Can you mention any particular artists that have inspired you while making the new album?
– Usually I get more inspiration from movies than from music when I create. Horror movies have always been close to my heart and given me a lot of ideas and input. I often work with images and movie sequences when I am writing music and lyrics.
Musicwise I have been listening a lot to Crystal Castles and I have even named a song on the album "Slottet", which is Swedish for The Castle, as a tribute to them. I have also listened to dance music like Boka Shade, Simian Mobile Disco and older electro like Parallax Corporation and Alden Tyrell. The latter is actually music I listened to in the early days of the Emmon project.
I asked Emma what she thinks about initiatives like the Arvika Festival's 50/50 male/female mix (even though Arvika is cancelled).
– Sure it's a good thing but it should have happened a long time ago. It's good that it finally happens and hopefully it's a genuine thought behind it and not more of a PR-stunt. I think it should be a given thing to always strive for equality.
Emmon's live show is more of a live band performance these days.
– I have developed my live show quite a bit over the years. From being alone on stage to now adding musicians and close friends Niklas Kärrskog (keyboards), Tony Ahola (drum pads) and Jimmy Monell (keyboards and triggered pads). It's a lot of fun with company on stage and it adds a lot more dynamic and a better feel to the live show. This year we will kick it up a notch and offer a really great live show and if possible we will launch it at the Arvika festival. I am all for live shows that adds a little extra to give the audience a fuller experience.