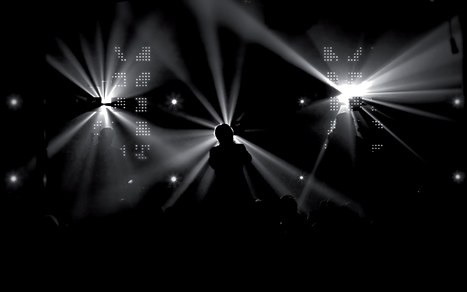 Photo by: Claudia Schöne

COVENANT
version 2 beta
By: Tobias Eliasson
Published: December 14, 2007

Since the debut with "Dreams of a Cryotank" in 1994 Covenant have slowly worked their way up towards becoming the biggest of the alternative electronic bands from Sweden. They have released six albums, one live video and album, played all over the world and been a headliner at some of the biggest festivals. It has been rather quiet for some time after last year's "Skyshaper", an album that took the band all over the world. The journey is documented on their first DVD called "In Transit".
Recently there have been some rumours going around about the band so we decided to have a chat and see what's going on, five years after our latest Spotlight. We met up with Joakim Montelius and new member Daniel Myer after a late breakfast on a passenger ship; they played at the floating Das Boot Festival (taking place between Sweden and Finland) the night before.
We learn that Covenant were centimeters from quitting. But now the recharged band aims at version 2, with a new line-up, studio, sound and album. A new song was preimiered at Das Boot and the album recordings start in February.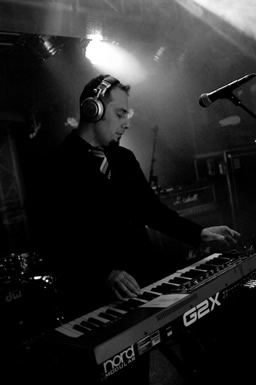 Joakim Montelius live at Das Boot December 2007.
Photo by: Andreas Johansson, Festivalinfo.se

"Like '101' but wihout the fans"
You've just released your first DVD, could you tell us a little bit about it?
– Well… It's a movie, Joakim Montelius laughs. We did kind of an unusual thing; it's not a concert - more like a documentary with a lot of talking from me and Eskil. It's unusual in the way that you get to see aspects of the band that you would never see otherwise.
Daniel fills in:
– I think that it's almost like "101" but without the fans. I think that it's really good, instead of fans talking about the band you can see the band talk about itself.
– You can see the movie as a bit self-important or even egotistical in a way, but we tried to be completely un-censored to give an honest picture of the band, Joakim continues. When you watch a band documentary you sometimes get the feeling that it is edited to make the band look better or cooler; to really use it as a promotional tool. It was really important to us to not have scenes with screaming fans and such; there is no point in trying to make yourself look more fascinating than you really are. I'm not sure how many people that actually are interested in this kind of thing. I am a huge music fan, and there are a lot of bands that I would like to know these kinds of things about. It adds a new dimension and that's why I think that it's worth doing this type of thing and releasing it.
In the movie we get to follow Covenant around the world, playing in Europe, the US, Russia and Mexico. They talk openly about their ideas and the writing process. I ask if it was their own idea to use the documentary style.
– Actually no, it was the video company that came with the suggestion, Joakim explains. They make a lot of DVD:s for other bands and wanted to try some unusual stuff - try new ideas out. We were the first band that actually thought that is was a good idea; and it really was.
Did you learn something from your 2000 live-VHS "Synergy"?
– Mostly to have more focus on the non-concert parts, we had that idea on there as well, but it is not so well done; mostly because we made that one in one week, while we worked with "In Transit" on and off for about a year. I think that it was worth all the work and waiting to come up with something a bit different.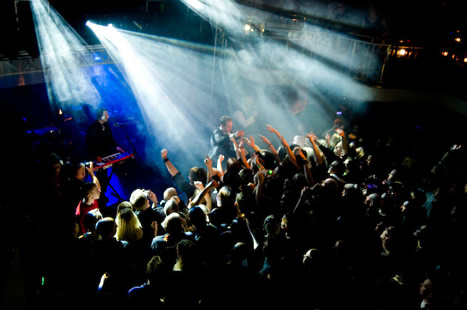 Live with Daniel Myer to the riight at Das Boot December 2007.
Photo by: Andreas Johansson, Festivalinfo.se
Clas Nachmanson has left
Since Covenant met in the 80:s, the Swedish band has always had the same members: Joakim Montelius, Eskil Simonsson and Clas Nachmanson. About a year ago Clas decided to take a break and was replaced on stage by German Daniel Myer from Haujobb. On the DVD they released officially that Clas were going to quit the band. How did this affect the group?
– The ideological idea behind Covenant was always the trinity of me, Eskil and Clas; so I always thought that when one member leaves that would be the end of it. Clas had been really unhappy about the music for quite some time. He wasn't really a part of the creative process; he was always more like a moderator or organizer. He was really frustrated that he couldn't enter that process on equal terms. There were a lot of discussions and I think that he always felt that he had to step back, he didn't have a strong enough voice to force his will; which I really regret, maybe it would have been a good thing. In the end he got fed up and decided to say that if things didn't change he would leave the band. We tried to change, but we didn't.
Clas is also becoming a father.
- I think this was a reason that he made his mind up. For me all this was a catastrophe, it was like removing a ground stone from a house.
So we had to make our minds up; should we quit this thing or should we try something new. And at that point Daniel showed up, or actually we kind of asked you to come along, Daniel. It's a transition but it's also a step towards something else, not only technically but mentally as well. Right now we are circulating trying to find a form to cooperate. Because you haven't really done that before, right?
– No, not really, Daniel confesses.
– So Clas leaving the band was both a catastrophe and a blessing. Because now I hope that we can start Covenant version 2.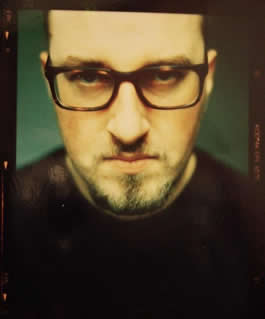 Enter Daniel Myer
I noticed during your show that you had re-arranged some of the songs.
– I actually did that live, Daniel reveals. It was fun to do because it's what I do when I play live with Architect or Haujobb; I play around with the tracks. I was kind of worried that the guys wouldn't be so happy about it, but in the end they felt comfortable with me.
Joakim continues:
– It's fun because you create something completely new, and we don't really know how to do that. Daniel plays at least once a week, all year around while we tour every now and then and have periods when we do nothing. We don't have that experience or technical know-how; we are more like construction builders, we are studio people.
Daniel, how much part of Covenant will you be? Will you be involved in the songwriting?
– I have already written three tracks that Eskil liked, so we have done some vocal demos together. I've been with the band for about a year now, but only as a live member which was a new thing for me since I'm usually the main person on stage and do everything by myself. It felt weird in the beginning, but I love the music and the guys so I got used to it really fast. It was easy to deal with them but what really got me close to them was the tour in Russia; it was amazing to share that experience with them, stuck on a train together for two weeks; it was great. But however, Eskil is kind of the conductor of this thing so right now I'm only a live musician who presents his ideas. Whatever comes out of it I'm happy with it.
You are a very active musician, currently with Haujobb, Architect and Destroid. How will this affect your own career?
– I'm very happy touring with the guys because everything is well arranged. Nice hotels, nice people to tour with and an amazing crew. It's fun to play for audiences that really appreciate the music. So I figured since I play with Haujobb maybe four or five times a year and get maybe one good show, and that's in my home town; the rest is just struggling, trying to convince people that this is good. So I'm going to quit Haujobb live because it doesn't raise any interest anymore. Plus it's much more fun to tour with these guys; even if I'm just the keyboard player on stage (Daniel also played the drums on stage).
– But you will keep doing everything else like Architect and Destroid, Joakim fills in.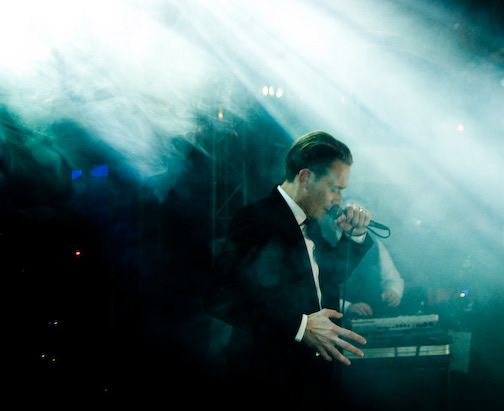 Eskil Simonsson live at Das Boot December 2007.
Photo by: Andreas Johansson, Festivalinfo.se
"It's time for us to fade away"?
The lyrics on "Skyshaper" suggested that the end of the band was here.
– It was the end, Joakim says. But it was like when you run and fall; you can choose to fall or you can try to pick yourself up and keep going. But yes, it was very close.
What inspired you to continue? Where did you find the energy?
– In the end it was about two things. It was friendship, even though that has been tested severely under the years. There is a connection between us that is so extraordinary that it would be stupid to just let your emotions take control. Eskil and I fight all the time, yet we respect each other; it's like a brotherhood. The second thing is that there is still more music to be made; there should be different ways to try. Compared to Daniel, we make simple pop music, but we do it in a way that I think is unique. I don't know any other band that makes it the way we do; that have that kind of mentality. Personally I like the way Daniel does it; jumping over the edge to see what's there. But Covenant doesn't work that way, but maybe it's the way it should be.
We got treated to a new song yesterday. You are currently working with new material for a full new album?
– Yes, we are, Daniel reveals. We will enter the studio in February; we have just put together a new studio.
– Right now Daniel and Eskil are running ideas by each other, Joakim adds.
– We are exchanging songs and files to see if we are compatible.
– I'm sitting at home with my pen trying not to repeat myself. Covenant needs a big landscape and I think that I've already painted every landscape there is. I try to avoid words like "darkness", "ocean" and "water", so it takes a long time, Joakim tells me with a smile.
Read more:
Release "Synergy" review
Release has made several Covenant interviews throughout the years; one is here and others can be found in issues that can be ordered at Tidskriftsbutiken