CATCHING UP WITH
COMBICHRIST & MORTIIS
ON THE ROAD
Text and photos by: Alex Veronac
Spotlight published: February 10, 2011

Release' Alex Veronac, who lives in Switzerland, talked to Combichrist and Mortiis when they visited Zürich on the massive "Monsters on Tour".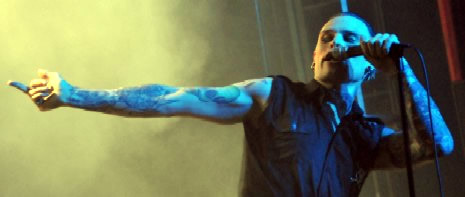 Live in Zürich January 2011.
Endless touring for Combichrist
Aggro-electro act Combichrist has continued to support their 2010 album "Making Monsters". After touring support for arena act Rammstein from November 2009 until mid-2010, Combichrist played European anchor festival dates and club gigs to complete their year. The band were in Zürich recently when we had some words with Andy La Plegua backstage.
– I much more prefer the smaller venues than the larger halls. We're interactive with the audience, he said.
On their show at Madison Square Garden in New York City:
– We were disappointed with the facility, to our surprise it was more disrepair that many of the venues we played before.
On the tour bus with a pencil, Andy writes the keys, melodies and lyrics for new songs.
– We're on a hectic tour route, there's no party buffer time built in to the schedule.
"The Monsters on Tour" goes through Scandinavia from February 8-16 and continues until March 12 to conclude in Germany.
Combichrist releases their "Throat Full of Glass" CD single and video in March on Out Of Line, and on April 12 with Metropolis Records (US).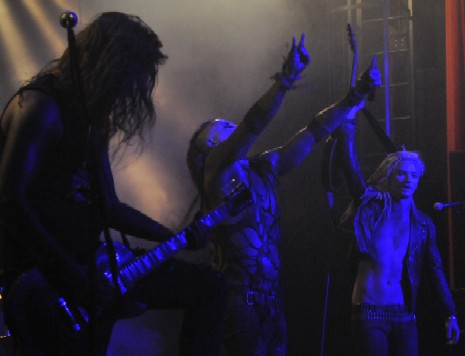 Mortiis live in Zürich, January 2011.
Mortiis tours one album - prepares the next
Industrial rock act Mortiis is now on tour supporting their newest full length release "Perfectly Defect". After a long bitter experience with their record label, Mortiis decided to release their newest recorded album for free online via their website. Released on date 10.10.10, the eight tracks are also available for purchase in a limited "Tour Edition" CD.
Mortiis is supporting Combichrist and I had some words with Håvard, Levi and Ogee backstage after their gig.
Your show tonight was very high energy with plenty of emotion, I really enjoyed the faster paced songs.
– Yes, we're proud of our new material and want to show it off well. We get a lot of fans requesting some of our older material and disputing a change in our sound. The current live set has songs from "Perfectly Defect" and some from our upcoming release "The Great Deceiver".
There were a lot of elements I heard in the set tonight, you had some recorded background sequences and a live tour drummer giving it a bit of a Glam-era snare against the raw screaming guitars and sequences. I notice you don't use much effect on your vocal, we can actually hear what you say between songs.
– Yes, the tight drums as you say. Our sound has aggressively evolved over time. We've reworked a lot of older songs in preparation for this tour. I'm sure you can hear bits of Ministry and Nine Inch Nails influences in there.
In light of the current restructuring of European record labels these last years, why give your album away for free?
– I can't begin to tell you how badly we got (messed) over by our record company. They own the rights to our songs perpetually. We released our newest CD online as kind of a surprise move, we wanted to get our new music out as soon as we could. We wanted to move ahead once we weren't bound to that label anymore.
– We've had great touring success in the UK and over in America. We have our label problem in the past now, it's always a pleasure to be back in the UK to tour - we're received very well.
Mortiis is working on their upcoming release, "The Great Deceiver" after completing their European tour obligations on March 12.