---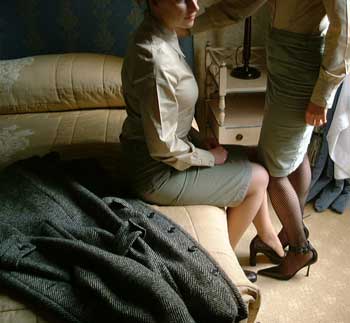 Client in bed.
ANDREW FLETCHER & his Clients

By: Kalle Malmstedt
Link button photo by: Anton Corbijn
Andrew Fletcher has no problem keeping himself busy when his friends Gore and Gahan release solo albums. Release met Andrew Fletcher in Gothenburg and had a nice chat about his label Toast Hawaii, the label's only band Client and the future of Depeche Mode. As a bonus, we also got to meet Client: A and B in person and hear what the girls had to say about their boss and newfound career.

A life outside Depeche Mode
The scene - the bar in one of the fanciest hotels in Gothenburg. Andrew Fletcher is sitting across the table, smoking Marlboro Lights, sipping water and eating peanuts. After chatting a bit about football and the weather we cut right down to business. Andy is in Sweden eager to promote Client and their punk electronic single "Price of Love" and to talk about his record company Toast Hawaii. So, why not start there?
The company, does it exist solely to back up Client or are you planning to sign other artists as well?
- I don't have any visions of becoming Virgin. I have to be realistic; In November the Depeche-project probably starts and I want to do some different things, not necessarily groups. I'm interested in working with good songwriters. It just happens that Client are in the style of music which is quite similar to what I'm known for and what Depeche are known for, but I'm not necessarily into just that type of music, says Andy Fletcher and explains the pros and cons of being a member in one of the most successful pop groups on the planet.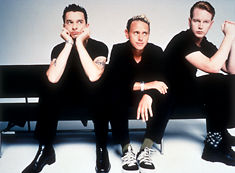 - Fletch, move it. What are you doing here anyway?
When Depeche Mode is between albums, the members really have time of to do anything they want. In the case of Andy Fletcher that means starting a record label, reading two books per week and spending time with his family. The other side of the coin is that when a Depeche album project is started and on the road, it's all consuming for two years. The first year is spent making a record, which buys Fletcher time to take care of Client. But when Depeche goes on tour, the two ladies are on their own.
One would think that Andy Fletcher would put his musical skills to the test and try his hand at making a solo album like his band mates. But no, that's not his thing, he says.
- My interests are more into this sort of thing. Because with Depeche we didn't have a manager the first 16 or 17 years so I used to basically take care of that side of things because I was interested in it: building relationships, getting on with people, being creative and working towards a goal.
The larger picture, sort of?
- The goal of this project is to improve. If Sarah can establish herself as a serious singer, Kate improves as a songwriter and I can get experience in giving out records, then we will really have achieved something.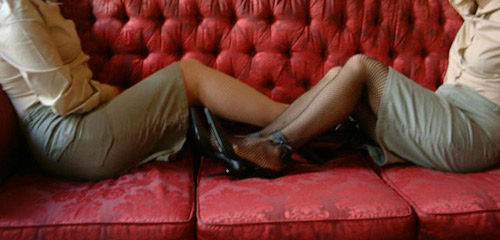 Release met the legs of Client.
But why start a record company in the first place?
- It's something I've been thinking of doing for many years, but you know, with me being busy with Depeche it's difficult to set up a company. And also, it's hard finding the right artist when you have time off. I was very fortunate finding these artists. Kate (Holmes, Client: A) sort of sat opposite me in the pub really, gave me a few demos and I started to listen to them and then sort of got a relationship together and then took it from there. And then we had a few conversations with Daniel Miller (Mute), and that's something I'm interested in - going into a partnership with me and the girls having total say and total control of our destiny.
Toast Hawaii is linked to Mute, so what is Andy Fletcher's role?
- I'm involved in everything regarding Client's career; we're a team, you know, from the making of the music and writing of the songs through to every aspect, like helping out with the live stuff. It's just a partnership. Everything to do with their careers, we handle together.
- He's so enthusiastic. He's so committed. It's very good to have a record company that is so committed. The project is so important to him, you know, Sarah Blackwood (ex-Dubstar), alias Client: B says, sitting on a sofa in the bar a little while later, after Andy has finished with the interviews and gone up to his room to rest.
Next to Sarah sits Client: A, also known as Kate Holmes, formerly in Technique and wife of Creation-legend Alan McGee. They both are obviously very fond of Mr Fletcher.
- It's fascinating working with him. He's very nurturing; we get a good laugh together. He's very emotional, Kate and Sarah say.
Earlier, Andy explains why it's OK to talk about Client in their real names now, not just as Client: A and Client: B.
- What we're trying to do is, with all the bad pop music around at the moment - its nothing new that we're doing - but we just want to be a bit different and trying to make credible pop music, trying to bring credibility back to pop music. At the moment, pop music doesn't have much credibility. We're just trying to do things in a different way, you know; not to do the obvious thing.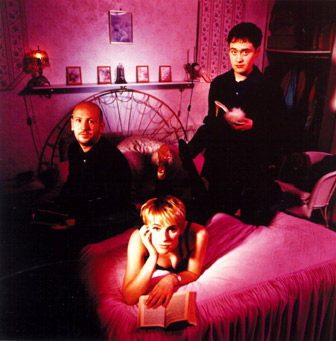 Dubstar in bed 1997.
Photo by: Colin G
The Depeche-Client connection
The "thing" with Client involves putting out lots of pictures, mainly on the web site of Client (incidentally run through the server at Cambridge University…) featuring both ladies in conservative suits, but without their faces visible. No biography, absolutely nothing yet. Just a couple of samples of the songs. The lack of information is supposed to be stirring the interest in the group and the plan is that the information will leak out anyway. Like now.
- We're just trying to do things in an old-fashioned way - pre punk. Trying to make it fun, exciting. And for me it's exciting, because I'm working with a band on this level. Everything I do with Depeche is always very big. It's wonderful, it's a great experience being in Depeche Mode, but it's lovely, this reminds me of Depeche in the early days, you know, going to that venue there, doing that sound check and sharing rooms and economy, Andy says.
It sounds like something that's good to do when you've reached a certain level to get the love for music back?
- Yeah, it's just really a real challenge, we're realistic to realise that we can't mirror the success of Depeche, because very few groups can mirror that success, but we feel we made a decent record and we're trying to enjoy ourselves.
Client elaborate a little on the Depeche-Client connection:
- When we supported Depeche in Warsaw, you can really see why electronic music is so upped there. It fits the landscape, you know. When you go through Warsaw you can't play rock, you have to play something electronic. It's the same with Leipzig; it's got that dark side to it, which is quite romantic as well, at the same time. It's not necessarily a bad dark side. It really stirs the emotions, kind of the whole revolution and everything. I think that music is like a soundtrack to the whole of Eastern Europe, says Kate.
- It's sort of uplifting, Sarah observes.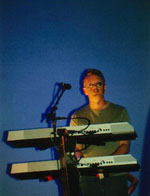 Fletch live with Depeche Mode in Stockholm.
Photo by: Jens Krause (Release)
But you have played with Depeche Mode before?
- We just did it in another band - Technique. It's a funny story, it's actually a band that I was in before. The girl I was singing with told me, just before the Depeche tour, "Oh, I can't do the tour, I've got to do a Positiva record, I've got to be big in Ibiza!". So, I had a week to find someone to stand in and this lady bravely stepped in (gestures towards Sarah and they both laugh). We had to rehearse three days with a karaoke machine and then the first gig was in front of 35 000 people, says Kate.
- It was more like 45 000… Sarah adds.
- It was fine, and then we started writing together. It was obviously meant to be. We started Client. And that's the whole deal with Eastern Europe, that whole industrial feeling. I think even the name fits in quite well. We wanted to be quite androgynous to start with. We wanted nobody to know whether we were men or women, says Kate.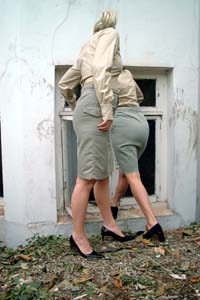 Now, everyone knows you are women, from the promotional photos…
The girls laugh:
- Yeah The first promotion shots were of us in shirts, with our heads cut off, on our web site. That's how we started, says Kate.
- We just wanted people to look at us and be interested in the music as opposed to how attractive we are, or what other bands we've been in, says Sarah.
In an age where there is a lot of talk about woman as objects and then having promotional pictures with you as bodies with no heads…?
- We wanted it to be both punky and quite stylised and artsy, not necessarily sexual. It's only when you look at the pictures in context that you actually see "Oh my god, you've got your bum on the front of a single!" We thought they were artsy… Everybody's got a dark side to their imagination and you can look at a picture of a bum and think it's art and you can look at it and think "I really liked her.", says Kate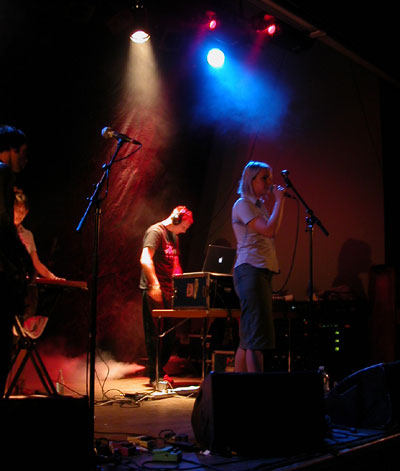 Client live at SAMA, sans Fletch.
Photo by: Mikael Kahrle
Fletcher on stage
Client might be joined on stage sometime by Client F, which, of course is Andy Fletcher.
The man himself doesn't rule that out, when asked about it.
- We're just starting to develop a live career so I don't see any reason why I can't play bass or keyboards later. I try not to worry, just see what happens and I try not to plan too much. DJ:ing's been really good fun to me.
You've been doing a lot of Jingo then?
- As with Client, before the live thing, we've been DJ-ing quite a lot, in places such as London, in Paris, in Germany, in Copenhagen. Now we are starting to go on to live and continue to DJ. And it's good, because I use my name to get us things that we wouldn't have gotten normally. It's good fun again, it lets me go through all my old records and things like that, it's good, you know. I make a lot of mistakes, I'm really bad, but that's rock'n'roll, isn't it.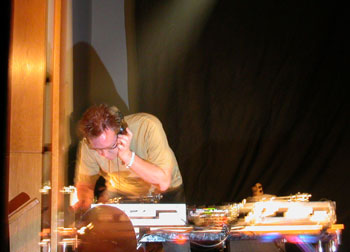 Fletch'n'roll at SAMA.
Photo by: Mikael Kahrle

Client doesn't think he's that bad. As a matter of fact they have almost nothing but praise for their boss. But, hey, he is the boss, so…
- It really was me and Sarah starting it and then we wanted Andy's name on the flyer and he refused to do that, but we did it anyway so we had to take all the posters down before he got there and throw them in a dustbin. And then he refused to DJ and just sat there. Then next time he just came along and he did it for half-hour and then "I love it", laughs Kate.
- He's actually quite good, says Sarah.
- Everyone makes mistakes with speed and such the first times…
Why is the label called Toast Hawaii. Why don't we ask "the boss".
- Actually, it's a sandwich in Germany, with cheese, ham, pineapple and toast. When we were in Berlin that was what we used to eat for breakfast every day. Then we did this joke album with rock'n'roll cover albums and called it Toast Hawaii. It comes from that really. It's supposed to be quite tongue in cheek, you know. It's not the obvious name for a label, but people get used to it. It's quite all right, you know?
Yeah, it has a nice ring to it…
- Being exotic! (He he he!)
It make you sound like you put out surf rock or something.
- We might, you never know… If the songs are good. I'm not interested in style. This is a new thing for me at the moment, giving everything to Client, but I've hired someone else and we've got a few ideas. You don't want to just stick, we want to be different, do different projects. It doesn't have to be grooves. I try to not plan anything. Whatever lands in my lap… I'm listening to tons of stuff…At the moment I'm listening to all demos I get. I've played a few tracks people have been giving me when I've been DJ:ing because they were good.
I'm sure my readers are interested in what you are doing when you are not involved in music, for example you used to own a restaurant?
- Yeah, but I sold that, thank god. Chefs, chefs… don't get me going about chefs. All the little things that went wrong. We had a good ten years running it, but decided to give it a break for a couple of years, you know. Might do that again, might do it in Spain, something like that.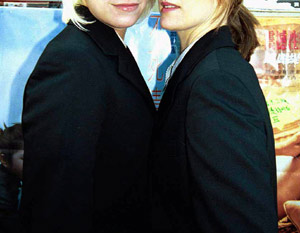 Pills, pop and… old age?
So, what do you do in your spare time nowadays?
- I'm very busy. I have a family, got lots of interests. Read a lot and listen to a lot of music at the moment. In my life a lot of things are going on at the moment. The occasional Depeche-stuff, but it's nice for me to take a bit of a breather. When I got off that last big tour I had been living in hotel rooms for a year, so at the moment I actually feel very cool and enjoying myself.
You have a family, isn't it hard on them when you go out on long tours?
- They're used to it and that's my job and a lot of other people do actually also work away from home, not just in what I do. I found the last tour to be the most physically demanding tour I've ever done. Maybe it's old age.
Toast Hawaii again; is it some kind of a retirement plan? Not for now, of course, but in a distant future when you don't want to go out on tour anymore?
- You know, when I was about 25 or 26 I always used to be thinking: "What I'm gonna do when Depeche…". You always think that a band's career is limited or they're gonna split up or whatever. But now I've stopped thinking about it, because you just can't, it just keeps going and going. We don't make plans, we don't know if the next album's the last album. People always think that our next album's going to be our last album, but we've never planned it or talked about it. No, at the moment my mind is very active and when your mind's active you got to do things. I see this as something different to my other career in Depeche Mode and it's up to me how I develop it or if I choose not to develop it, it's all in my hands, which is exciting.
If Depeche hadn't got started, what had you been doing now?
- I've given up on thinking that as well. Again, when I was 21-22 and Depeche would have the "second album-syndrome" and things like that, I thought, "That's it, our career is over". But now it's all so surreal, it's like ridiculously surreal and it's very hard to put yourself in that space anymore. It's been like one big dream, you wanna pinch yourself and when you wake up I'm still working for that insurance company I was working with when I was 18. We're very fortunate that this dream continues.
Speaking about Client again, this feels like a good time to be releasing electro-style pop, doesn't it?
- There's never a bad time or a good time. We have to adapt all the time. The important thing to me is that the songs on the album are all good songs. I think that's the key thing. The style… As much as it is a good time, it's a bad time for other people who don't like it. We need to constantly adapt the sound and improve and every time I've asked the group to improve so far, they have. That's good, ends Andy and leaves it to Client to speak a bit about their forthcoming album.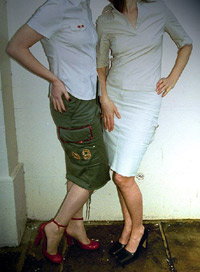 Your album is finished and mixed - are you pleased with it?
- Yeah definitely! It's a 12-track album. All three single songs are on the album. We had already done "Price of Love" and "Client" as a B-side and then Daniel Miller went: I want another track for the B-side for tomorrow and we had mixed "Leipzig" that day, so we had to put it on the single. It actually made the single more whole anyway, says Kate.
- There's another instrumental called "Civilian" which basically is "The Pianist". I had just seen "The Pianist", was overwhelmed, went home, and wrote "Civilian" in a couple of days. It really is about freedom, about coming out of a concentration camp, just coming out of a prison somewhere, a prison that is a relationship you are unhappy in or a job you really hate.
- Again, it's just that uplifting melancholy. It's really beautiful; it's really profound. I love that track, says Sarah.
- The other tracks are half in the vein of "Price of Love" and half in the vein of the song "Client". One is 'bout an 18 year old boy and his fantasies about an older woman. And then there's one about an addiction to prescription drugs. It's about, like "if you are not happy, just take the bloody pill. Don't just sit around look all grumpy and miserable - go take your Prozac", Kate tells us.
- Go do something about it. Don't just sit there moaning, Sarah elaborates.
- Then the other half is like… we got one called "Rock'n'roll Machine", which is our next single and basically our anthem, our rock anthem, says Kate.
- It's probably my favourite track actually… says Sarah.
- It's very much about Client: B, it's about finding herself, breaking free and being a rock'n'roll animal, basically, says Kate.
- Realising your dreams I think. Despite the odds and the restrictions other people put on you - where you're from, what family, what school you went to, where you are in social class. It's about transcending all that to achieve your dreams, says Sarah.
- We also have one called "Here and Now" which is about the break of a relationship. It's also about troubling times; I guess it can be seen as like the whole situation with the war and everything. It's always something to kind of overcome. It's quite a varied album, We are really really pleased with it, and we even cut out some tracks from it, says Kate.
I have a feeling we'll see more of these ladies, with or without heads.
---