Release's Alex Veronac recounts the milestone of BELLADONNAKILLZ
Text and live photo by: Alex Veronac
Spotlight published: May 25, 2011

Peter Moskalyk passed away at 10 pm on October 20, 2010. I regret to write this post-mortem but the message in the music still remains for his project Belladonnakillz (BDK). Themes of relationship, satire, youth, party, drugs and freedom occupy the hyper electro hooky tracks of the Toronto based project.
Music wants to be free
I am the first one to admit that once I meet and interview a musical artist, I generally become a fan for life. As much as musicians want to express their feelings by their songs, there's a certain message of struggle that only makes its way through in common dialogue at the gig's afterparty. This was the case with Peter Moskalyk (aka Belladonnakillz).
I first heard BDK's music on the EBM radio show on CIUT-FM. A footnote to all music explorers to listen in to regular DJ programming.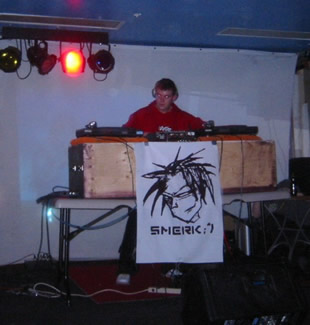 Moskalyk was involved in the free techno scene of Toronto in the early 2000:s while part of the Smerk music label. It was unheard of to secretly occupy a space for party using the power and lights for a community cause. It was artists donating their time to bring people together at a more social setting in the surrounds of their video and music. Moskalyk was DJ:ing and brought his persona of Belladonnakillz into a music project.
This three piece band started in 2002 with Carl Heindl and Jesse P but quickly became a solo based entity again after the first CD. Belladonnakillz released three albums: "Perverted & Proud" (2005), "As If" (2006) and "Sorry, Try Again" (2009) on various small labels.
Belladonnakillz were remixed aplenty by drum'n'bass and breakcore DJ:s and producers including German rave DJ Panacea. The music of Belladonnakillz began as electropop with attitude, which then got a bit darker moving into harsh electro and getting closer to jungle. Because of Moskalyk's appreciation of breakcore and techno, many of his peers turned their hand at reworking the BDK sound into something more aggressive.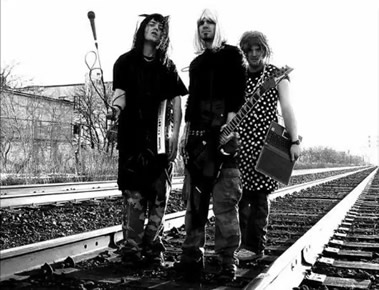 As a trio 2005.
Source: former belladonnakillz.com
Canadians in Switzerland
Maybe it was the surprise of media contact, or possibly Peter Moskalyk ignoring the attention - I hadn't been able to attend a BDK show as a press representative until I left Canada. I first met Peter in Switzerland at a solo Belladonnakillz gig in Zürich in January 2009. After the gig he was bit drunk and very tired, yet spoke for a good hour or so on his project. I wanted to buy some merchandise but he told me that the other night's gig, he was enjoying himself so much he gave it all away to the audience.
On my last talk with Peter, he stated this was his last tour (live image taken by me at the top right) as he intended to focus on his professional career. We were again in Zürich, sitting outside the stage door of the warehouse venue on the Limmat river in June 2010. He had completed his University degree in Toronto and looked to move to Vancouver, BC. I don't have any audio recordings of our conversations to refer to but his general well mannered party attitude remains. He was so happy to speak with a native English speaker after many months travelling the very east of Europe. Possibly a bit homesick, he drew energy from new audiences who appreciated his performance delivery. I believe that after this appreciation in Europe, he found new push to keep his project alive.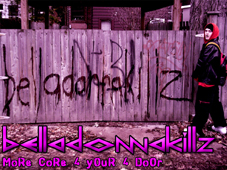 CDR cover.
"Remembering Peter"
This was an event put together by the local Toronto community to celebrate his being on the evening of February 19, 2011. In the words of friend and organizer Ken Margoe:
- When we decided to put together the memorial show for Peter I knew that we would get a great response because of the person that Peter was, the music he wrote, and the love he shared. When the night of the show came and we arrived at the venue to set up, I got a feeling that Peter was present and this was apparent in all the bands and DJ:s that came out to show support. Everyone donated their time and skills to make that night happen. The family, friends and fans had a chance to one more time be with Peter and say a final goodbye.
I (Alex Veronac) think Peter Moskalyk was an original artist and is a great loss to the scene and has inspired many. He was bigger, braver and more able than most I've met. He saw no barriers in his musical aptitude. Full respect to Peter and his chapter in D.I.Y. music culture. Live free in BDK.
Links
belladonnakillz.ca
Moskalyk is interviewed in the short 2003 documentary "Make Some Fucking Noise"
Belladonnakillz video for "Sexy Grrl"